Pack the Pantry food drive aims to fill local college food pantries
October 23, 2019

|
Research shows that around 50% of college students in San Diego face food insecurity, which means they don't have reliable, consistent access to food.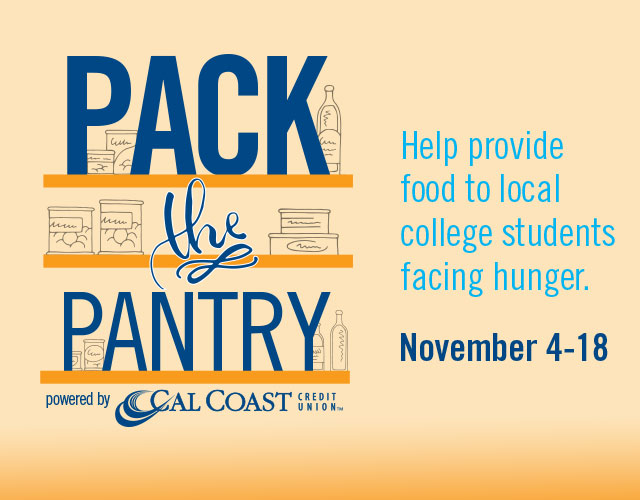 In response to the growing concern, virtually every local college has established a food pantry. "It's a constant struggle to keep the food pantries fully stocked," said Southwestern College Superintendent/President Dr. Kindred Murillo. "We recognize that it will take the entire community to help us in this fight against student hunger."
That's where Pack the Pantry comes in. The food drive was established by California Coast Credit Union in partnership with all of the local community college campuses and the San Diego Food Bank. Between November 4 and November 18, food collection bins will be placed at all 25 Cal Coast branch locations, all San Diego County community college campuses, and the campuses of Imperial Valley College in Imperial County and Mt. San Jacinto Community College in Riverside County. People are encouraged to donate non-perishable food items at the collection bins during the two-week Pack the Pantry food drive.
"The impact of food insecurity on students is significant," said Dr. Constance M. Carroll, Chancellor of the San Diego Community College District. "It compromises their academic performance and increases the likelihood of missing classes or dropping out of school altogether."
Cal Coast President & CEO Todd Lane said, "Because we have long-standing partnerships with all of the local colleges, we have staff on many of the campuses every day and we've seen first-hand the struggles with food insecurity that a growing number of students face. We decided to rally our partners and tackle this challenge head-on with a communitywide food drive."
The San Diego Food Bank is donating their services to support the Pack the Pantry food drive, collecting and sorting donations from the food collection bins during the two-week event.
"The Food Bank has collection infrastructure in place on all of the local college campuses," said San Diego Food Bank President & CEO James Floros. "We are proud to support the Pack the Pantry food drive and we are confident that, with the community's support, we can make strides in addressing food insecurity on local campuses in a sustainable, ongoing way."
For more information on the Pack the Pantry food drive, visit Cal Coast Credit Union online.
About SDICCCA
The San Diego and Imperial Counties Community College Association is a collaboration between the six community college districts in the two-county area. Member institutions include Cuyamaca College, Grossmont College, Imperial Valley College, MiraCosta College, Palomar College, San Diego City College, San Diego Mesa College, San Diego Miramar College, San Diego Continuing Education, and Southwestern College.

About California Coast Credit Union
Established by San Diego teachers in 1929, California Coast Credit Union is the longest-serving financial institution based in San Diego and holds true to its founders' guiding principle of "people helping people." With over $2.5 billion in assets, the credit union proudly serves more than 185,000 members through its local network of 25 branches and 60 shared branch locations, online and mobile banking, and 30,000 fee-free ATMs nationwide. California Coast is not-for-profit, provides no-cost financial education for adults and youth, and is committed to improving the lives of its members and others in the community. Membership is open to anyone who lives or works in San Diego or Riverside counties. For more information visit calcoastcu.org or call 877-495-1600.