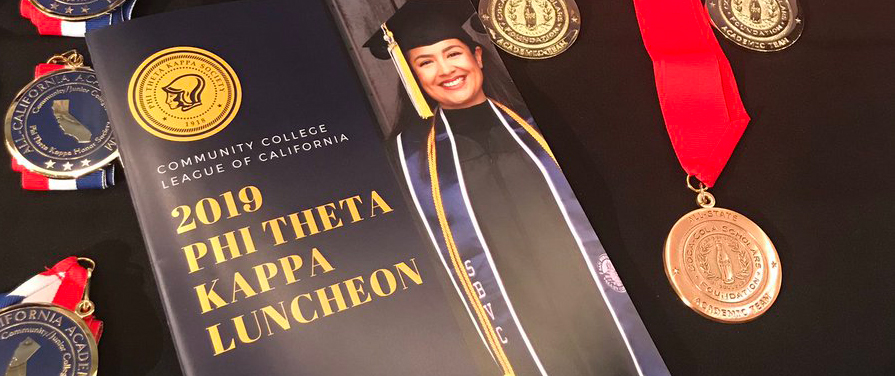 6 SDCCD students honored as California academic standouts
March 25, 2019

|
Six students at San Diego City, Mesa, and Miramar colleges have been named to the Phi Theta Kappa All-California Academic Team based on their grades, leadership, and service to the community. They were honored March 25 at the 2019 PTK Awards Luncheon in Sacramento that is sponsored by the Community College League of California.
PTK is an international honor society for two-year colleges, and students are nominated based on their GPA, awards and honors received, leadership abilities, and community service.
Among the award winners in the San Diego Community College District:
Ronny Vásquez. Ronny is an international student from Venezuela who is currently in his last semester at San Diego City College. Ronny came to the U.S. in 2015 and learned English in six months. Ronny is pursuing a degree in chemical engineering and has an associate degree in French. He is currently the vice-president of PTK as well as the vice-president of SACNAS (Advancing Chicanos/Latinos and Native American in Science). Recently, he was selected as the recipient of SDG&E Leadership Award and recognized by the college as a Peer Advocate lead. He promotes science in his community by going to elementary schools and engaging younger generations through scientific games. His career goal is to work in the energy industry to develop new methods to use natural energy resources more effectively with a lower pollution index.
Bianca Leon. Bianca is a mother, wife, and student at San Diego City College who is pursuing a degree in administration of justice and plans to transfer to San Diego State University. Bianca maintains a 4.0 GPA and is regular on the Dean's List. Recently, she was selected as a recipient of the Osher Scholarship. Bianca landed a job in her field of study as a Student Worker at the San Diego Superior Court, where her goal is to work permanently after earning her degree. Bianca transitioned to City College after earning a high school diploma from San Diego Continuing Education. She also received a San Diego Promise scholarship in 2016.
Sofia Castellani-Staedler. Sofia Castellani-Staedler is a first-generation Italian-American college student from Los Angeles. She began attending San Diego Mesa College at the age of 17 and currently serves as Mesa's Associated Student Body President and as a student trustee for the San Diego Community College District. As she completes her final year at Mesa College, Sofia is one of the newly announced semi-finalists for the prestigious Jack Kent Cooke Foundation's Undergraduate Transfer Scholarship.
Hong Nhung Nguyen. Majoring in accounting and computer science, Hong aspires to become a data analyst using her skills to help children in impoverished countries have improved access to education. She has been on the Dean's List every year at Mesa College, and she graduates this spring with an associate degree in accounting, but will remain at Mesa for another year to secure all the required courses needed to transfer to a university as a computer science major. Hong, who goes by the name of Jenny, has been active in Associated Student Government and now serves as vice president. Last year, she was among a team of students who met with congress members in Washington, D.C., to advocate for students facing food and housing insecurities and mental health concerns.
Hanna Ostapchuk. At the age of 20, Hanna Ostapchuk arrived in the United States with limited English and $700 in her pocket. She started her journey by working as a hotel housekeeper in the mornings, and in the evenings transitioned into her second job, a line cook at a McDonald's. Within a year, Hanna went on to manage a coffee shop. After enrolling at San Diego Miramar College, Hanna completed 18 units in her first semester and has participated in various organizations on campus. Hanna's next step is to transfer to a four-year university to become a well-educated business professional. She also is a semi-finalist for the Jack Kent Cooke Foundation's Undergraduate Transfer Scholarship.
Sirena Orona. Siren Echo Orona was homeschooled until her junior year of high school, which made it difficult to adjust to the pace of a public education. Regardless, she is excelling at Miramar College, where she is majoring in cognitive behavioral neuroscience and aspires to one day engage in research regarding learning and behavior. Aside from her academics, she has interests in sustainability and environmentalism, and she is proud to call herself an advocate and volunteer for the Autistic Self Advocacy Network. Her dreams of changing the world are much bigger than her 5-foot stature, but she is a force to be reckoned with, or so she has been told.