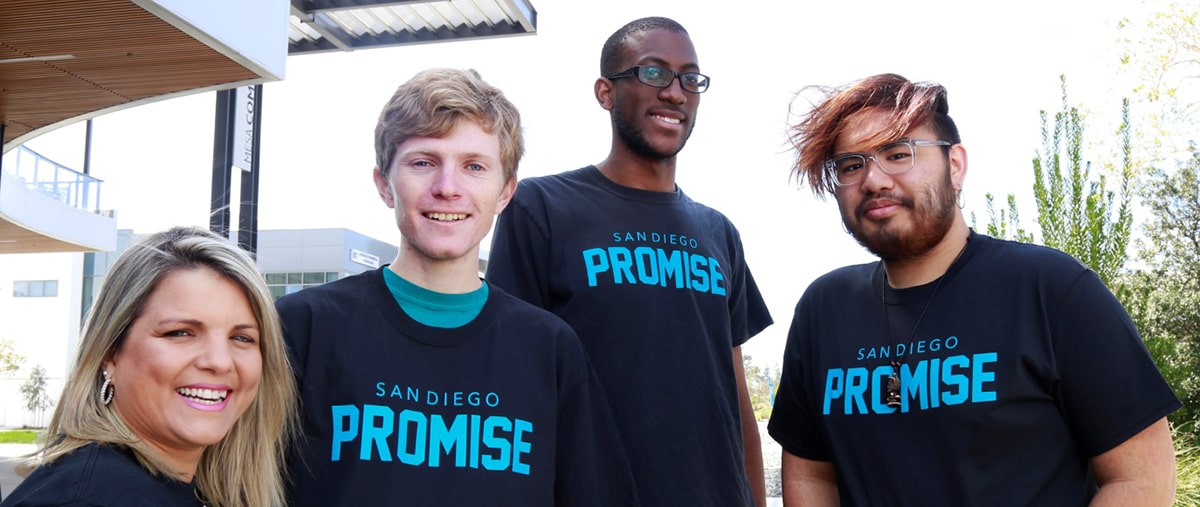 San Diego Promise fundraising hits $1 million mark
May 20, 2019

|
The San Diego Promise free community college program has exceeded the $1 million mark in contributions, a milestone the San Diego Community College District hopes will fuel further donations to assist students at San Diego City, Mesa, and Miramar colleges.
A recent pledge of $45,600 from the San Diego County Citizens' Scholarship Foundation brings total fundraising since the program began to $1,027,290.
More than 230 individuals, corporations, and nonprofit organizations have made gifts to the
San Diego Promise, with contributions ranging from a $1-per-month employee payroll deduction to a matching gift of $200,000 from San Diego Padres co-owner and Executive Chairman Ron Fowler. In addition, a September 20, 2018, fundraising gala headlined by four-time Oscar-nominated actress Annette Bening raised more than $200,000 to support the program.
"We are grateful to everyone who has contributed to the San Diego Promise. Reaching this major milestone in the District's fundraising effort is an important step in establishing a sustainable, long-term funding model for supporting our students in reaching their educational and career goals," said SDCCD Chancellor Constance M. Carroll. "The San Diego Promise is clearly benefitting our students, and donors are being motivated by the students' success."
The San Diego Promise is a life-changing program that provides two years of education at San Diego City, Mesa, and Miramar colleges for first-time, full-time students, without tuition. Many of the program's students with the most need also receive textbook grants.
In addition to financial support, the San Diego Promise provides counseling, peer mentors, and other support services to help students reach their educational goals. Recent studies show students in the program fare better academically than their non-Promise counterparts. For example, 48 percent of San Diego Promise freshmen earned a 3.0 or higher GPA last year, compared to 43 percent of their non-Promise peers, and 62 percent of Promise students completed 12 or more credit units, compared to 56 percent of their non-Promise peers.
The San Diego Promise launched as a self-funded, pilot program in fall 2016 with an initial cohort of 186 students whose freshman year came tuition free. In its second year, fundraising allowed the SDCCD to expand the San Diego Promise into a two-year program that served 661 students. After a new state law provided funding to the California Community Colleges to make the first year of community college free to all first-time, full-time students, the San Diego Promise expanded in 2018-19 to 2,100 students.
Over the history of the program, San Diego Promise students have been more likely than their peers to identify as Latinx, female, and/or first generation students. Some 84 percent of current cohort of San Diego Promise students are racial or ethnic minorities.
To learn more about the San Diego Promise and its fundraising campaign, visit www.sdccd.edu/promise.