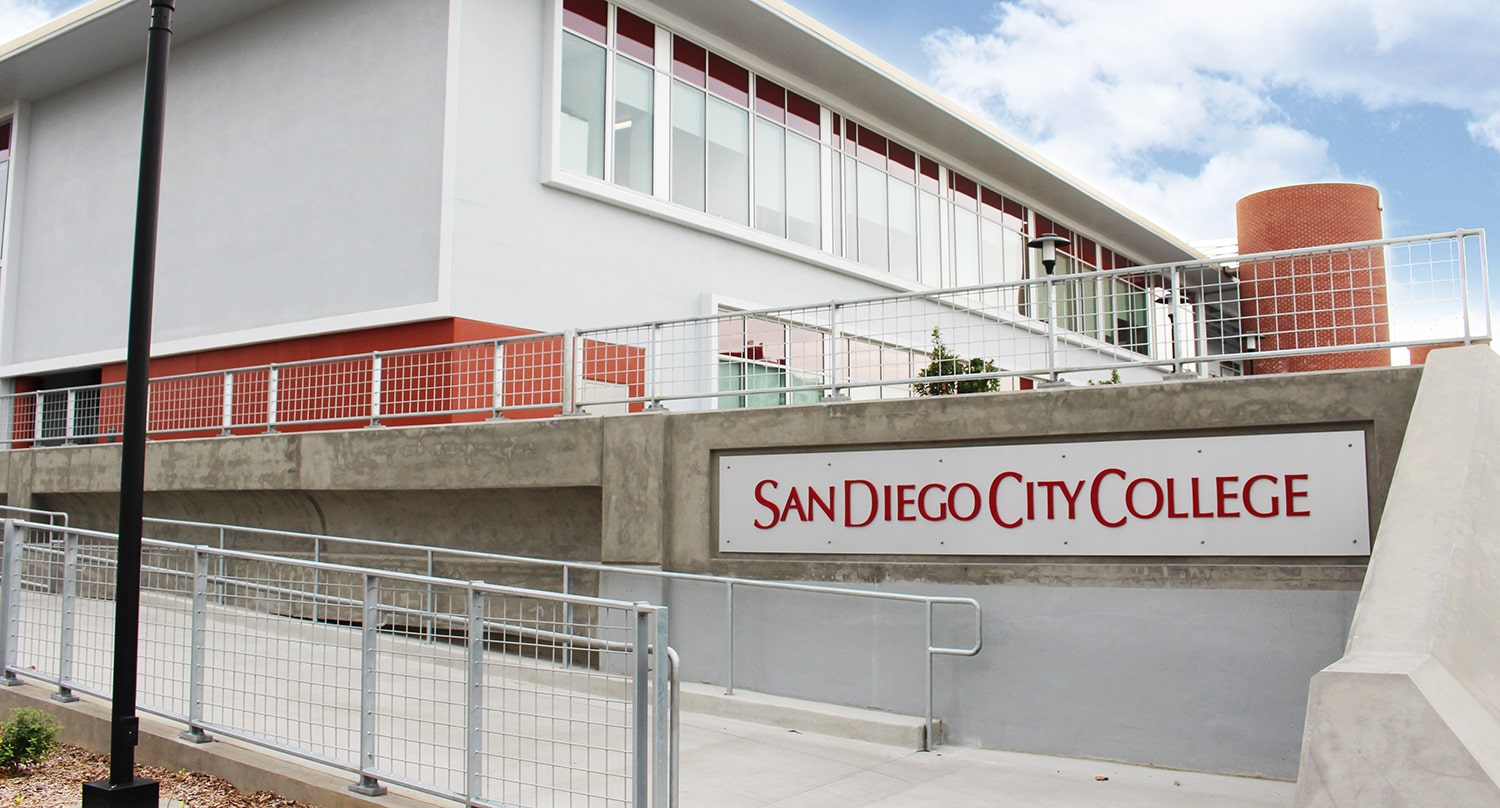 Spring classes begin January 28 for 64,000 district students
January 23, 2019

|
New buildings, new classes, new programs. All are on tap when the San Diego Community College District welcomes 64,000 students for the spring semester that begins Monday, January 28.
San Diego City College is opening its doors to three renovated and modernized buildings. The upgraded A Building includes 52,000 square feet of student service space creating new homes for admissions, CalWORKs, counseling, financial aid, peer mentoring, numerous student organizations, and more. Renovation of the D Building includes a new roof that will be transformed into student and faculty gathering areas with outdoor furnishings and landscaping. The T Building modernization provides a new home for the engineering department and space for machine technology and a technology incubator.
Another highlight is San Diego Mesa College's $14.8-million transformation of the former "I-300 Building" into a four-story Fine Arts Building. The building is now a thriving hub with modern facilities and equipment for programs in drawing, painting, sculpture, and ceramics. The first floor houses the Mesa College Art Gallery, with classrooms and studios on the second, third, and fourth floors. An official dedication is scheduled for March 13.

Apply, Register,
See the Class Schedule
Also open at Mesa College this spring is the new $32.2-million Center for Business & Technology, a 57,800-square-foot building that serves as home for Mesa's business, computer, and fashion design programs. The new building includes technology-rich classrooms, computer laboratory classrooms, a fashion design laboratory, and offices for faculty and staff. A dedication ceremony is set for February 28.
Construction projects were financed through the SDCCD's Proposition N, an $870 million bond measure approved by San Diego voters in November 2006.
San Diego Miramar College will celebrate its 50th anniversary serving the educational needs of the community by displaying a daily fact about the college throughout the year on its social media platforms. Miramar will host a 50th anniversary Open House on March 9.
New Entrepreneurship classes will be offered on the Miramar campus for the first time this spring, including Managing the Small Business and Plan for the Small Business. Students will, among other things, learn the fundamentals of how to create, acquire or manage a new business, and how to write a business plan – all while getting a chance to meet local successful entrepreneurs and learn how to raise money using crowd-funding, venture capital, and business plan competitions.
In addition, Miramar College is offering a one-unit, Astronomy Research Seminar (Physics 290), an independent study course geared to introduce and expose students to professional scientific research. The primary objective of the seminar is to produce a peer-reviewed publication-worthy research paper. Throughout the semester, students will reach specific milestones that will eventually lead to paper publication, such as writing proposals, giving talks, analyze data, and go through the peer-review process.
San Diego Continuing Education (SDCE) will offer a new class within Disability Support Programs and Services (DSPS) that will help students with disabilities explore attitudes and values regarding healthy sexual relationship development. Healthy Relationships & Sexuality topics include human anatomy, reproduction, contraceptive choices, sexual orientation, sexually transmitted infections and sexual coercion. Students meet with a DSPS counselor prior to enrollment.
Also new this spring at SDCE will be free online classes for adults who are learning English as a Second Language (ESL), including vocational ESL. Students will be assessed for their language skills prior to enrollment.
Approximately 15 percent of the 6,545 classes this spring are being offered online, allowing greater flexibility for those who are working or raising a family. Disciplines seeing the highest demand to date are biology, chemistry, engineering, physics, health information technology, aviation maintenance, radiologic technology, and emergency medical technician.
For those who have not yet enrolled for the spring semester, it's not too late. Students can register for classes online. For more information visit the SDCCD admissions page. Those who earn an associate degree from City, Mesa, or Miramar colleges will see an average increase in earnings of $10,600 each year compared to someone with a high school diploma or equivalent working in California. Over a working lifetime, that increase in wages amounts to approximately $392,000 in higher earnings.
The 16-week semester continues through May 25. At $46 per unit, student enrollment fees are among the lowest in the country for a higher education system. Most students attending City, Mesa or Miramar College, however, do not have to pay for tuition, thanks to the San Diego Promise, the California College Promise Grant, and other financial aid opportunities.