Top 10 NewsCenter stories of 2019
December 6, 2019

|
Expanded programs, new opportunities, and student support were the stories that received the most interest on the San Diego Community College District's NewsCenter in 2019. This was the year that the San Diego Promise grew to nearly 3,000 students. All of our colleges and Continuing Education now offer free farmers markets on their campuses, and more students have access to programs and opportunities, from dual enrollment to study abroad, than ever before. Here are the Top 10 most-read stories from the SDCCD in 2019.
No. 10
SEEDs @ City urban farm – 782 pageviews
San Diego City College's Sustainable Urban Agriculture program offers students the unique experience of working in an outdoor laboratory in downtown San Diego. Every agriculture class combines classroom study with hands-on experience, making City College a rarity among two-year institutions by offering laboratory experience on an operating farm. The goal of the program is to train the next generation of urban farmers in sustainable agriculture to build a food-secure city and a food-secure region.
No. 9
Breaking down the (Fire)wall – 827 pageviews
A groundbreaking partnership between the San Diego Community College District and the Naval Information Warfare Systems is creating new opportunities for STEM students. The naval agency provides tuition assistance and a career pipeline for San Diego City College students as well as certification programs for students at San Diego Continuing Education in fields that are in high-demand from employers. The partnership fits into a larger SDCCD vision of working with businesses and industries in order to provide students with more opportunities to find good paying careers. The article also details the experiences of students Yesenia Ponce and Froylan Maldonado and what they were able to gain from the partnership.
No. 8
Employee discount at the county fair - 862 pageviews
Every year the San Diego County Fair offers free or discounted admission to teachers and education staff in the region. Many SDCCD employees took part in the special offer of four tickets for a $1 admission to attend one of three Fridays in June. Also from our district, students from the San Diego City College cosmetology department spend one day at the fair giving away free haircuts and manicures to fairgoers.
No. 7
District ramps up study abroad programs – 963 pageviews
London, Paris, Florence, Madrid, Barcelona, and Costa Rica are among the destinations of the college study abroad programs. This once-in-a-lifetime opportunity allows students to experience a new country and culture while learning about international perspectives that can be critical for a successful career, as further incentive, financial aid is available.
No. 6
Dual enrollment at a turning point – 1,023 pageviews
Many teens are learning the benefits of taking college courses for free during their high school years. Dual enrollment allows students to get a jump start on their college education before they even graduate high school. More than 4,100 high school students are participating in the SDCCD's dual enrollment program. A district study showed that these students fare better in college and are less likely to drop out. In October, state legislation was approved allowing dual enrollment programs to stay in place until January 1, 2027.
No. 5
Continuing Education welcomes back students, expands career training – 1,156 pageviews
This fall San Diego Continuing Education welcomed back more than 40,000 students to its seven campuses. CE had expanded programming in all areas to offer more than 70 free career training programs as part of an effort to connect more adult learners to middle-skill jobs. English as a Second Language and Citizenship classes are also high-demand programs that can help adult students enter the workforce or transfer to community colleges or universities. Classes for CE's spring semester begin January 27, 2020.
No. 4
Mesa College Farmers Market – 1,249 pageviews
Mesa College's farmers market is a monthly event, made possible through a partnership with Feeding San Diego, and offers students and members of the Mesa College community access to free fresh produce. The Farmers Market is generally held on the third Thursday of the month on campus in the Sunrise Plaza, near Mesa Commons. The initiative is part of Mesa College's efforts toward "Taking a Stand Against Hunger." Upcoming farmers markets will be held December 12, 2019 and January 16, 2020. City and Miramar colleges also offer free farmers markets each month, while Continuing Education offers a Farm to Family Fair on the first Wednesday of each month at the Educational Cultural Complex.
No. 3
Open registration for summer classes begins May 28 – 1,687 pageviews
Whether it's to catch up on some units or get ahead, there was a lot of attention on the summer session this year. There were more than 1,100 courses to choose from, with one-third of them online. Summer session is also helpful to four-year college students looking to pick up an extra class during their break.
No. 2
Registration open for the San Diego Promise – 2,828 pageviews
Since it launched in 2016 with a cohort of 186 students, the San Diego Promise has expanded considerably with nearly 3,000 promise students enrolling for the 2019-20 academic year. The program offers free tuition for first-time, full-time students for two years at San Diego City, Mesa, and Miramar colleges. San Diego Promise participants attend orientation and workshops and receive frequent reminders and follow up communications to assist them in remaining on track. The next open registration for the San Diego Promise begins January 13, 2020.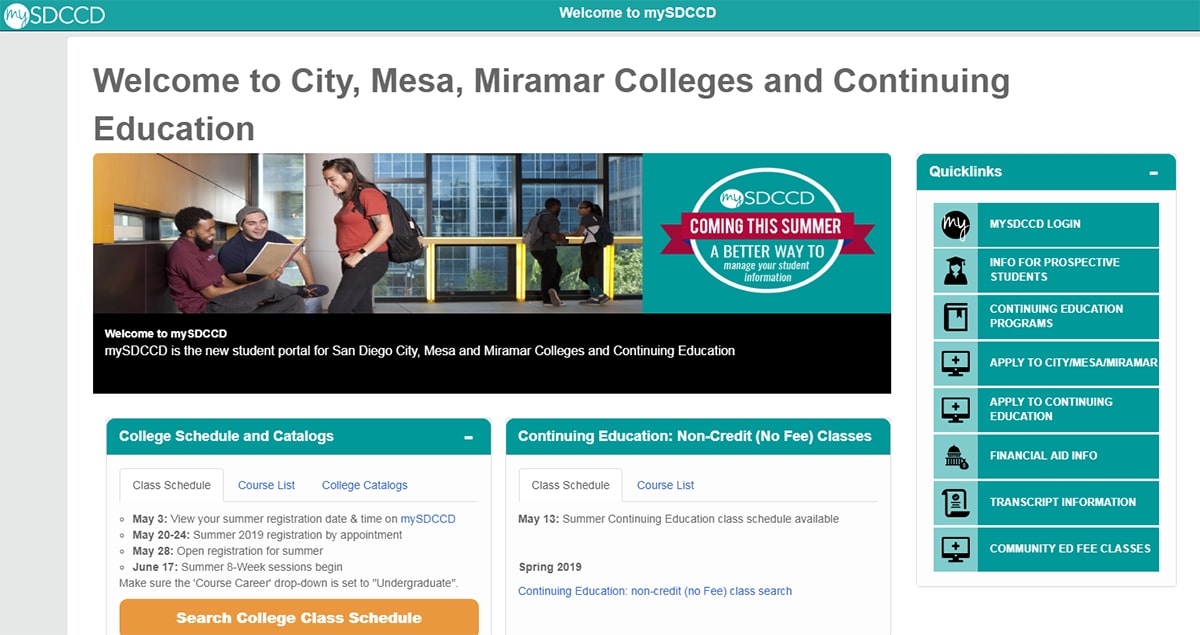 No. 1
District launched new student portal – 3,639 pageviews
The SDCCD launched mySDCCD just in time for summer registration. The new student portal now provides easier access and better service for students. Open registration for Intersession and Spring semester begins December 9. Students with any questions regarding their account or the new portal can contact the Student Help Desk or email myhelp@sdccd.edu.
4,117 Views - 5 reasons to give to the Promise
1,948 Views - Convocation photos
1,805 Views - Ribbon Cutting biz tech video
1,735 Views - Pride Parade Video
1,557 Views - Festival of Colors video
1,447 Views - Student Health Center video
1,431 Views - City Women Rock
1,452 Views - Counselors video
1,238 Views - MLK parade video
1,235 Views - Chancellor responds to budget video
Commencement videos
828 Views - City Commencement
1,775 Views - Mesa Commencement
1,113 Views - Miramar Commencement
184 Views Continuing Education Commencement
1,157 Views - MLK Parade
730 Views - Pride Parade
716 Views - Halloween
602 Views - Convocation
597 Views - Diana Medero Retirement
554 Views - CE Commencement photos
455 Views - City College Commencement
374 Views - Mesa College Commencement
252 Views - Miramar College Commencement
482 Views - Professional Service Awards
369 Views - Heathers the Musical
354 Views - Spring Semester begins
336 Views - Fine Arts Building dedication