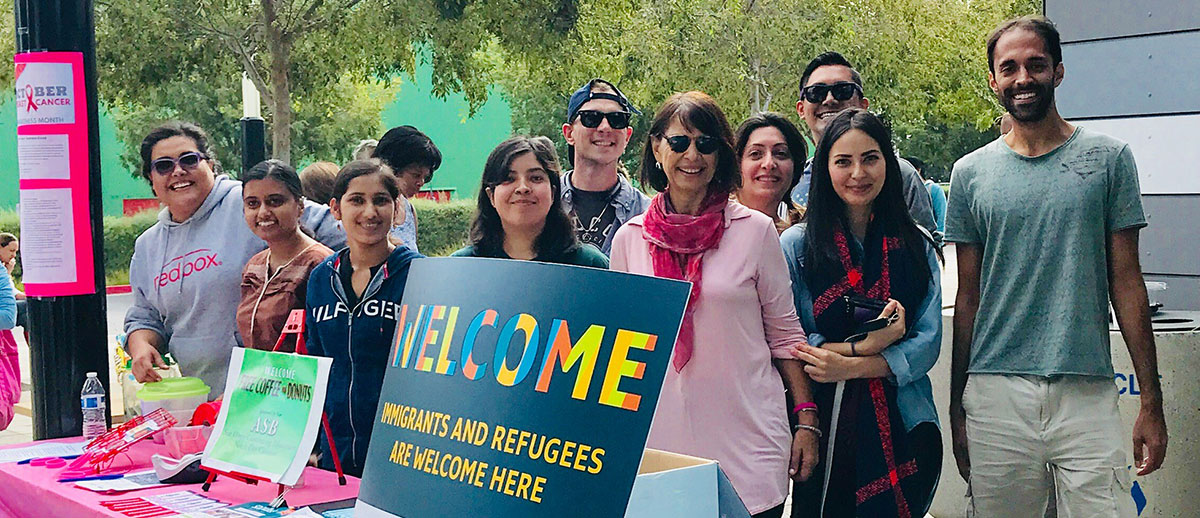 District supports undocumented students with Week of Action
October 9, 2019

|
San Diego City, Mesa, and Miramar colleges, and San Diego Continuing Education are joining community colleges across California for Undocumented Student Action Week beginning October 14 with workshops, panel discussions, resource fairs, and more in support of its undocumented students and the Deferred Action for Childhood Arrivals (DACA) program.
California's community colleges serve between 50,000 and 70,000 of the more than 200,000 DACA students in the state.
"The San Diego Community College District is committed to protecting the rights of every student who comes to our campuses for the education and workforce skills training needed to contribute to our society and strengthen our economy," said SDCCD Chancellor Constance M. Carroll. "This year's action week serves as an opportunity to highlight the challenges our DACA students and undocumented students face, and we will continue to do everything in our power to make sure our students are afforded a safe learning environment."
Among the week's events:
Monday, October 14
9 to 9:30 a.m.
Meet and Greet
Meet members of the Mesa College Borderless Scholars team
San Diego Mesa College, I4-202, 7250 Mesa College Drive, 92111
9:30 to 10:30 a.m.
Know Your Rights
This workshop is presented by Amie Scully, CEO and founder of Students Without Limits
San Diego Mesa College, I4-202, 7250 Mesa College Drive, 92111
10 to 11 a.m.
FAFSA and Dream Act Workshop
San Diego Miramar College, K1-312, 10440 Black Mountain Road, 92126
10 a.m. to noon
Resource Fair
San Diego Miramar College, K1-107, 10440 Black Mountain Road, 92126
11 a.m. to noon
Undocu-Joy
San Diego Miramar College, K1-107, 10440 Black Mountain Road, 92126
11 a.m. to 1 p.m.
Know Your Rights Workshop
San Diego Miramar College, K1-202, 10440 Black Mountain Road, 92126
11:10 a.m. to 12:45 p.m.
Celebration of Indigenous People's Day
San Diego City College, Room MS-162, 16th and C streets, 92101
12:30 to 1:30 p.m.
UndocuAlly Training
Presented by Borderless Scholars counselors, UndocuAlly trainings engage faculty, staff and administrators in better understanding the challenges undocumented students face while also learning how to make the campus a more welcoming place.
San Diego Mesa College, I4-202, 7250 Mesa College Drive, 92111
1 to 2:30 p.m.
Documented: A Film by an Undocumented American
Screening of a film produced by Pulitzer Prize-winning reporter and undocumented immigrant Juan Antonio Vargas
San Diego City College, Room MS-162, 16th and C streets, 92101
1:30 to 2:30 p.m.
Undocumented Student Panel
A panel discussion comprising undocumented students sharing their experiences.
San Diego Mesa College, I4-202, 7250 Mesa College Drive, 92111
Tuesday, October 15
11 a.m. to 1 p.m.
Dreamer Resource Fair
Explore the various on- and off-campus resources available to Dreamers.
San Diego Mesa College, Student Services Plaza, 7250 Mesa College Drive, 92111
11 a.m. to noon
Rapid Response Workshop
The San Diego Rapid Response Network will hold an information session and orientation.
San Diego City College, Cube AH-200A, 1313 Park Blvd., 92101
12:30 to 2:30 p.m.
Building an On-Campus Undocumented Student Program
Facilitator Maureen Rubalcaba holds a workshop on taking the tangible steps needed to kickstart programming for undocumented students.
San Diego Continuing Education, Educational Cultural Complex, 4343 Ocean View Blvd., 92113
1 to 2 p.m.
Friendship Table
An opportunity for students, faculty, and staff to write messages of support for undocumented students.
San Diego Mesa College, EOPS office, 7250 Mesa College Drive, 92111
2:30 to 3:30 p.m.
Clicka Stories: Immigration
This student panel delves into the immigrant experience.
San Diego City College, Cube AH-200A, 1313 Park Blvd., 92101
3 to 5 p.m.
Entrepreneurship Workshop
San Diego Miramar College, K1-202, 10440 Black Mountain Road, 92126
Wednesday, October 16
10 to 11 a.m.
Emergency Plan Workshop
This workshop will provide participants with detailed information about resources and planning in the event of a family emergency.
San Diego Miramar College, K1-202, 10440 Black Mountain Road, 92126
10 a.m. to noon
Undocu-Ally Awareness Booth
San Diego City College, AH Front Quad, 1313 Park Blvd., 92101
11 a.m. to 1 p.m.
Art Expression
A guided painting session accompanied by the podcast "Here to Dream." Sessions begin every 30 minutes starting at 11 a.m.
San Diego Mesa College, Student Services Plaza, 7250 Mesa College Drive, 92111
12:45 to 2:30 p.m.
Emergency Family Planning Workshop
Jewish Family Services will provide detailed information about resources and planning in the event of a family emergency.
San Diego City College, Cube AH-200A, 1313 Park Blvd., 92101
5 to 6:30 p.m.
Open House
An opportunity for the campus community to learn more about the Borderless Scholars program.
San Diego Mesa College, EOPS office, 7250 Mesa College Drive, 92111
Thursday, October 17
10:30 a.m. to 12:30 p.m.
Self-Care Mental Health
A workshop on mental health awareness.
San Diego City College, Cube AH-200A, 1313 Park Blvd., 92101
10:30 a.m. to 12:30 p.m.
Public Charge
A workshop by Alliance San Diego on the new Public Charge Rule.
San Diego City College, Cube AH-200A, 1313 Park Blvd., 92101
10:30 a.m. to 1 p.m.
University Information Sessions
Learn about Dreamer Centers and what they have to offer at various universities.
San Diego Mesa College, I4-213, 7250 Mesa College Drive, 92111
11 a.m. to 1 p.m.
Art & Activism
San Diego Miramar College, K1-202, 10440 Black Mountain Road, 92126
11:30 a.m. to 1:30 p.m.
Friendship Table
An opportunity for students, faculty, and staff to write messages of support for undocumented students.
San Diego Mesa College, EOPS office, 7250 Mesa College Drive, 92111
1:30 to 2:30 p.m.
Financial Aid 101
A workshop packed with information and resources regarding financial aid and scholarships available to undocumented students.
San Diego Mesa College, I4-202, 7250 Mesa College Drive, 92111
Friday, October 18
10 to 11:30 a.m.
Public Charge, DACA, and Understanding Your Rights: Education, Excellence, Empowerment
A discussion on the current political climate, the Public Charge Rule, DACA, and student rights.
San Diego Continuing Education Cesar E. Chavez Campus, Rooms 101 and 103, 1901 Main St. 92113
10 a.m. to noon
Documented: A Film by an Undocumented American
Screening of a film produced by Pulitzer Prize-winning reporter and undocumented immigrant Juan Antonio Vargas
San Diego Mesa College, I4-202, 7250 Mesa College Drive, 92111
Noon to 1 p.m.
Paying for College: Financial Aid & Scholarships
This workshop will provide information about financial aid and scholarship opportunities for undocumented immigrants.
San Diego City College, Cube AH-200A, 1313 Park Blvd., 92101