Teamwork for workforce training
The importance of giving business and industry a voice cannot be overstated.
In recognition of this, the San Diego Community College District's Corporate Council provides a forum for its corporate partners to work with the District in addressing the myriad workforce challenges in one of the strongest regional economies anywhere.
Corporate Council members include the likes of AT&T, California Coast Credit Union, Manpower, General Dynamics NASSCO, Rady Children's Hospital - San Diego, SDG&E, Sharp HealthCare, Biocom, and Cyber Center of Excellence. Quarterly meetings are held at the SDCCD's headquarters in Mission Valley, and discussions include updates on District developments from Chancellor Constance M. Carroll, a question-and-answer session, and a presentation from a guest speaker who details a particular program.
The SDCCD continues to succeed in its mission of providing high-quality education and workforce training in large part because of its corporate partners. Three individuals from Corporate Council member businesses share their experiences.
Karmin Noar - Biocom Institute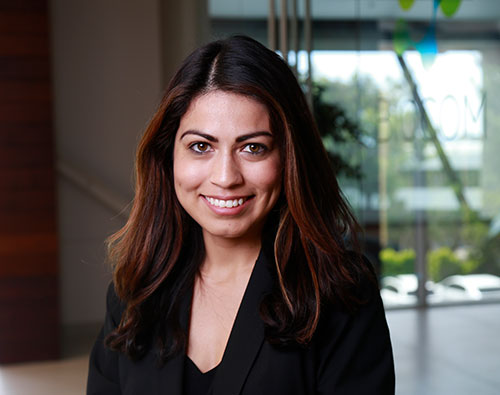 Biocom is the largest and most experienced leader and advocate of California's life science sector. It works on behalf of more than 1,200 member companies to drive public policy, build a network of industry leaders, create access to capital, and collaborate with others in developing cutting-edge workforce development and STEM education programs. As such, Biocom makes an ideal partner for the San Diego Community College District's Corporate Council.
"Community colleges are a great resource for introducing new students to the industry or to upskill those in the current workforce," said Biocom Institute Executive Director Karmin Noar. The Biocom Institute accelerates the growth of the life science ecosystem through workforce development and STEM education programs. "A key benefit of the Corporate Council is having regular updates and the awareness of what initiatives are taking place at our colleges. It gives us a seat at the table."
Community college played a role in shaping Noar's path. A product of Los Angeles, Noar attended West Los Angeles College when she was still attending high school. She then moved south and earned a bachelor's degree in political science and ethnic studies from UC San Diego and later a master's degree in education from Pepperdine University. Before joining Biocom Institute in March, Noar worked for nearly four years as Director of Programs at the San Diego Workforce Partnership.
Partnering with the SDCCD helps ensure that workforce training is in line with industry needs, Noar said.
"Some of the biggest needs are in the middle skills jobs in biomanufacturing and quality control," she said. "Those are good-paying jobs in which you do not need an advanced degree."
Nhu Tran - San Diego Gas & Electric Co.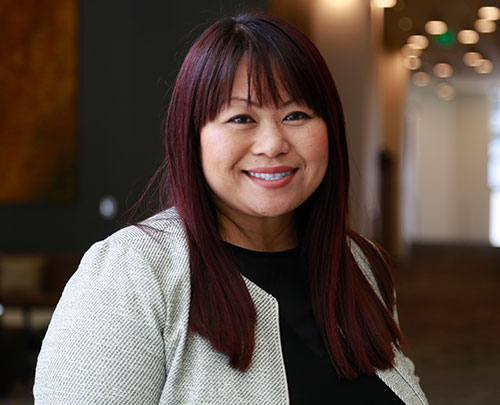 San Diego Gas & Electric Co. has been a longtime partner of the San Diego Community College District, and Nhu Tran, SDG&E's Community Relations Manager since 2015, is keeping that tradition alive.
"The company believes we should look like the people we serve, and working with the District is part of an overall effort at doing everything we can to make sure we have a diverse and skilled pool of talent in the region available to work at our energy infrastructure company utility," she said.
SDG&E's many efforts include annual charitable donations to San Diego Continuing Education's Gateway to College and Career initiative and the Miramar College Vets-2-Jets program, which, since 2013, has helped hundreds of disabled veterans overcome barriers to academic success. SDG&E's participation in the Corporate Council, Tran said, helps the company engage the future workforce.
"The San Diego Community College District's Corporate Council provides an opportunity for companies in the region to identify needs and provide the resources to develop an educated, well-trained talent pool," she said.
Tran's roots in San Diego run deep. Born in Vietnam, Tran immigrated to the United States with her family when she was 3. She grew up in San Diego where, at Mira Mesa High School, she served as student body president, peer counselor, and captain of the nationally-ranked cheer team. She is also a San Diego State University alumna. Prior to joining SDG&E, she worked with the San Diego Padres community relations/external affairs team for 19 seasons.

Dr. Nicholas Holmes - Rady Children's Hospital - San Diego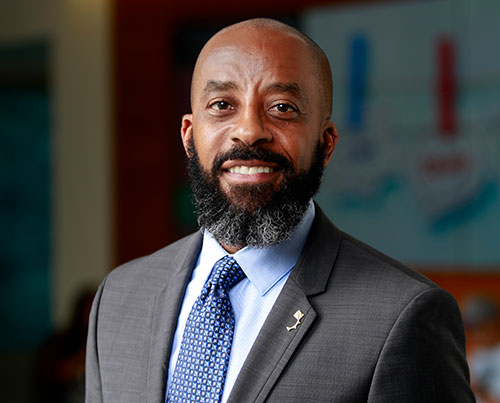 Rady Children's Hospital – San Diego has been a member of the Corporate Council for just one year, but it has been collaborating with the District for much longer. The region's only medical center dedicated exclusively to pediatric health care and San Diego's only designated pediatric trauma center works closely with Mesa College and its Allied Health programs, offering numerous internship opportunities to health information management students. Several Rady Children's personnel work as adjunct professors, and numerous former students from throughout the District have built careers at the hospital.
"The Corporate Council is a great way to connect with the region's corporate community as well as the San Diego Community College District in developing a workforce for the future," said Dr. Nicholas Homes, Rady Children's Hospital – San Diego's Senior Vice President and Chief Operating Officer.
Like the SDCCD, Dr. Holmes is committed to service. He concluded his 14-year Navy career as head of the Urology Department at Naval Medical Center San Diego. He has been at Rady Children's for the past eight years, with positions including Department of Surgery Chair, Medical Director of Surgical Services, Acting Surgeon in Chief, and Senior Vice President and Chief Operating Officer.
"San Diego Rady Children's Hospital is an integral part of the community, and being part of the community means being involved," he said.