District trustees take oath of office, name board president
December 17, 2020

|
San Diego Community College District (SDCCD) trustees Mary Graham and Bernie Rhinerson were officially sworn in to new four-year terms during the Board of Trustees' December 17 meeting.
Graham represents District D, which includes Del Cerro, the College Area, El Cerrito, Talmadge, Kensington, El Cerrito, Lincoln Park, Skyline, Alta Vista, Oak Park, Paradise Hills, and Rolando Park. Graham, an English professor and chair of the Communication Arts Department at Cuyamaca College in Rancho San Diego, was first elected to the Board of Trustees in 2008.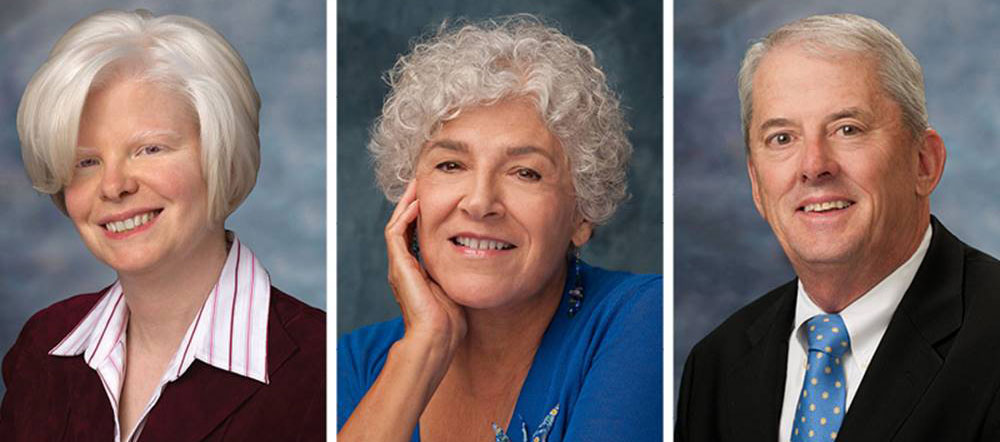 Rhinerson represents District B, which includes Mira Mesa, Kearny Mesa, Scripps Ranch, Tierrasanta, Allied Gardens, and San Carlos. Rhinerson, an adjunct professor of public administration at San Diego State University, was first elected to the Board of Trustees in 2012 and his career includes serving as Chief of Staff at the San Diego Unified School District and as a partner and president at Southwest Strategies.
Graham was sworn in by Alicia Muñoz, a San Diego County Board of Education Trustee who also teaches ESL at Cuyamaca College. Rhinerson was sworn in by Richard Barrera, a labor rights and community advocate who serves as a San Diego Unified School District Trustee.
Following Graham and Rhinerson taking the oath of office, they and their colleagues re-elected Dr. Maria Nieto Senour as president of the governing body. Senour was first elected to the Board in 1990 and has been serving as Board President since 2015. In addition, Mary Graham was elected as executive vice president of the board and district Chancellor Constance Carroll was appointed secretary. Board members Craig Milgrim and Bernie Rhinerson were named vice presidents for specific functions. The District E trustee seat is currently vacant due to former trustee Sean Elo-Rivera's election to the San Diego City Council.
The Board of Trustees in the past year has led the way in dealing with the impacts from the COVID-19 pandemic, including overseeing the transition to online and distance learning, as well as remote operations. Among the Board's areas of focus since the pandemic began overwhelming the region have been ensuring that students on the other side of the digital divide are provided laptops and internet access to navigate the transition, along with a slew of counseling and student support services. At the same time, the Board's leadership was further underscored by its steadfast commitment to equity, equality, and social justice in the wake of systemic racism targeting underrepresented populations. The Board in June, for example, unanimously adopted a resolution denouncing systemic racism in all its forms and affirmed the SDCCD's commitment to Black students and all students of color who have been subject to both overt and passive forms of racism.
Dr. Senour thanked her colleagues for their confidence in her leadership and reflected on the Board's recent accomplishments.
"In spite of many challenges over the past year, I am proud the district has remained committed to serving students," said Dr. Senour. "The community deserves high-quality educational opportunities and that continues to be our focus."
The SDCCD is governed by a five-member, locally elected Board of Trustees. Three students also serve a one-year term filling a student trustee position on a rotating basis.
Read the December 17, 2020 Board Report