Chancellor's Message: The California Budget 2020-21
Dear Colleagues and Friends: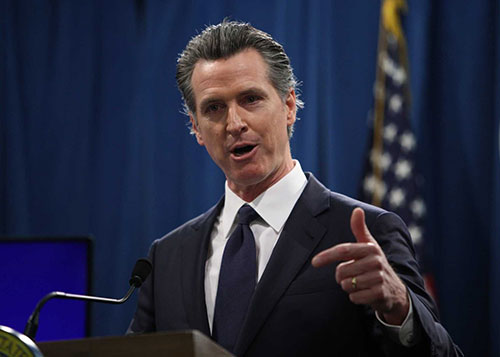 In the 1992 crime comedy Mo' Money, a ne'er do well, played by the actor Damon Wayans, trades in his life of petty crime for a new life of legitimate work, assuming that this will lead to an increase in his income (more money). When, after an earnest effort, he discovers that this assumption is false, he returns to pursuing even larger criminal ventures than before. During the past two years, California's community colleges have been laboring to address a new funding system, hoping to achieve greater financial and greater student success outcomes. This was a significant change especially in the context of steep increases in contributions to the State pension funds and other enormous financial impacts on local budgets. When "mo' money" did not materialize, numerous committees struggled, and are still struggling, to find a path for improving this situation. Proposals abound for making a number of changes; information has been shared about the availability of more revenue; and, as a result, great interest greeted Governor Gavin Newsom's second budget proposal for the State.
Governor's Budget Proposal in General
This morning, Governor Newsom held the annual press conference to introduce his budget proposal for 2020-21, which marks the official start of the state's budget development process. The Governor's Budget Proposal will be followed by legislative discussions, advocacy from the public and private sectors, and further analysis by the State Department of Finance and the Legislative Analyst's Office as more is known about revenue being generated in the current year. As was the case in the past several years, it is anticipated that the revenue estimates will continue to be positive. The next official step in the process will be the Governor's second budget proposal, known as the May Revise or May Revision, which will be issued later in the spring, and will be based on updated revenue figures, as well as input from legislative discussions and public advocacy efforts. This morning, Governor Newsom outlined a total of $153 billion in the general fund expenditure budget, an increase over the $144 billion budget he introduced this time last year. The total budget, however, is $222 billion, including a number of the one-time initiatives and special funding items that are included in the overall budget. The surplus will be used to address a number of projects and issues.
Governor Newsom discussed his vision that California should move forward toward "economic growth with inclusion," while being prepared at all times for the recurrence of a recession. It addresses three major themes: increased funding for schools, including initiatives to address the teacher shortage; support to address homelessness; and further retirement of debt and preparation for the recurrence of a recession. His proposed budget addresses the steady increase in the Rainy Day Fund, currently at $18 billion and which will reach its 10% statutory "cap" in two years. Overall, the budget would provide essentially the same level of funding for the public sector, with the surplus funds being used for largely one-time investments in a variety of new directions: reorganization of governmental organizations (including the creation of a new Department of Cannabis Control), creation of a new major park, tax cuts for small businesses, and other initiatives.


Budget Impact on Community Colleges and the San Diego Community College District
The governor's budget provides about $317 million in increased funding for the California Community Colleges, some of which will be noted below. However, it does not provide a significant amount of new funding. We are all grateful for the base support, especially since it continues funding to offset tuition (enrollment fee) for first-time/full-time students attending community colleges for two years.
The San Diego Community College District has always followed a balanced approach to fiscal policy and operations, and we have been aggressive in taking steps to eliminate any and all developments that produce structural deficits. Under the governor's proposed budget, the SDCCD will continue to invest in our great institutions, City, Mesa, and Miramar colleges, and the seven campuses of Continuing Education, to advance their programs and innovations. We will continue to ensure that our investment in new bond-funded facilities is matched with maintenance funding through the ongoing leases of surplus property.
We will also continue our bold steps in addressing the increases in the employer contribution to the CalSTRS and CalPERS retirement systems through the Board's designated reserve and through ongoing budget adjustments. Under the governor's proposed budget, this is the largest fiscal challenge for all community colleges, schools, and similar organizations. In the SDCCD, our required contribution in FY 2013-14 for STRS/PERS cost $14.1 million. The increase for 2019-20 reached $37.3 million. The projected cost for the coming year 2020-21 will be $41.9 million. This is funding that must be diverted from the District's general fund, which otherwise would be available for operations.
Here are the key highlights of the additional funding identified in the governor's proposed budget along with the estimated impact on the SDCCD:
Continuous Revenue
- Cost-of-Living Adjustment (COLA). The Governor's Budget includes a 2.29% COLA in the amount of $167.2 million.
SDCCD Impact. This will yield $5.9 million, which will be distributed in accordance with our Resource Allocation Formula (RAF). We will advocate for the COLA to be maintained at this initial proposal amount or be increased if possible.
- Apportionment Funding for Growth. The governor's budget proposal includes 0.5% in growth funding in the amount of $31.9 million.
SDCCD Impact. The San Diego Community College District will not be eligible for any of the growth funding since we are a "hold harmless" district under the Student Centered Funding Formula (SCFF). "Hold Harmless" guarantees that SDCCD will receive its FY 2017-18 apportionment funding plus COLA for each of the subsequent fiscal years through FY 2020-21 and is allows the SDCCD the opportunity to align its expenses with State apportionment revenue under the recently-enacted funding formula for all community colleges.
One-Time Revenue
- Deferred Maintenance and Instructional Equipment. This year's state allocation will be $17.2 million.
SDCCD Impact. This will yield $584,000 for the SDCCD budget; it is this District's practice to split these funds 60% Facilities ($350,000) and 40% Instructional Equipment ($234,000). Increasing this allocation will be a legislative advocacy topic for us.
- Mandated Block Grant Funding. This funding is an option that districts may take in lieu of submitting mandated claims. Funding is allocated on an FTES basis and for FY 2020-21 the dollar value per FTES will increase from $30.16 in 2019-20 to $30.85 in 2020-21.
SDCCD Impact. This funding will yield $1.1 million in one-time funding to be distributed in accordance with the Resource Allocation Formula (RAF) to help address the ever-increasing employer rate increases for CalSTRS and CalPERS pension liabilities. As mentioned above, the estimated operating expense increase in FY 2020-21 for CalSTRS is $1.9 million and for CalPERS is $2.7 million for a total of $4.6 million increase in employer contribution operating cost increases for both pension systems.
Total Increase: $7.5 million.
Although there is more detail to be determined and a host of small projects that are also included in the budget, the governor's budget proposal provides another year of general support for California's community colleges. However, other factors continue to seriously challenge community college budgets. Under the governor's budget, the San Diego Community College District will be able to continue the current level of service to students and to advance some important innovations and initiatives. The SDCCD must also effect budget economies and adjustments in order to offset some of the critical budget challenges.
The Board of Trustees, the Presidents, the Vice Chancellors, the Academic and Classified Senates, the student leaders, the District Budget Planning and Development Council, and I will now turn our attention to the budget development process for 2020-21, a process in which everyone will be involved through designated councils and committees, both districtwide and at the campuses. We also will become involved in legislative advocacy efforts that will begin later this month in Sacramento when our leadership team will participate in statewide advocacy meetings, focusing on these primary issues: 1) increasing base funding; 2) providing State line-item funding for full-time faculty positions; 3) increasing funding for deferred/scheduled maintenance and instructional equipment; and 4) mitigating the impact of increases in the employer contributions to CalSTRS and CalPERS.
During the coming months, you will all receive information about the budget issues that will be addressed, along with other legislative matters, and your ideas and suggestions will be welcome.
Stay tuned . . . .
Dr. Constance M. Carroll
Chancellor
San Diego Community College District