Chancellor's Budget Development Message
April 15, 2020

|
Dear Colleagues and Friends:
Some of you may recall that in 1969, the late Senator Everett Dirksen said, "A billion here, a billion there, pretty soon, you're talking real money!" In our current fiscal environment nationally, our conversations have advanced almost seamlessly from millions to billions to trillions. With such enormous figures floating around, it is difficult to get grounded in our actual situation. This message is my attempt to do just that.
As we continue to address the myriad issues and challenges of the coronavirus/COVID-19 crisis, we must also attend to other areas of responsibility and planning that are on our immediate horizon. The most important issue on this menu is the budget, both the budget process and the probable outcomes. Our goal in the San Diego Community College District (SDCCD) will be to implement the necessary budgetary decisions (i.e., reductions) that are required by this crisis while positioning the District, City, Mesa, and Miramar colleges, and Continuing Education for a robust recovery. We have endured similar situations before and we have come through them well. We will do so again in this situation.
Change in Normal Budget Development Process
In normal years, the annual California budget development process is initiated with the announcement of the Governor's January Budget proposal, which is the opening proposal for funding in the subsequent year. Following that, legislative committees analyze the revenue situation and the public weighs in with advocacy. Next, the governor issues a May Revision Budget (also known as the May Revise), based upon this information. The May Revise is historically higher in its proposed allocations than the Governor's January Budget proposal, since revenue estimates at that point are normally higher. This step in the process is followed by legislative conference committee activity, as well as by more public advocacy, leading to a final determination by legislative leaders in concert with the governor. The legislature then files the budget by June 15 and the budget is activated on July 1, which is the constitutional deadline, and signed into law by the governor.
The major change this year is the fact that the state's revenues will not be known or even reasonably anticipated prior to the May Revise, since the IRS income tax deadline has been moved from April 15 to July 15, due to the COVID-19 impact on filers. In addition, the impact of unemployment resulting from the COVID-19 crisis will have a negative impact upon income-driven revenue. It is now expected that there will need to be an "August Revise," which means that budget revenue impacting the actual fiscal year will not be factored in until almost two months after the fiscal-year budget, which begins on July 1, have passed. This means that local organizations and districts like ours will be filing our required Tentative Budgets in June without clear information and we will be proceeding to our Adopted Budgets in September in much the same way. Therefore, in the judgment of our Board and leadership team, we will need to be conservative in setting our budget parameters for the coming year 2020-21, even more so than in the past.
Budget Outlook is "Grim"
As one legislative leader has said, "The budget outlook is grim and the impact will be with us for three years." Because of the pandemic emergency, with the loss of income and jobs, the state's coffers will be depleted to a large extent. Some of the state's Rainy Day fund has already been used to bridge some of the state's problems, but it must last beyond the current year. The legislature is now looking at what some describe as a "workload" budget and others as a "baseline" budget. The bottom line is that districts like ours can expect to see seriously reduced budget allocations, even beyond the reduced allocations with which we are currently working. We hope to know much more when the May Revision Budget is issued, but it is important for all of us to know that we are sailing into a serious storm, even though the storm's precise category is yet to be rated.
SDCCD General Planning
As always, the Districtwide Budget Planning and Development Council is working on general parameters for 2020-21, under the leadership of Executive Vice Chancellor Bonnie Dowd. The Chancellor's Cabinet is also discussing overall parameters; the District Governance Council will hold discussions; the Colleges and Continuing Education planning groups will be working on variants; and the Board of Trustees' Budget Study and Audit Subcommittee will also be reviewing options. The bottom line is that we will be planning a budget that supports the basic instructional, support services, and operational needs as best as possible within reduced funding. We anticipate making continued budgetary savings by reducing personnel costs via attrition (for example, not replacing the vice chancellor of student services position and other vacant positions), and a host of other budget reduction strategies. We will not, however, have any layoffs, salary reductions, furloughs, or other negative personnel actions affecting contract employees. We will also do our best to minimize the impact on adjunct faculty wherever possible. Let me emphasize that all individuals and groups in the District will be encouraged to share their ideas as this situation evolves. Please let your appropriate organizations and/or governance leaders know your thoughts and suggestions.
Scheduling and Enrollment Management
While we wait for the May Revision Budget and more specific information about budget allocations from the state, we must make immediate decisions regarding the schedule of classes to be offered in the coming year. This aspect of our work is both the most important in general and the most difficult during periods of reduction since our top priority is serving our students by offering the classes they need to complete their programs of study and their general education requirements. In order to reduce our expenditures by offering fewer class sections (FTEF or full-time-equivalent faculty), we must select classes that can meet the needs of the most students (FTES or full-time-equivalent students) for which we receive funding from the state. As I have mentioned in other messages, the rising unemployment may also produce a surge in demand for classes, but that, too, remains to be seen. Our task right now is to prepare to serve our headcount of 100,000 students and FTES of approximately 37,000 students through fewer classes, which will be an expenditure savings of approximately $4.6 million. In the meantime, the following chart presents the scheduling plan for the coming summer, fall, and spring semesters, which reduces the number of class sections by 903 in a proportional manner across City, Mesa, and Miramar colleges, and Continuing Education. Each institution will now be working on this, and questions should be directed to the appropriate campus leadership.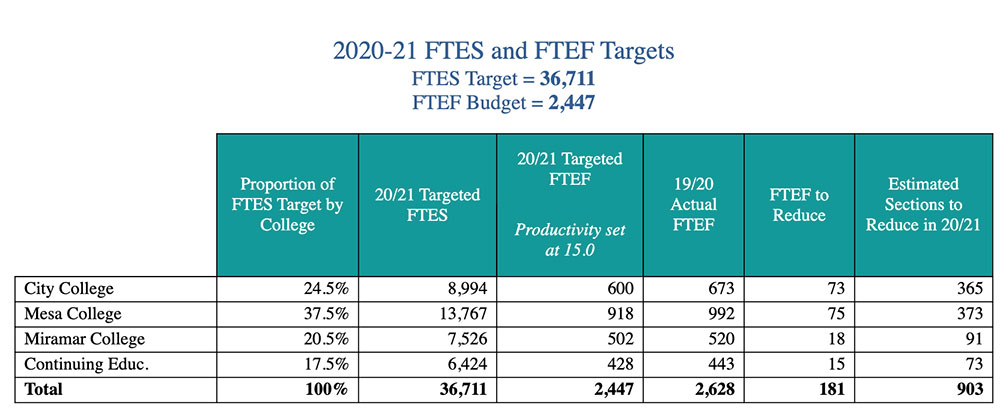 Notes:
1. Distribution of the targets was initially determined by actual FTES yielded by each institution in 2019-20, but proportions were modified to ensure no one institution bore all FTEF cuts.
2. Actual FTES does not include 1,209 of In-service FTES or FTES for tutoring, apprenticeship, and non-state supported courses, which are accounted for separately.
3. As it is too early to project Spring 20 actuals for CE, Actual FTES for CE uses the Spring 20 target +3.63%.
4. FTEF data were pulled from the Faculty Assignment page in Campus Solutions on April 12, 2020.
5. Sections to reduce were estimated by dividing the FTEF reduction by 0.2.
Expecting Federal Stimulus Funding
Not all financial news is bad. We are expecting to receive federal stimulus funding, from the Coronavirus AID, Relief, and Economic Security (CARES) Act, which was passed just a few weeks ago. The stimulus package also includes a Higher Education Emergency Relief Fund, which is calculated based upon Pell Grant figures, which pertains to credit students. However, our District includes a large and important noncredit program and we have elected to ensure that both credit and noncredit students receive funding. The total funding, which the District has pooled from the CARES ACT funds, is $13,739,718. The CARES Act guidelines require that a minimum of 50% of the funds is allocated directly to students, especially students who have been negatively impacted by the COVID-19 crisis. Our four institutions have been gathering data about student needs, especially their direct financial needs, since many students are now unemployed, and we hope to distribute this funding to them very soon. The 50% funding for students from the CARES ACT ($6,869,860) will be distributed as follows:
City College (24%) $1,648,766
Mesa College (36%) $ 2,473,151
Miramar College (22%) $1,511,369
Continuing Education (18%) $1,236,574
Although this is not a lot of funding for the amount of students enrolled in our programs, it will be a welcome boost for the special funding that our institutions and foundations have been providing to students.
The balance of the funding ($6,869,858) may be used to, as the CARES ACT states, "defray expenses for institutions of higher education, such as lost revenue, technology costs associated with a transition to distance education , and grants to students for food, housing, course materials, technology, health care, and child care. This allocation, which is also not a lot given our budgetary scope and needs, is being currently reviewed and will be determined in the near future.
Conclusion
As we work together during the coming months to address all of these fiscal issues, it is important to remember that we are living in unusual times and we are addressing the unprecedented demands imposed by a severe pandemic. Our top two priorities have been and are: 1) the health and safety of our students and employees; and 2) the continuity of our educational and operational functions. In doing this difficult work, the Board of Trustees and I remain deeply grateful for the dedication, flexibility, resiliency, creativity, and hard work of our faculty, classified professionals, and administrators who are doing an extraordinary job in the most challenging of conditions. Thank you all!
Stay well.
Dr. Constance M. Carroll
Chancellor, San Diego Community College District