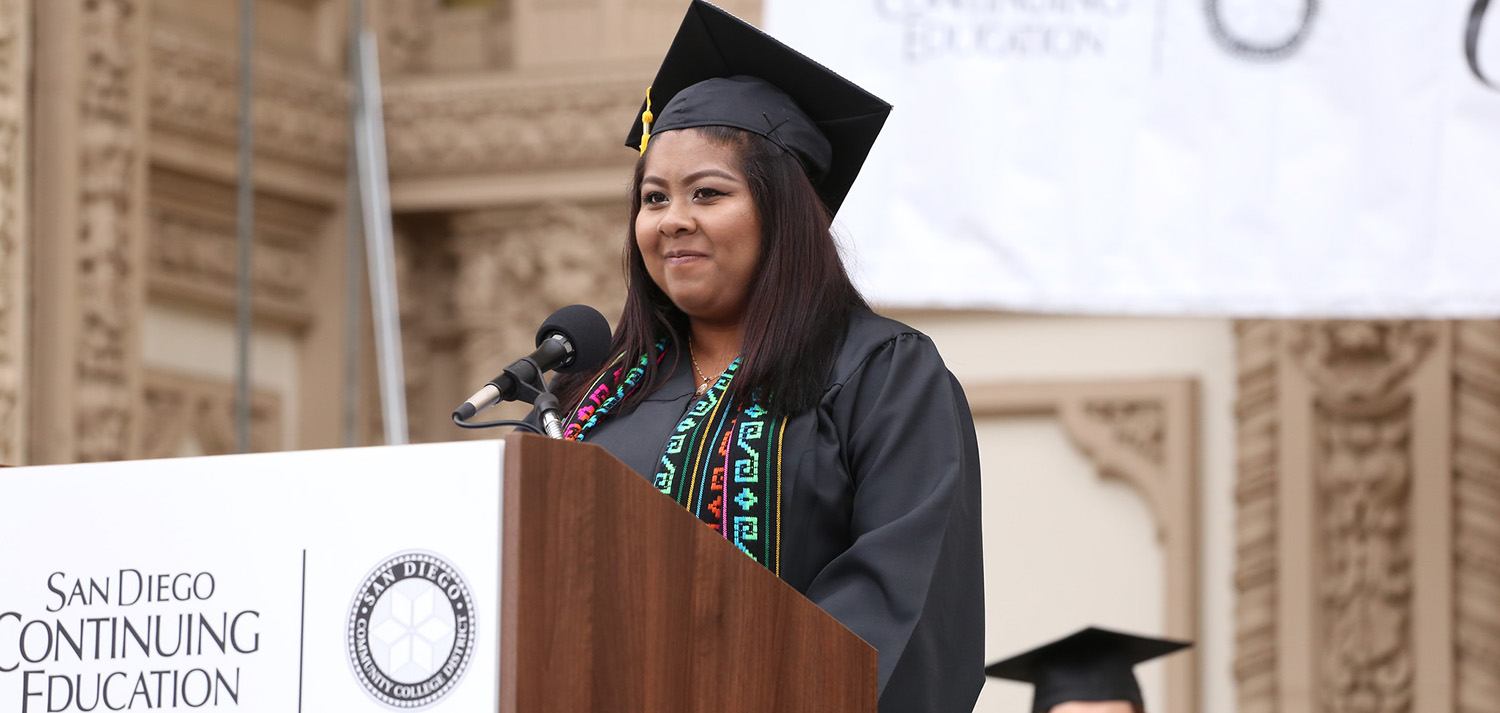 DACA students from Continuing Education share their experiences as Dreamers
June 19, 2020

|
As students everywhere commemorate a new milestone in cap and gown, San Diego Continuing Education celebrates in another decision made by the Supreme Court on Thursday, shielding 700,000 young undocumented immigrants known as Deferred Action for Childhood Arrivals (DACA) or Dreamers from deportation. California's largest noncredit institution, SDCE, enrolls 40-thousand students yearly who come from as many as159 foreign countries in any given semester looking for socioeconomic mobility.
Cristina Rosas, a DACA student, whose father was deported from the United States when she was just 8 years old, reflects on her journey as a Dreamer.
"Before yesterday, honestly it was terrifying. Trump could deport all of us at any time," said Rosas, who came to the US from Tecpán de Galeana, Mexico at age 5, and at 21 became the first in her family to graduate high school. "I have been here my whole life. I do not know Mexico at all. My parents gave me this opportunity to live here in San Diego and to go over there not knowing anyone or the country is scary."
Dating back to 1914, San Diego Continuing Education has supported immigrants and refugees from all over the globe in becoming new Americans through free Citizenship and English as a Second Language (ESL) classes, which allow undocumented students to rebuild or create lives in the U.S. After completing these courses, many students transition into SDCE's free career training programs in emerging fields such as Automotive, Healthcare, and Digital Media. Graduates can find work with living wages immediately after certification completion.
As DACA recipients wait for permanent legislation to replace Obama's deportation relief program, the Supreme Court's temporary ruling gives comfort to Dreamers across the nation.
"I don't have to watch my back anymore. I can maintain my status, keep my job, and keep pursuing my education," said Rosas. Her parents were only able to complete the third grade before leaving their home country. Inspired by their determination, Rosas returned to high school at SDCE after attempting two other institutions.
"When we were younger, my mom would wake me up early, fix my hair, get my brothers up and walk us to school every day, always telling us that she wanted us to be doctors or someone important," remembers Rosas. "My dad constantly pushes me to be better even when I want to give up. He struggled and he did not want that for us."
Rosas was named SDCE's Commencement Speaker in 2017 and this spring completed a certificate in Business and Accounting. An achievement Rosas says will afford her a better career.
In addition to workforce training, SDCE specializes in offering targeted support and guidance beyond academics to help specific populations of students succeed.
"Oftentimes they are the bridge for their parents into this culture because while growing up they learn the language and nuances of the U.S. and end up translating for their parents and assisting with responsibilities that need to be taken care of," said Sheyla Castillo, SDCE faculty. "Additionally, they tend to be the main providers for their families because they can work legally as teenagers." Castillo oversees SDCE's Immigrant Support Program, helping Dreamers like Rosas and Angel Avenando navigate the school system without fear of deportation.
Avenando who immigrated to the US from Mexico City 25 years ago, states the Supreme Court's decision is opening the doors again for everyone. "For Dreamers it's so difficult to make it here, but yesterday morning my son told me, dad, you have another opportunity," he said. As a father of three sons ages 8, 11, and an 18-year-old US Marine, Avenando decided to enroll in SDCE's High School Diploma/Equivalency program earlier this year. After completing his GED, he will begin SDCE's Culinary Arts certificate program.