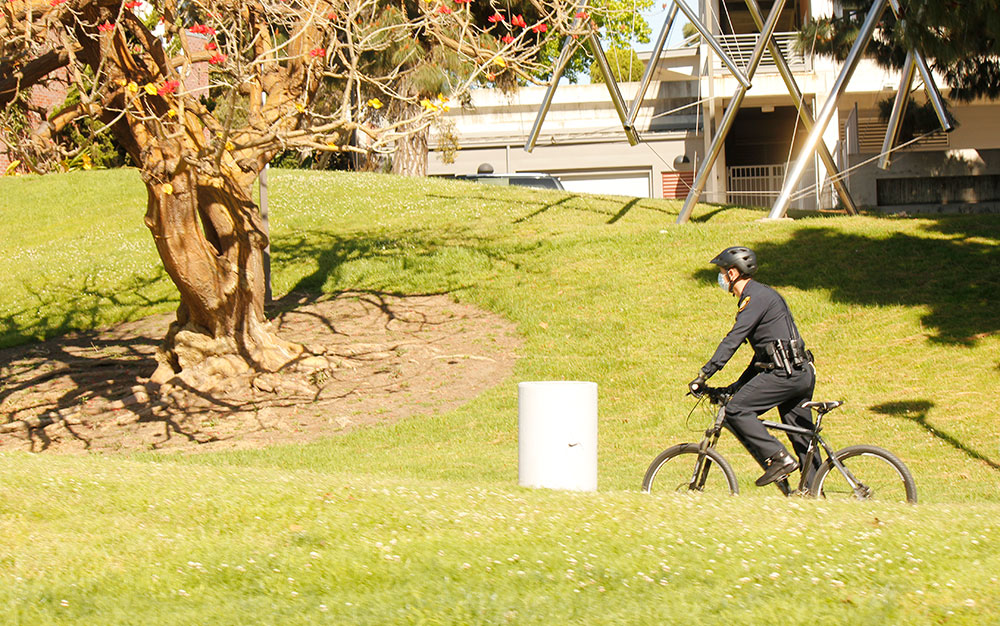 On patrol with College Police during COVID-19
April 20, 2020

|
Daily briefings are held outside with officers stationed at least six feet from each other, hand sanitizer at the ready, face masks firmly in place. Welcome to the San Diego Community College District Police Department during the COVID-19 pandemic.
Campuses are near vacant, but police are among the essential employees who aren't taking any time off. They've remained busy doing everything from checking on unoccupied buildings to asking people taking their dog on a campus walk to move along.
"All of our sworn officers and all of our uniformed community service officers remain on duty," said Police Chief Joseph Ramos. "It's been a little slower, we've been more proactive patrolling the campuses rather than responding to calls, but we are here."
While officers say there is much they miss about interacting with the larger college community, they have been able to get to know residents who live adjacent to campuses and come by to thank them for what they do. "It's been nice to hear from our neighbors," said Officer Jessica Rocha.
The focus, police say, is on being visible. "I have my officers on foot patrol making sure nobody is out there who shouldn't be out there," said Sgt. Mark Green, whose Northern Command includes Mesa and Miramar colleges and San Diego Continuing Education's North City Campus "We have a shelter in place order and our campuses are closed. If we see someone, we just ask them to leave. And folks for the most part have been great."
With 40 sworn officers and 17 college service officers, the SDCCD Police Department handles all patrol, investigations, and other law enforcement duties for one of the state's largest community college districts and operates 24 hours a day, seven days a week. The department coordinates with the City of San Diego Police Department, operating under a mutual aid agreement on campuses and surrounding communities. The other day near San Diego City College, for example, an SDCCD patrol officer interrupted a domestic violence incident in progress. Other activity at downtown campus includes reminding homeless residents that they cannot use the closed college to charge their cellular phones or access the internet.
College administrators provide police with a list of people approved to be on campus, and officers will question anyone they don't recognize. Rocha, who spends much of her time checking buildings and making sure doors are locked, said less than 10 people were on the Mesa College campus during a recent weekday.
"I'm looking forward to getting back to our normal duties," said Rocha. "I think we all are."