Building champions of character
July 23, 2020

|
Sports programs at City, Mesa, and Miramar colleges focus not only on developing outstanding athletes, but exceptional students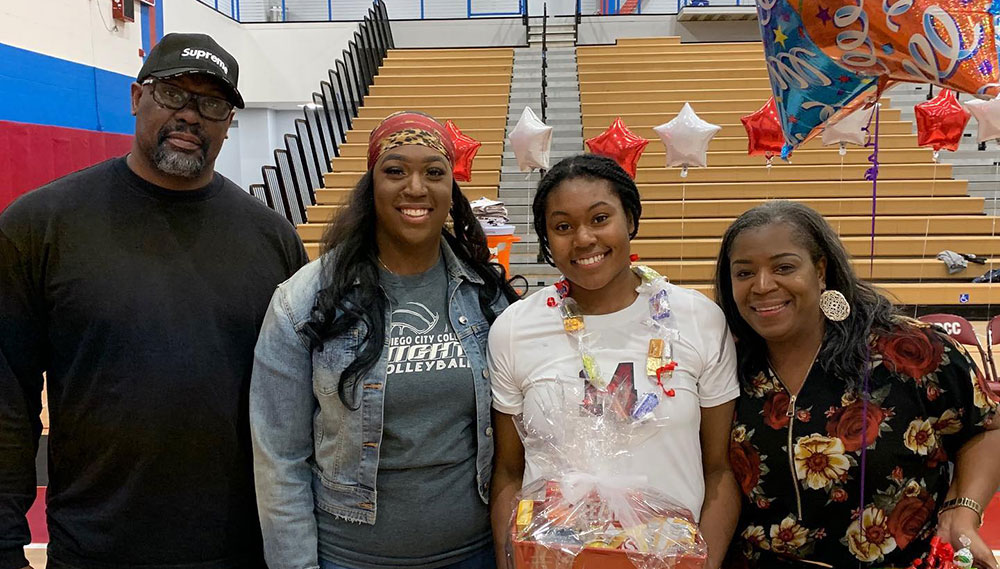 Kareemah Hopkins is an All-Pacific Coast Athletic Conference and All-California Community College setter who helped lead the San Diego City College women's volleyball squad to the playoffs during both the 2018-19 and 2019-20 seasons. But what she's most proud of is earning her associate degree at City College followed by a full-ride scholarship to Coppin State University in Baltimore, where she plans on securing a bachelor's degree in criminal justice and psychology before embarking on a career as an FBI forensic psychologist.
"Attending City has allowed me to become not only a better athlete, but a better person and a better student," Hopkins said, "while also teaching me how to have a life outside of sports. Coach (Dede Bodner) has always impressed upon us that we are more than student-athletes. She has always impressed upon us that we have to be preparing ourselves for our careers once we leave City."
Welcome to intercollegiate sports at the San Diego Community College District, where success is not just measured in championships — and there are many — but in character development.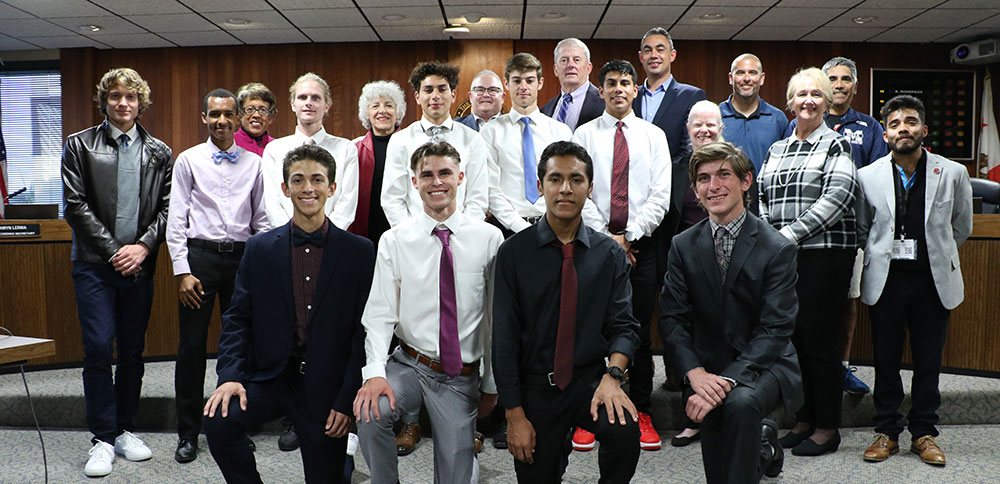 All eight sophomores on the state championship-winning Mesa College men's cross country team, for example, boast a grade point average of at least 3.0 and three of them received all-state, all-scholar honors with GPAs of 3.75 or above. "This team is a great example of what a community college does," Coach Manny Bautista said.
Bautista was among the players, coaches, and college officials who were honored for their most recent championship during an SDCCD Board of Trustees meeting earlier this year. Among them was Head Coach Sean Ricketts, who also won a state championship as a student-athlete at Mesa College. While much has changed since then, the overriding principle has not.
"We bring them in with one common goal: Develop," Ricketts said. "Develop under three areas: develop as an athlete, develop as a student, and develop as people. We want to develop and guide these gentlemen and women on our team to be good people."
Miramar College men's volleyball Coach John Landicho, who has been winning titles everywhere he has coached and who served as a technical advisor to the 1996 USA Men's Olympic Team, doesn't mince words when discussing his role.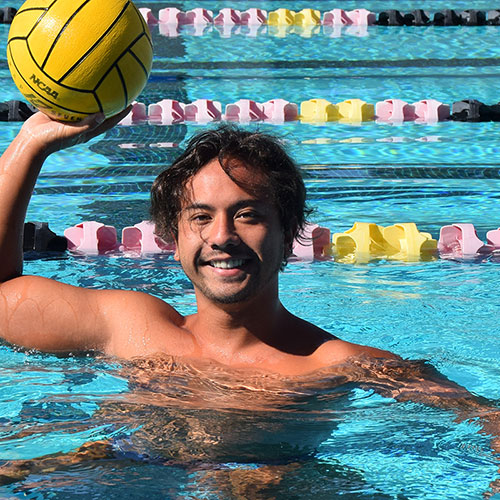 "We place a lot of emphasis on character, and character development is fundamental for us at Miramar," Landicho said. "I'm in the field of human development. I make better human beings through championship-level volleyball. We all like to win, but developing quality human beings is really our goal. And that means you have to be a good dude, you have to be doing well in the classroom, and you have to be a good teammate if you want to play on our squad."
He pointed to one former Miramar College player whom Landicho worked with and paired with a counselor after the athlete's grades and focus failed to improve. The student not only played on the 2017 championship squad, but also transferred to an Iowa university, where he became an assistant coach. He recently earned his bachelor's degree and is now working as an engineer for Carlsbad-based Viasat.
In fact, a 2010 study commissioned by the California Community College Athletic Association (CCCAA) that included the entire population of California community college student-athletes from 2004 to 2010 showed that student-athletes consistently earned higher GPAs and had higher transfer rates than their non-student-athlete peers — findings similar to previous studies of community college athletics.
Mesa College President Pamela Luster, who is a past chair of the CCCAA's Board of Directors, said access to equitable outcomes is a critical component of community college sports. A large number of, if not most, community college athletes come from disadvantaged communities, and many may not have attended college had it not been for the opportunity to compete at the collegiate level. Being part of a cohort with access to a solid support system means disproportionately impacted populations are accessing opportunities they may not otherwise have had.
Athletes, of which there are nearly 800 participating in 40 teams throughout the District, must be full-time students who maintain a minimum 2.0 GPA and satisfy various transfer requirements, and several colleges assign full-time counselors to sports teams. Coaches hold high academic expectations of their students, and it is common for teammates to study together, whether it is on a bus en route to a competition or at a campus library.
"If you believe in equity, if you believe in equitable outcomes, then you believe in the transformative power of community college athletics," President Luster said. "This is a group for which equity would not exist if they were not allowed to compete."
City College basketball Coach Mitch Charlens, who guided the Knights to a 2017 state championship, recalled a former gang member who came to the college and stayed in school because of the basketball program. The basketball player became an Honor Roll student who transferred to a Division II school in Oklahoma, and then earned a master's degree in counseling. Indeed, Charlens says what makes him as proud as anything is that 90% of his basketball players have earned scholarships to four-year colleges.
"There are a lot of people who wonder why we invest in sports at the community college level," Landicho said. "We do it because it helps our students develop into upstanding citizens who know about teamwork and who know about setting and reaching a goal."
Hopkins, the City College volleyball star, agrees.
"It was a very good decision to come here," she said. "The past two years have helped me learn more about myself not only as an athlete, but as a person. Coming to City has helped me develop skills needed to succeed not only as a setter, but as an individual who knows what I want to do in life and is confident about doing it."