Message from the Chancellor: Coronavirus update #1
March 4, 2020

|
SDCCD Colleagues and Friends: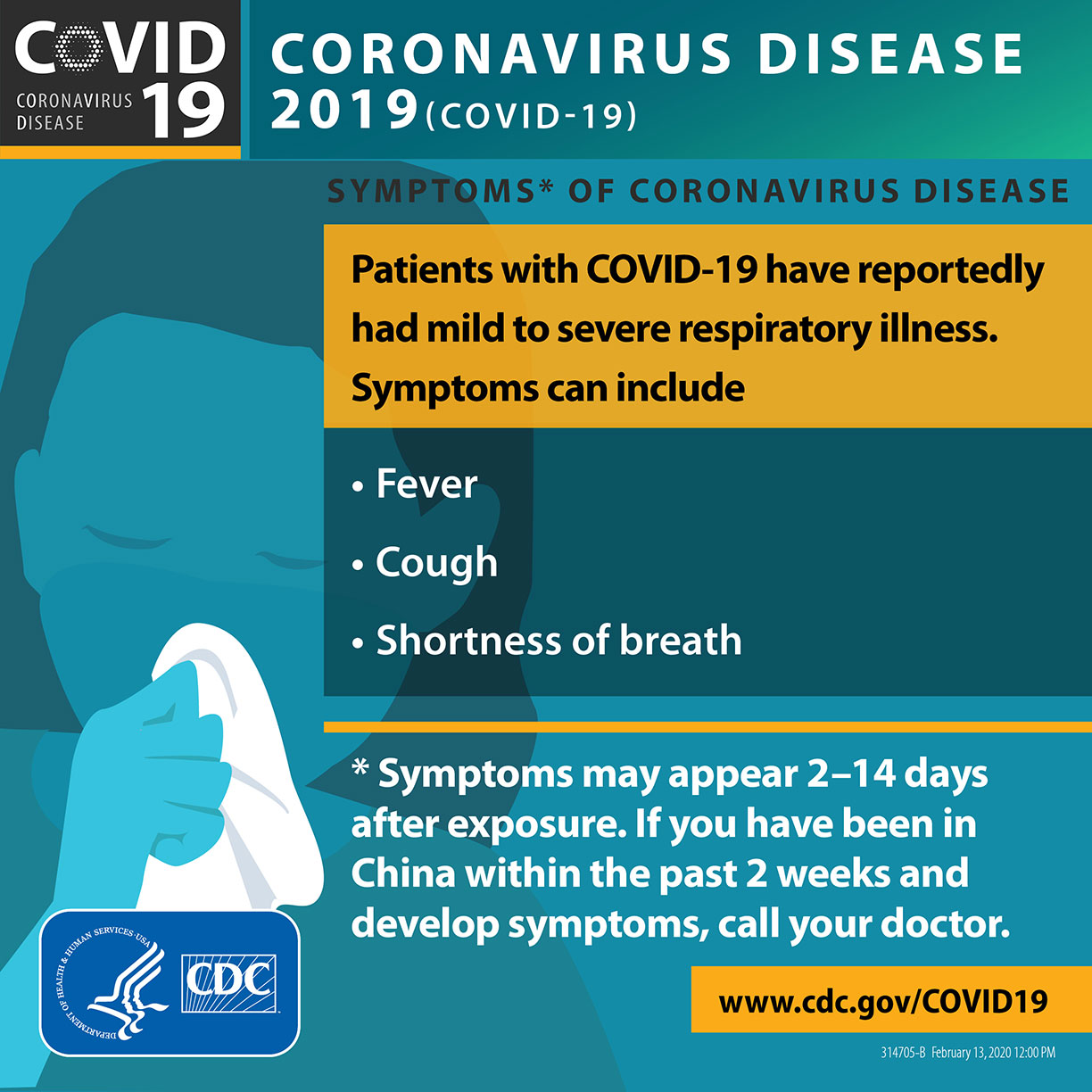 This is the first update in what will become a series of informative messages regarding the San Diego Community College District's plans and initiatives to address the spreading coronavirus/COVID-19 pandemic. Please know that the Board of Trustees, the College and Continuing Education Presidents, the Chancellor's Cabinet members, and I consider the health and safety of our students, faculty, and classified professionals to be our top priority. Thus, we have already begun to develop and implement plans and strategies around this serious challenge. Your input and suggestions will be welcome as we all gain experience with this new viral outbreak.
More information on the
coronavirus COVID-19
As you recall, we have had to address a range of emergencies over the years, including the H1N1 (Swine) Flu pandemic during 2009. We have also had major closures due to the fires of 2003 and 2007. We will be drawing from our experiences with these events as we confront and adapt to the new challenge. Our districtwide community responded professionally and well to those challenges and I know you will do so again in the current situation. To date, no cases of the coronavirus/COVID-19 have been reported within our District, and we have been focusing on planning. Let me summarize our efforts to date, along with some guidance.
Nature of Coronavirus/COVID-19
What we know about what is known as a novel coronavirus (COVID-19) is that it originated in Wuhan, China, and has now spread globally, including to the United States. Although some cases are mild, death has resulted from a number of cases, particularly affecting the elderly and people with underlying immune deficiencies. Although the numbers are relatively small at the present time, COVID-19 is obviously spreading at a steady rate. Thus, the Centers for Disease Control and Prevention (CDC), has designated it as a serious health risk to the general public. Please see the summary from the California Department of Public Health, which both explains this outbreak and contains practical advice. Because of the undetectable nature of this disease in its early stages and its high and rapid rate of infection, the processes we need to follow will differ from some of the other emergencies we have experienced in the past.
Travel Restrictions
At the present time, the CDC has identified five geographical areas or countries that are affected by "widespread or sustained community transmission" of the COVID-19 form of coronavirus: China, Iran, Italy, Japan, and South Korea. The government has asked that travelers avoid travel to those countries rated with a Level 3 Warning (China, South Korea, and Italy) and consider postponing travel to Level 2 areas (Iran and Japan). Other destinations that are being closely watched are Hong Kong, Singapore, Taiwan, and Thailand. The SDCCD does not currently have or plan to have study-abroad programs in any of these areas. A number of universities and colleges have been canceling their study-abroad programs. In our case, the travel situation will be carefully monitored before study-abroad programs are finalized. We do have international students from the countries in question, as well as a few conferences that people plan to attend. These will also be monitored to ensure that proper advice is given and to recommend that proper testing occurs upon return. In the meantime, there are no interruptions in these plans.
Possible Closure(s)
In the event there are any cases identified at our campuses or at the District Office, we will follow procedures that are similar to those we follow when a person with a tuberculosis infection has been present: notification of all with whom the person was in contact and disinfectant cleaning of the classroom and other areas they visited. However, in the case of coronavirus/COVID-19, some form of closure(s) could also be called for, e.g., classroom, classroom building, area of campus, department, or even an entire campus or unit. In the very worst case scenario, the entire District might have to close, as happened during the fires. In this case, the District would work closely with the State Chancellor's Office to obtain a waiver for the loss of FTES apportionment funding during the period of closure.
Continuity of Instruction/ Distance Education Conversion
Any level of closure could have a negative impact upon our students, which can be nullified or mitigated by a Distance Education accommodation. With the migration to the Canvas Learning Management System in 2019, an online course shell is generated with faculty assignments for all sections that are scheduled in the Colleges and Continuing Education. To support faculty and maintain instructional continuity during a closure, faculty would be notified of the web location for resources to provide guidance and support for teaching in an online environment. Resources would include existing tutorials such as a self-paced Introduction to Canvas course for individuals who do not teach online classes. Consultation with the District Distance Education Steering Committee (DDESC) and online faculty mentors will commence in order to develop a support structure for instructional continuity. In the meantime, here are the steps that faculty should follow if this option is needed:
Go to sdccd.instructure.com. Use the 10-digit ID and 8-digit date of birth to login. Faculty will be able to see all sections of courses they are currently assigned.
View the self-paced "Introduction to Canvas" course (designed for individuals who do not teach online classes) available at SDCCD Online Learning Pathways. Contact Canvas support for faculty at 844-612-7422 to request a development course shell to build and refine an online course before publishing. Call 619-388-3808 for Instructional Design assistance. Use videos and tutorials at sdccdolvid.org.
Publish the online course.
Provide students with a link to videos and tutorials on taking online classes.
As a precaution, we encourage faculty members to explore this option in order to be prepared in the event such a strategy will be needed. More information and assistance can also be provided by the College/CE Vice Presidents and Deans.
Flexibility in Attendance Oversight
We ask managers and supervisors to be as flexible as possible regarding employees who are ill or need to care for a family member or domestic partner who has been diagnosed as having COVID-19. Such employees are encouraged to remain at home and not come to work unless they have been cleared by a physician to do so. Administrators should not "police" these situations, but should consult with Human Resources if there are concerns. Instructors should exhibit the same flexibility in dealing with students. If there are concerns, these should be directed to the appropriate Dean or Student Health Center. While being cautious and practical, we must also ensure that we are respectful of individual rights and sensitivities.
Facilities and Operations
In the event of contamination from COVID-19 exposure, after the affected area has been sealed off, the Maintenance staff will disinfect it with the appropriate treatment recommended by the CDC. Also, additional sanitizer solution and/or stations will provided throughout the District.
Personal Responsibility
In the end, diseases are spread through interpersonal contact. Therefore, we ask that everyone take responsibility for his/her/their hygiene as this affects our work and learning environments. Please note the following:
1. Seek medical attention if you have the symptoms of COVID-19 (respiratory problems and fever), if you have been in the company of someone who has the disease, and if you have recently traveled to an affected geographical area. Do not come to work, especially if you are sick, until your health situation has been resolved.
2. Wash your hands frequently and thoroughly.
3. Avoid touching your eyes, nose, and mouth unless you have washed your hands.
4. Do not share beverages or food with others.
5. Clean and disinfect shared surfaces in offices, labs, or other common areas.
Communication
You will receive periodic updates from me, and also from your campuses and departments. Special communications have been sent and will be sent to students as well. The District is also currently working on an online resource page that will be updated regularly with announcements, FAQs, and helpful links for the entire districtwide community, including students.
If we all heed the advice we will be receiving, we should be able to minimize exposure to COVID-19 in the San Diego Community College District. Thank you in advance for your efforts.
Dr. Constance M. Carroll
Chancellor