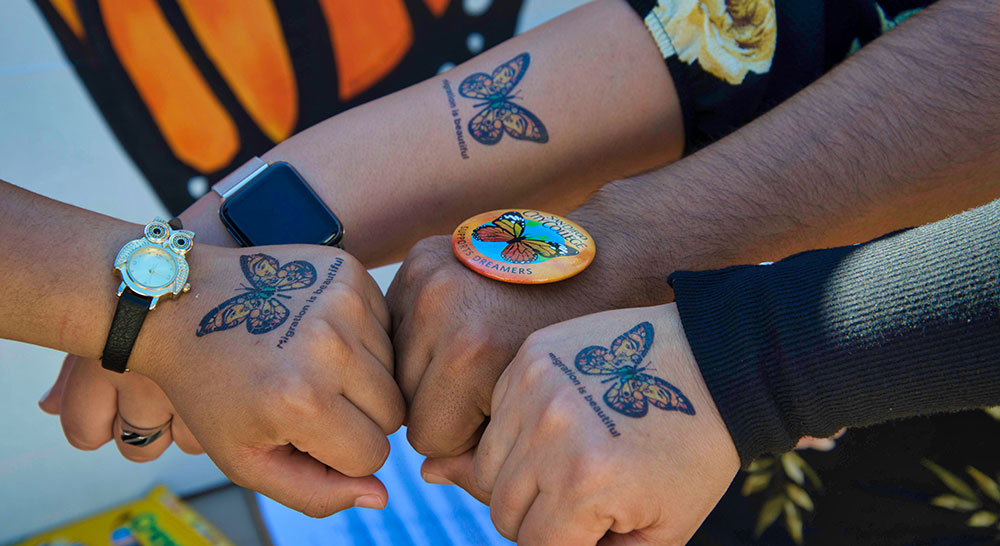 Celebrating a win for DACA students
June 22, 2020

|
The San Diego Community College District is celebrating the U.S. Supreme Court's June 18 decision striking down the Trump administration's years-long attempt at eliminating the Deferred Action for Childhood Arrivals (DACA) program that is protecting approximately 560 DACA students at San Diego City, Mesa, and Miramar colleges, as well as San Diego Continuing Education.
"Although there will no doubt be future challenges, it is heartening to see legal support for the rights of students," said SDCCD Chancellor Constance M. Carroll. "The San Diego Community College District, the Board of Trustees, the faculty and staff, and student leaders share the philosophy that all students are important and all students deserve the same support and protections as they pursue their educational goals."
Adopted under then-President Barack Obama in 2012, the DACA program allows some immigrants, brought to the United States as children, without proper documentation to remain in this country and become eligible for a work permit. DACA recipients have grown up as Americans and identify as Americans, and many did not know they were immigrants until they were teenagers or later. Recipients cannot have been convicted of felonies or serious misdemeanors, and the program does not provide a path to citizenship.
The Trump administration in 2017 announced intentions to phase out the program, resulting in numerous lawsuits to stop the action. The Supreme Court ruled the Trump administration did not follow the proper rules in trying to void the program, thus leaving open the possibility it could revoke DACA if done correctly. Any such effort, however, is likely at least months away and one that could be reversed should a new administration take office following the November election.
Cristina Rosas, a DACA recipient enrolled at San Diego Continuing Education who has been living in the United States nearly all of her 23 years, said the Supreme Court decision means a sense of stability.
"Before yesterday, honestly it was terrifying. Trump could deport all of us at any time," said Rosas, who came to the U.S. from Tecpán de Galeana, Mexico at age 5, and at 21 became the first in her family to graduate high school. "I have been here my whole life. I do not know Mexico at all. My parents gave me this opportunity to live here in San Diego and to go over there not knowing anyone or the country is scary… I don't have to watch my back anymore. I can maintain my status, keep my job, and keep pursuing my education."
Continuing Education student Angel Avendano shared similar sentiments. Avendano has raised three sons in this country, including an 18-year-old Marine, is currently earning his GED, and he plans to enroll in the Culinary Arts program en route to becoming a sous chef.
"We have been residents in America for 25 years," Avenando said. "I don't have to feel scared anymore."
The SDCCD has long advocated in favor of the DACA program and comprehensive immigration reform, and the SDCCD Board of Trustees in 20017 unanimously approved a resolution urging Congress to extend the DACA program and make it permanent.
The Supreme Court DACA ruling came just a day after a federal judge sided with the SDCCD and California's community colleges in ruling the Trump administration illegally restricted federal stimulus funds to as many as 800,000 students, including those protected by the DACA program.
"I am personally encouraged to see our philosophy of equity and inclusion prevail in these two decisions, and I am especially proud that our district played an active role in advocating for our DACA and undocumented students," Chancellor Carroll said.