Edit Title
October 4, 2020

|
Due to continuity of instruction and rigorous adherence to guidelines and safety practices, 100% of Mesa College's 2020 graduating Dental students who were seeking employment, were able to get hired this past summer, despite the global pandemic.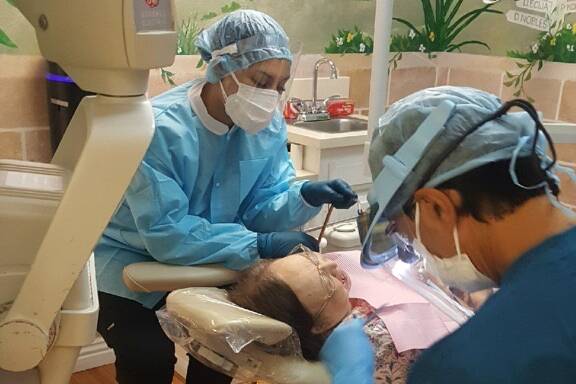 Even though Mesa's Dental Assisting students were not allowed to return to campus until June 22, 2020, during that time frame, the Dental Assisting faculty continued to engage and instruct students in their laboratory courses, remotely, through videos, virtual simulations, case studies role playing and discussions.
"It really is a testament to the dedication of our students and faculty," stated Tina Recalde, Dean of the School of Health Sciences and Public Service. "Fortunately, all the students seeking jobs were able to persevere and gain employment."
In order for Mesa students to proceed with their education and graduate, they needed to be tested on core competencies. To complete this testing, the faculty and students needed access to the campus. Dental Assisting faculty prepared for the students' return to campus for weeks and worked closely with Vice President of Instruction Isabel O'Connor, Dean Tina Recalde, Chairs Jill Chagnon and Christine Balderas, Allied Health ILT, Brittany Williams, Allied Health faculty and Facilities to assure that our students and their patients could safely return to campus.
This campus-wide collaborative effort included students being cleared to wear N-95 masks/respirators, since they would be performing procedures which involved aerosols. Student Health Services opened their clinic for a day to evaluate and give the needed clearance to 18 dental assisting students.
From June 22 until July 2, 2020, faculty and students worked diligently to complete all needed laboratory and clinical evaluations. Several students completed their clinical rotation hours by this date and were able to receive their Certificates of Completion in the Dental Assisting Program. Other students continued to work in their clinical settings to complete their hours.
All students seeking employment in a dental office secured positions as dental assistants and are now eligible to take their board exams. Due to the need for dental assistants in the field, Mesa has maintained full enrollment in the program for the 2020-21 year. Visit the Mesa College Dental Assisting webpage to learn more.