Destined to affect change
November 16, 2020

|
The first day Destiny Gallegos-Muñoz stepped onto the City College campus as a freshman in 2018, she spotted an Associated Students Government (ASG) flyer promoting the organization on a wall outside the L Building and resolved to learn more.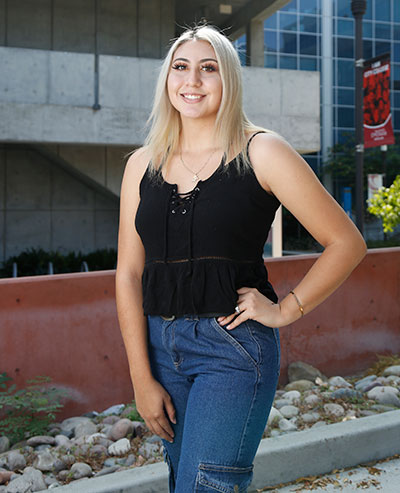 "I wanted to get involved," Gallegos-Muñoz said. "So I signed up."
Gallegos-Muñoz has been involved at the campus ever since. This year, she's also the ASG President and City College student representative on the Board of Trustees.
"This is a big step in my life, but I want to leave an impact at City," Gallegos-Muñoz said. "I want to make a difference and I want to make sure student government makes a difference, especially during this pandemic."
WE recently asked Gallegos-Muñoz a few questions about her experiences at City College.
Q. Why did you come to City College?
A. My cousin told me about his experience at City College — before I graduated high school —and it pushed me to continue my education at City College.
Q. What is the strangest thing that you've seen on campus?
A. I wouldn't say strangest thing, but the coolest thing I've seen on campus is how a lot of dance students practice outside and it's really fun to see!
Q. What is your vision for City College?
A. My vision for City College is to hopefully get a football team and a cheer team. I hope the college expands more; also gets more diverse foods offered at the cafeteria.
Q. Best professor you've ever had and why?
A. I can never choose just one, but a few professors would be Jose Luis Perez, Paul Lopez, Maria-Jose Zeledon, Hector Martinez, and Rob Rubalcaba because they all teach their students with their heart and give us real perspectives. All of these professors go above and beyond their job for their students to make sure we know the necessities we need to reach our educational goals.
Q. Funniest moment at City College?
A. When I took communication with Dr. María-José Zeledón-Pérez for Puente, she made each of her students choose an object from a bag to do an improve speech on. A few fellow classmates made this experience unforgettable. One that stood out was my friend Jessica's speech about a rubber unicorn duck that I had brought. I loved how open that class was; it made it easy to be yourself and enjoy each other's company while being confident in saying our speech.
Q. What does City College mean to you?
A. Hope. Coming into college after high school was incredibly scary, but if it wasn't for being involved with Puente Project or ASG, I don't know what I would've done because both of those organizations really push for student success.
Q. When you're able, what's your favorite place to hang out on campus?
A. In the M Building and the S hub. Both are beautiful places on campus with the best view!
Q. What is the most memorable event you've experienced as a City College student?
A. Puente Noche de Familia. We all had a cohort that created a theme for this event (Night Under the Stars) which celebrated our first year at college and we all got to invite our families to share our successes for that year. It was really fun decorating and setting up because it was something that was really special to all of us. We would all stay late on campus almost every day painting decorations for that event.