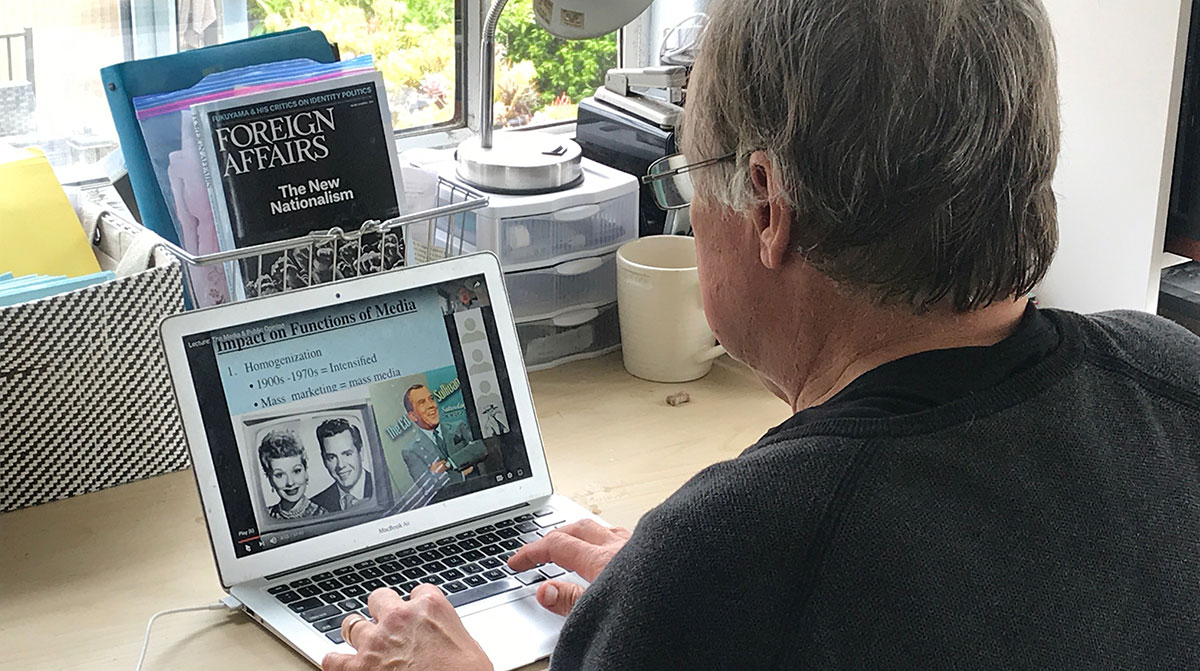 Dual enrollment courses quickly shifted to online instruction
April 7, 2020

|
More than 5,000 high school students who are dually enrolled in San Diego Community College District (SDCCD) courses have barely missed a beat during the COVID-19 pandemic, thanks to SDCCD professors who were able to get up to speed in teaching online within a week.
"Our students are getting the same quality education as before, it's just not up close and personal," said Mesa College professor and dual enrollment instructor Carl Luna. "But in a lot of ways, online courses offer additional opportunities, so this may be opening up some new avenues."
San Diego city school campuses were closed March 16 because of the coronavirus pandemic and will complete their transition to online instruction on April 27. Dual-enrollment courses, however, are taught by SDCCD professors – primarily at high school campuses – and all SDCCD instructors learned the finer points of online and distance-learning during several days of workshops and training sessions.
San Diego Unified counselor/liaisons, meanwhile, reached out to dually-enrolled high school students who weren't responding to emails, making sure they had internet access and having the district provide them with laptops if needed.
"We established a really good communication system with San Diego Unified over the years so we were both ready to make sure students were prepared and had the means necessary to continue with dual enrollment classes," said Susan Topham, mathematics and science dean at San Diego Mesa College who oversees dual enrollment instruction at that campus. "Everybody is stepping up and doing their best, all while keeping the focus on the student."
The SDCCD is serving 5,208 dually-enrolled students this year, an 86 percent jump from 2016-17.
Dual enrollment allows for a high school student to simultaneously earn high school and college credits through a community college class. Its popularity has been buffeted by the growing College and Career Access Pathways Program, authorized by Assembly Bill 288 in 2015 and extended until 2027 by Assembly Bill 30 in 2019, where students can take community college courses without having to leave their high school campus. As part of the College and Career Access Pathways Program, the SDCCD offers an Accelerated College Program, which includes political science and math courses and which was launched more than a half century ago.
More than 4,370 students are enrolled through the College and Career Access Pathways Program, more than double the number from 2016-17. Approximately 800 of those students are taking dual enrollment courses through the ACP program.
Study after study shows students completing dual enrollment courses are more likely than others to graduate high school and earn a college degree. Justin Narvaez accumulated more than 20 units of college credit through the ACP program still enrolled at Kearny High School. He graduated last June and is now a psychology major at San Diego State University. "It's very beneficial for any student to have an opportunity for dual enrollment because it gives you a head start on your college education and gets you acclimated to the college-level curriculum," said Narvaez. "I'm ahead on my credits and I have a lot of prerequisites out of the way."