Chancellor's Message: Election 2020
November 4, 2020

|
Dear Colleagues and Friends:
Election 2020 had a difficult and extremely divisive tone, with tremendously high stakes at all levels of the ballot. It often seemed endless as it ramped up to its conclusion on Tuesday, November 3, and will, in some cases, proceed for many days as votes continue to be counted in many states. At the time of my message, some definitive decisions by the voters have been identified, affecting local communities, the states, and the nation.
Like many of you, I spent yesterday evening and most of the night following the election returns at all levels, and I will continue to do so as more votes are counted. I am pleased to share the definitive results with you, especially as viewed through the lens of the San Diego Community College District (SDCCD).
SDCCD Board of Trustees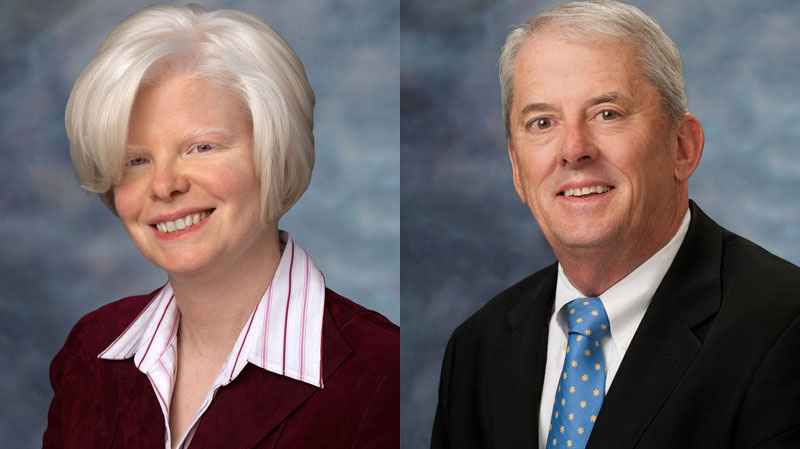 First and foremost, the two SDCCD Board of Trustees members who stood for re-election were successful, ensuring that the District's experienced and effective leadership team remains in place.
Congratulations are in order for Trustee Mary Graham, who was reelected to her fourth term in office, having begun her service in 2008. She continues to serve as a Professor of English and Writing Center Director at Cuyamaca College, bringing academic perspective and expertise to the SDCCD.
Congratulations are also in order for Trustee Bernie Rhinerson, who was reelected to a third term on November 3, having begun his service on the Board in 2012. Having retired as Chief of Staff of the San Diego Unified School District, Trustee Rhinerson serves on the national Association of Community College Trustees (ACCT) Board of Directors and chairs the Community College League of California (CCLC) Advisory Committee on Legislation.
Let me say that one of the key features of a successful organization is not only the talent and dedication, but also the longevity of its leadership. The San Diego Community College District has benefited from the consistent leadership of its seasoned governance and executive team, in addition to its committed faculty and staff. Our reelected trustees will take the oath of office at the Board of Trustees Organizational Meeting on December 17, 2020, at 4:00 p.m., which can be accessed by going to https://www.youtube.com/user/TheSDCCD/live.
As of 2:20 a.m. Nov. 4, the San Diego County Registrar of Voters posted the votes as follows.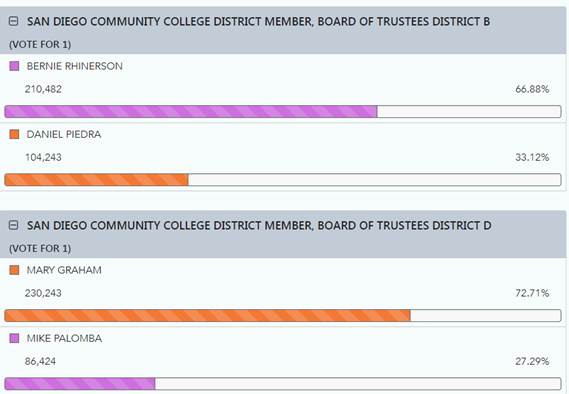 San Diego City Council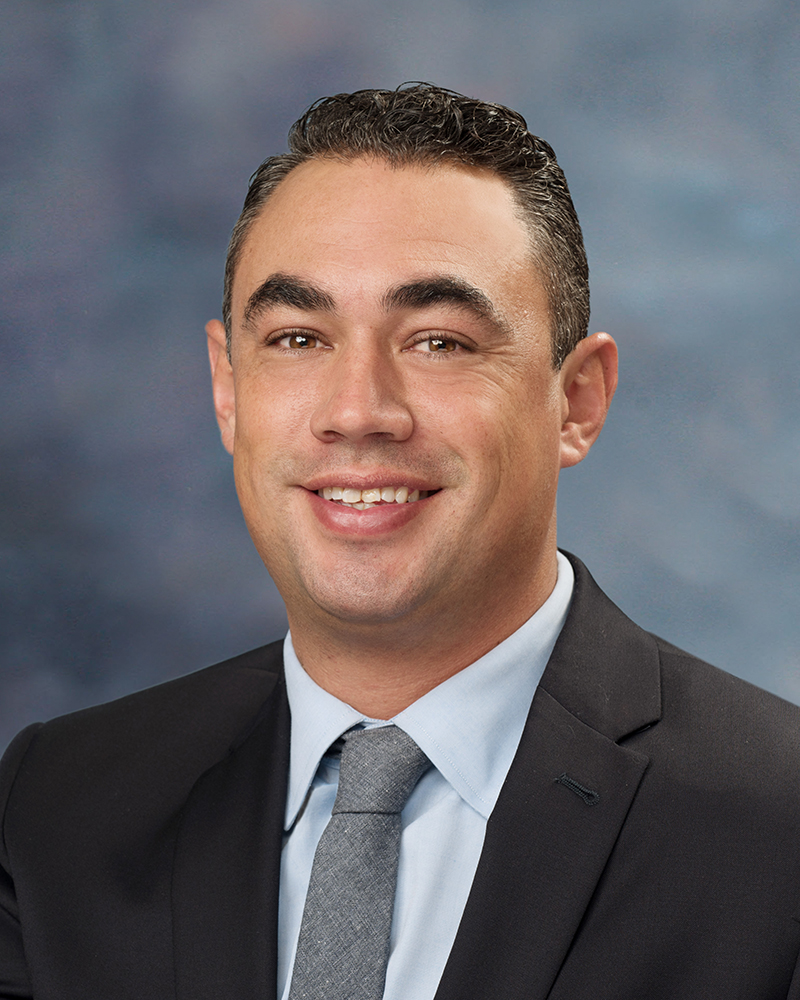 The election results mean that we must say goodbye to Trustee Sean Elo-Rivera, who has served on the SDCCD Board of Trustees since 2018. He has now been elected to serve on the San Diego City Council, representing District 9. Unfortunately, he is not able to serve in this new role and continue in his current role as a trustee. The Board of Trustees will shortly determine how to fill the vacancy that this will create. We thank him for his service to the SDCCD and we wish him well.
Other SDCCD People in Elections
Four faculty members in the SDCCD successfully stood for office and are to be congratulated on their victories in the 2020 election:
Guadalupe Gonzalez, Retired Counselor, Mesa College, was reelected to the San Diego County Board of Education.
Elena Adams, Retired Professor, Continuing Education, was reelected to the Grossmont-Cuyamaca Community College District Board of Trustees.
Elva Salinas, Retired Professor, City College, was reelected to the Grossmont Union High School District Board of Education.
Adrian Arancibia, Professor, Miramar College, was elected to the Sweetwater Union High School District Board of Education.
Congratulations are also in order for SDCCD Trustee Advisory Council member Terra Lawson-Remer, who was elected to represent the San Diego County Board of Supervisors in District 3.
Special Propositions
Proposition 15, the California Schools and Local Communities Funding Act of 2020, is the split-tax measure designed to provide additional funding for community colleges and K-12. Proposition 16, the Repeal Proposition 209 Affirmative Action Amendment, was designed to restore affirmative action as a consideration in hiring decisions. At the time of this message, neither of these important measures was passing.
Presidential Election and Transition
Vote counting is still underway in many critical states and the Presidential Election has not been concluded at the time of this message, although the Biden/Harris ticket is leading. The outcome of this race is particularly important for community colleges during the COVID-19 pandemic when federal stimulus funding is critical to the success of our colleges and students.
Moving Forward
Congratulations to all who worked hard for these positive outcomes in Election 2020. Those who stood for office, those who contributed in other ways, and those who voted all share in these special and very positive rewards of our collective investment in time, talent, treasure, and hope.
It will soon be time to close the book on Election 2020 and move forward with the business of governing and, in our case, educating. We have much to celebrate in our District and at City, Mesa, and Miramar colleges, and Continuing Education. We have many challenges ahead as we work to keep our students and employees safe and prosperous during the COVID-19 pandemic. We also have a large agenda of new programs and innovations ahead of us, as well as initiatives to pursue with the legislature to accomplish our goals. And we will do this with a wonderful group of people, including the Board of Trustees, faculty, administrators, classified professionals, student leaders, and community supporters who are both dedicated to our mission and optimistic about our future. Thanks to all of you for your support.
Sincerely,
Dr. Constance M. Carroll
Chancellor, San Diego Community College District
3375 Camino del Rio South