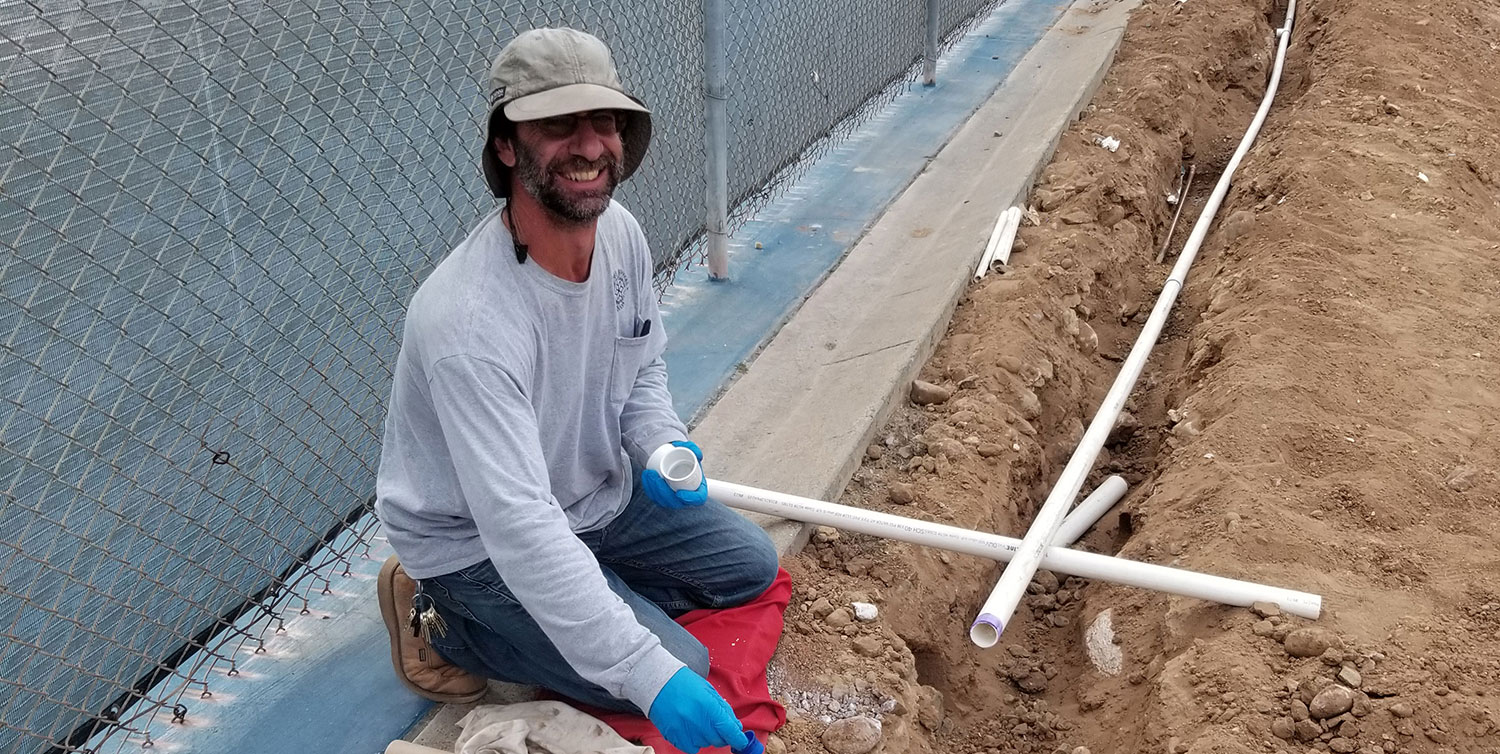 Quiet campuses still require continued maintenance, updates
April 20, 2020

|
On Friday, March 13, the San Diego Community College District (SDCCD) announced that all in-person classes would be moved online immediately and the campuses for San Diego City, Mesa, and Miramar colleges, and Continuing Education would be closed starting March 23. But closing down the campuses didn't mean they stopped running altogether.
While working on altered schedules throughout the week, some 200 Facilities Services employees continue to report to the SDCCD's sites, including college and Continuing Education campuses throughout the city, and the District Office, College Police, and District Facilities Services Department in Mission Valley.
Weeds continue growing, operations systems still need maintaining, and high-touch point areas still need disinfecting.
"There's always something to be done," Acting Director of Facilities Angelo Pellegrini said. "It's like home maintenance, but on a much larger scale."
For Miramar College Custodian Danny Borunda it's business as usual, except it's a little more peaceful and it allows him to focus more on the task at hand, which includes continuing to disinfect the campus inch-by-inch. But, he said, he misses the vibe of staff, students and his coworkers.
When he's on campus, Borunda is in charge of custodial duties for Administration, Police Station, Fire Technology and EMT buildings. Armed with latex gloves and a mask for protection, Borunda services buildings that are still operational with essential employees, including the campus T-building, which houses the SDCCD Police.
"Working on an empty campus is definitely a whole different experience," said Borunda, who has worked at Miramar College for a little over a year, but previously worked for another school district in North County.
Mesa College Irrigation Technician Gerry Vanderpot echoes the sentiment.
"It's kind of eerie being on an empty campus, like the Twilight Zone or living in a Stephen King novel," he said.
Vanderpot, who has been with the District for almost 20 years, has been working with colleagues from the gardening department maintaining the grounds and executing various maintenance projects, and he's hoping to focus some of his time on tasks, like changing out sprinkler nozzles and reducing overspray and runoff in areas like parking lots, that can be difficult to do when the campus starts filling up at 8 a.m. every morning.
When fears of COVID-19 started growing, Vanderpot said the District provided a nurse practitioner to advise maintenance staff about implementing safety measures and advising them on what cleaning materials should be used to disinfect, which he said was reassuring.
Until the campuses reopen, Vanderpot is thankful for the continued work that is providing him with a much needed distraction. He added that he is optimistic this whole experience will change society for the better.
"I hope after this is all over with there is a greater appreciation for some of those positions who may get overlooked," he said of he and some of his colleagues who have been deemed essential during the pandemic. "It's nice to feel needed."