Virtual conversation with artist Gloria Muriel
Join San Diego Mesa College Gallery for a virtual conversation with artist Gloria Muriel as part of the Ludicrous Tales: A Topsy Turvy Quartet exhibition Stay-at-Home programming.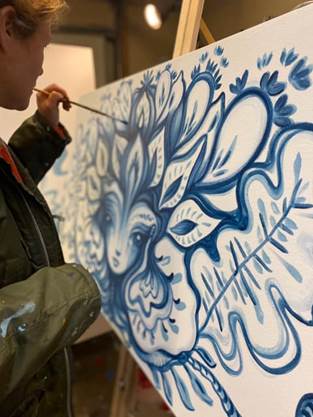 The conversation will be broadcast through Instagram Live at 3 p.m. on Saturday, April 25.
Tune in to Mesa College's Art Gallery Instagram or Gloria Muriel Instagram and click on the 'stories' to join this Instagram Live event.
The conversation will also be recorded and uploaded to YouTube and close captioned for access at a later date.
Stay tuned for upcoming conversations with Aida Valencia and the other artists in the exhibition. The Mesa Gallery and the college campus are CLOSED due to COVID-19 but they want to continue programming related to the exhibition.
Gloria Muriel's vibrant murals of fairy-tale characters can be seen on urban walls around San Diego. Her canvases and drawings pulsate with dazzling colors, fluid sinewy lines, and mysterious iconography; inquisitive faces with wide-set eyes emerge and peek out from lush backgrounds woven from leaves and flowers. Muriel's subjects emerge from her imagination and are based on the artist's experiences and emotional states of mind. These young girls, mermaids, and nymphs honor the power of the Feminine and women's spiritual connection to Nature. For this exhibition, Muriel utilized the brilliant cobalt, ultramarine, and turquoise blues of traditional Talavera ceramics in florid symmetrical compositions to respond to Iristay and de Watteville's porcelain pieces.
About the exhibition:
Ludicrous Tales: A Topsy Turvy Quartet
Paintings by Gloria Muriel, sculptures by Aida Valencia and a collaborative ceramic installation by Beliz Iristay and Irene de Watteville.
Enter a magical environment of Nature nymphs painted in Talavera colors; wander among graceful trees with dazzling mosaic flowers; feast on a sensuous banquet of surreal delights in porcelain and clay. We dare you!
In the exhibition Ludicrous Tales: A Topsy Turvy Quartet four international artists residing in our region create an enchanted environment. The luscious paintings of Gloria Muriel pair beautifully with a succulent ceramic banquet by Beliz Iristay and Irene de Watteville and wondrous mosaic trees by Aida Valencia. Visitors are invited into a space dripping in decadence and more than a dash of whimsy as magical creatures and fantastic beasts break bread.