San Diego Continuing Education Foundation receives $200K grant for basic needs programs
January 7, 2020

|
San Diego Continuing Education's Foundation received a $200,000 grant award to support a learning community for homeless adult students ages 25 and older. The Lucky Duck Foundation awarded SDCEF the grant, which will provide counseling, textbooks, food, transportation, healing workshops and paid internships.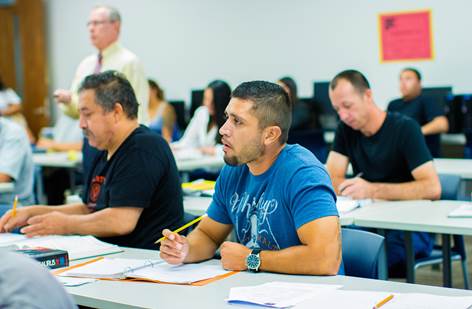 At SDCE, students enroll in a course of study that lasts between 6 months and 3 years. Students complete high school equivalencies; study and improve basic skills such as English or math, or attend free career training classes that lead to certificates of completion in more than 70 industry areas including healthcare careers, welding and business. Many students facing housing insecurity need additional support to complete certificates successfully and on time.
San Diego County had the fourth most homeless residents in the United States according to the U.S. Department of Housing and Urban Development. The Lucky Duck Foundation collaborates with community leaders, educators and higher education institutions to alleviate the suffering of San Diego County's homeless population.
SDCE specializes in offering support and guidance beyond the classroom to help San Diego's most vulnerable populations succeed in higher education and in the workforce. SDCE's learning community specific to students facing housing insecurity is called Rising to Success (R2S) Pathways. R2S supports include transitioning students to workforce in high demand, middle-skill occupations, including job shadowing, job interview workshops, resume development, and financial supports for job-related costs such as tools, uniforms or transportation to and from work.
Successful completion of a certificate at SDCE can also be applied toward college credit requirements for select college programs. For example, when students complete SDCE's Auto Technician certificate, up to 23 credits can be allowed toward the Automotive Technology Associate degree at San Diego Miramar College.
Students are encouraged to apply for the San Diego Promise, which is a scholarship that pays for tuition, fees and books for students who transition to San Diego City, Mesa or Miramar College. Every Rising to Success Pathway student is eligible to apply for the scholarship.
Community organizations, religious organizations, and businesses can meet social responsibility goals by sharing ideas and resources that help Rising to Success Pathways provide meaningful support and employment opportunities for students.
Individual donations to provide ongoing critical support for Rising to Success Pathways can also be made directly to the SDCE Foundation. Contact the Program's Executive Director, Laurie Coskey, Ed.D. at lcoskey@sdccd.edu.