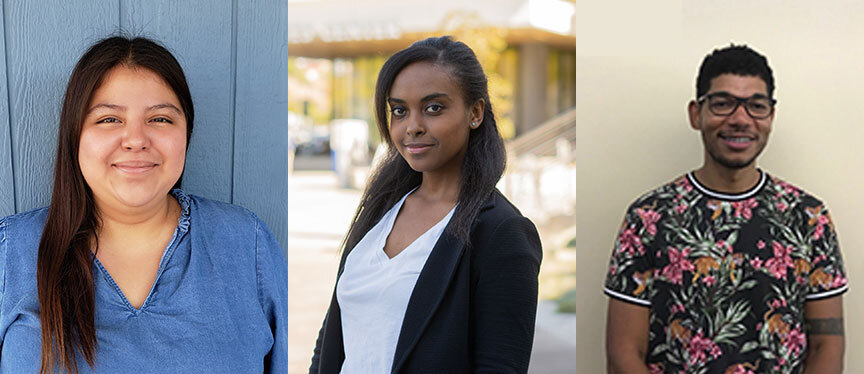 Honors program turning out the best and the brightest
July 13, 2020

|
A record number of students took part this year in the San Diego Community College District's (SDCCD) Honors Program, which is attracting an increasing proportion of participants from traditionally underrepresented communities and better preparing them to transfer to a four-year college or university, according to a new SDCCD report.
A total of 2,822 students at City, Mesa, and Miramar colleges participated in the SDCCD's Honors Program in the 2019-20 academic year, an increase of 23.5% from the previous year and a nearly 38% jump from just two years ago, according to the report from the SDCCD's Honors Program Committee presented to the Board of Trustees at its June 11 meeting. Honors students completed the 2019-20 academic year outperforming their non-Honors peers in a number of academic areas, the report states, including a cumulative GPA of 3.38, compared to a 2.83 GPA for their non-Honors counterparts. In addition, retention rates stand at 94%, compared to 87% for non-Honors students and success rates and 85% of Honors students received a grade of C or better in their classes, compared to 73% of non-Honors students.
Those figures, said District Honors Committee Co-Chair and Mesa College Philosophy Professor Ian Duckles, underscore the significant impact the Honors Program is having on student equity. Indeed, the number of African American honors students grew by nearly 50% from 2017-18 to 2018-19, and the number of Latinx students grew by nearly 19% during the same period. Latinx students, at 44%, comprise the largest percentage of Honors students by far.
"The Honors Program is one of the jewels in the crown of the San Diego Community College District," said Chancellor Constance M. Carroll. "This is a program that challenges and motivates students to do their best, and it is succeeding by virtually every measure."
The Honors Programs at City, Mesa, and Miramar colleges offer students access to an array of learning communities, faculty mentors, undergraduate research opportunities, and service learning, along with Honors societies and clubs for leadership development.
Students can participate in the Honors program in myriad ways, the most popular of which is through an Honors Contract. Contracts are reached mutually between a professor and a student to explore subjects in greater depth through assignments that are completed in addition to regular classwork. Other options include Honors courses that are open to any student and an Honors Core learning cohort focusing on academic skill-building and a stronger sense of community.
Students in the Honors Program transfer to some of the top universities in the country, including UC Berkeley, UCLA, UC San Diego, Columbia University in New York, and Stanford. Often, they go beyond that. SDCCD Honors alumni are currently practicing nursing in Canada, designing buildings and bridges in the Maldives, working at the U.S. Attorney's Office in Las Vegas, and more.
Among this year's standouts:
Jerusalen Davila at City College is involved with the Puente Project, EOPS, First Year Services, and the Dreamer Resource Center. Besides the Honors Program, Davila took part in the Price Scholarship Program and was named to the Dean's List all three years she's been at the downtown campus. Davila graduates with a 3.9 grade point average and is transferring this fall to UC Berkeley.
Hanan Dirirsa, a human biology major from Ethiopia with a 4.0 grade point average who serves as a senator with Mesa College's Associated Students and is the student representative on the Mesa College Foundation's Board of Directors. She also earned the prestigious Jack Kent Cooke Undergraduate Transfer Scholarship, which pays up to $40,000 annually to complete a bachelor's degree at a four-year college or university.
Denzell Williams of Miramar College is a returning college student majoring in Computer Science who was selected by Google to lead a chapter of its Developer Student Clubs in San Diego and teach university students how to code with the help of Google developers. He has also taken part in the Preparing Accomplished Transfers to the Humanities (PATH) program, a partnership supported by a generous, three-year grant from the Andrew W. Mellon Foundation that guides students from City, Mesa, and Miramar colleges into arts and humanities majors at UC San Diego.