(Canceled) SDCCD, San Diego Unified to hold joint board meeting March 17
February 27, 2020

|
UPDATED 3/12/2020 - The March 17 joint board meeting has been postponed due to the coronavirus situation and the need for social distancing. The new date has not been determined but we are hopeful it can be rescheduled in the fall.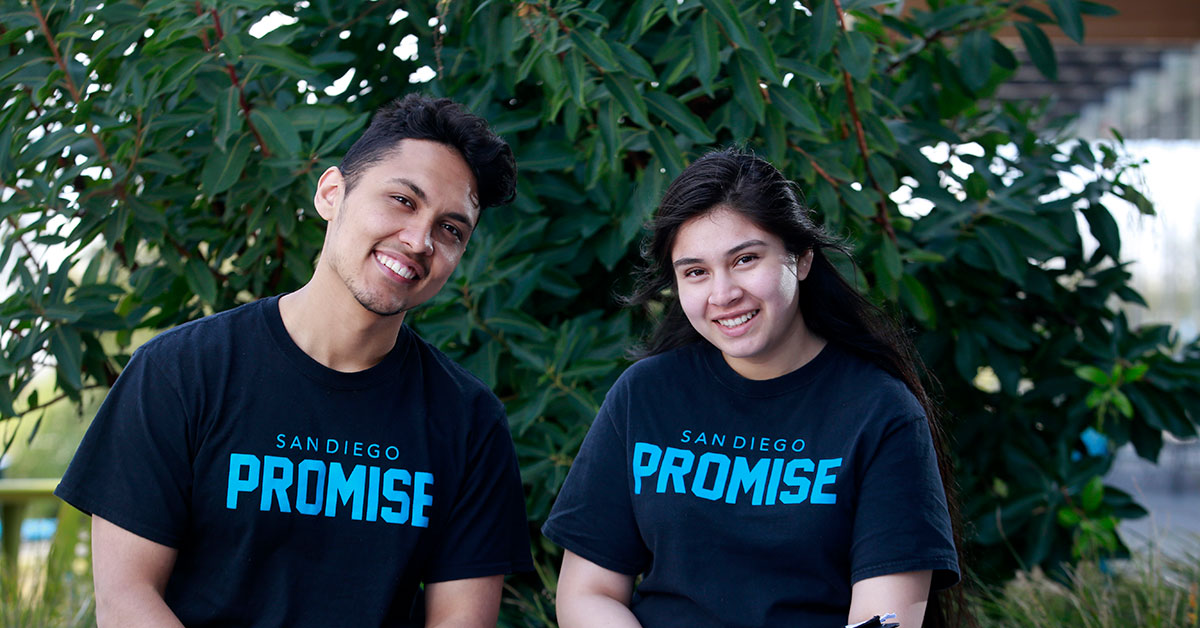 Expanding student access to the tuition-free San Diego Promise and dual enrollment programs will be among the topics under discussion when the governing boards of the San Diego Community College District (SDCCD) and the San Diego Unified School District (SDUSD) hold a joint session at 5 p.m. on March 17 at Lincoln High School.
The meeting is the ninth the two boards have held together since 2011.
"The community college district board and the school district board recognize the importance of partnership and collaboration in educating young people. Several important pathways leading to higher education and jobs require this kind of effort," said SDCCD Chancellor Constance M. Carroll. "We are looking forward to this joint board session to strengthen our strategic approach in serving the more than 200,000 students enrolled in our districts."
On the agenda is the San Diego Promise, which has served 4,360 students since its implementation four years ago and is now one of the largest tuition-free Promise programs in the state. Despite that success, however, more than half of SDUSD high school students and their parents are still unfamiliar with the program, and board members will discuss strategies to improve outreach.
Also up for discussion is the very popular program that allows high school students to take community college classes. The College and Career Access Pathways program is a great success as a dual enrollment initiative. The program provides free college courses on high school campuses, giving high school students a head start on their higher education journey and an opportunity to realize significant savings on college tuition in the process. Some 5,142 students are participating in dual enrollment programs in this academic year, an increase of 86% from 2016-17; more than 76% of those students are taking part in the College and Career Access Pathways program. Nonetheless, 45% of SDUSD students are unaware of the option, according to SDUSD data, making community outreach an important goal.
The March 17 meeting also will cover strategies to better coordinate career education programs at the two districts and to accelerate certificate completion. In the 2018-19 school year, more than 1,800 high school students in career education programs received credit at the SDCCD's City, Mesa and Miramar colleges. In addition, the two governing boards will be updated on legislation pertaining to educational issues.
"San Diego Unified students don't have to wait until they graduate to pursue college courses and prepare for careers," said Cindy Marten, superintendent of the San Diego Unified School District. "Through this partnership, more students than ever are taking free community college courses while they are in high school. At the same time, our students are also establishing solid career paths that will give them an edge in competitive industries that are thriving right here in San Diego. This joint meeting offers an invaluable opportunity for two agencies to strategize about meeting their collective goal of preparing students for success in college, careers and life in the community."
The public is encouraged to attend the meeting, which will be held in the Lincoln High School Auditorium, 4777 Imperial Ave., San Diego.