Two Mesa College students take top honors in literary competition
June 26, 2020

|
Each year, the League for Innovation in the Community College hosts the Student Literary Award competition, showcasing some of the best original poetry, fiction, drama, and personal essays composed by community college students from its 19 board member colleges.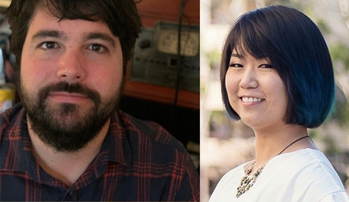 For the second year in a row, the San Diego Community College District has a national winner – Troy Bernardo – a Mesa College student whose One-Act Play entitled Three River Thieves has garnered him the first-place prize for a literary drama.
Troy's Three River Thieves negotiates the complex family dynamics felt by three brothers, Will, Butch, and Tom, as they confront family rumors and their dissimilar life trajectories while sheltering from a raging blizzard. As Drama Judge Mabelle Reynoso describes, "In a very compact script, the playwriter has invited us into a tension where we learn about family history, family bonds, and family values."
While the narrative is unique in its own right, the relational and internal tensions Troy explores through his characters, work to remind readers of our own complex relationships and the ways we all position ourselves with and against our family's values.
Technically, this is the second win for Troy and Three River Thieves, after he competed in and won the San Diego Community College District's local contest before moving on to the national level.
With his award, Troy will receive $500 and his One-Act Play will be published in the League's anthology. All district winners will receive copies of the anthology as well as a Certificate of National Merit later this summer.
Another Mesa College student, Ann Kim was also selected as a winner in the District competition for her fiction piece, "Memory." As a work that addresses the difficult subject matter of suicide, Fiction Judge Julia Dixon Evans praises Ann's piece by acknowledging its "powerful sense of place and relationships." She elaborates, "I was captivated the entire time, rooting not just for the main character but for his entire world."
Both Troy and Ann studied creative writing at Mesa College. Troy earned his Certificate in Performance in Creative Writing in the spring of 2020 and Ann has begun working on her first novel manuscript.
To view Troy and Ann's winning literary work, as well as the work of all of this year's District winners, please visit the District Literary Contest website.