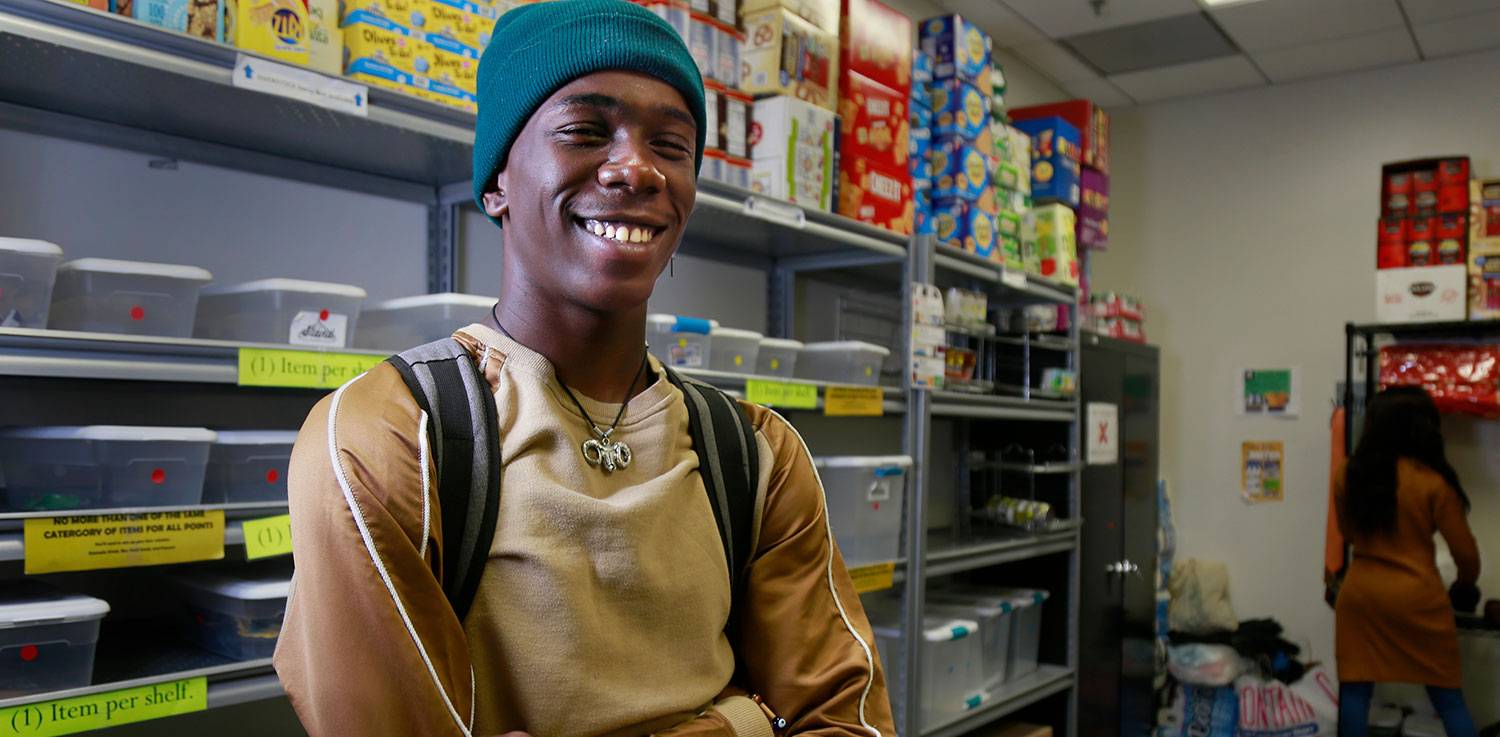 A hunger to learn
February 24, 2020

|
Campus pantries and farmers markets provide staples for students in need.
"With things the way they are now, if I fail at this point, it's because of me, not because of my circumstances."

Rickanian Williams, Mesa College student
During his first semester at San Diego Mesa College, Rickanian Williams slept in his cousin's car. Or on a friend's couch. Or on a park bench. If it wasn't for Mesa College's The Stand campus pantry and free farmers market providing the staples, Williams would have been without hope.
"It's hell. There's just no other way to describe the feeling of not knowing where you're going to stay or what you're going to eat," Williams said. "Going hungry, it's just like, I don't know how to explain it. Without The Stand, without the farmers market, I don't know where I'd be."
Williams embodies the impact the San Diego Community College District (SDCCD) and San Diego City, Mesa, and Miramar colleges, and San Diego Continuing Education are having in keeping thousands of students dealing with housing and food insecurities from dropping out of school. Between food pantries and free farmers markets to assistance with housing and child care, services are growing for those not sure of where they will sleep or get their next meal.
Included in the efforts are outreach programs aimed at signing up students for CalFresh benefits (getcalfresh.org), which is especially important when considering the Government Accountability Office (GAO) estimates that 57% of students whom are at risk of food insecurity and eligible for Supplemental Nutrition Assistance Program (SNAP) benefits (CalFresh in California) do not collect those benefits.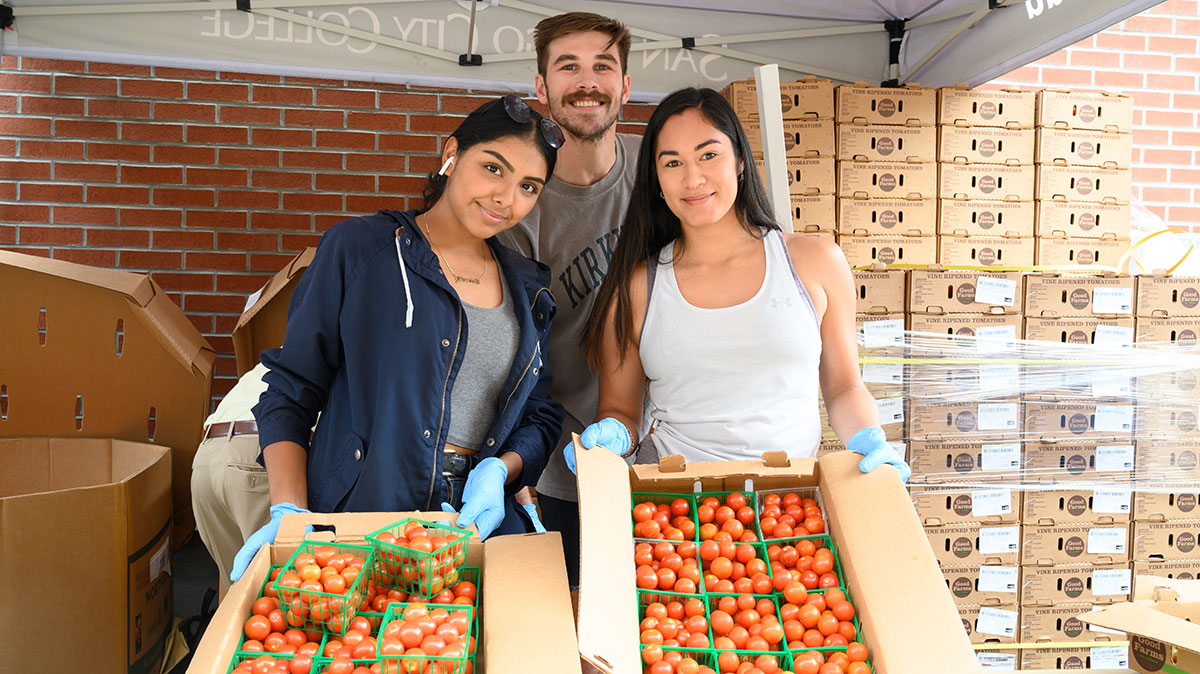 In addition, Mesa College President Pamela Luster serves as co-chair of the statewide Affordability, Food & Housing Access Taskforce, which for the past two years has been investigating housing and food insecurities and making recommendations on its findings. Among them: building student residential housing on community college campuses to address the needs of the homeless-student population; creating a seamless system to connect students to services for which they are eligible without having to complete multiple applications; and expanding financial aid.
The need is profound.
A 2019 Hope Center #RealCollege survey found that 21% of students at City College do not have a stable place to live, along with 18% of Mesa College students and 17% of those enrolled at Miramar College and San Diego Continuing Education. In terms of hunger, 52% of students surveyed at City College said they faced challenges of being able to afford nutritionally adequate food within the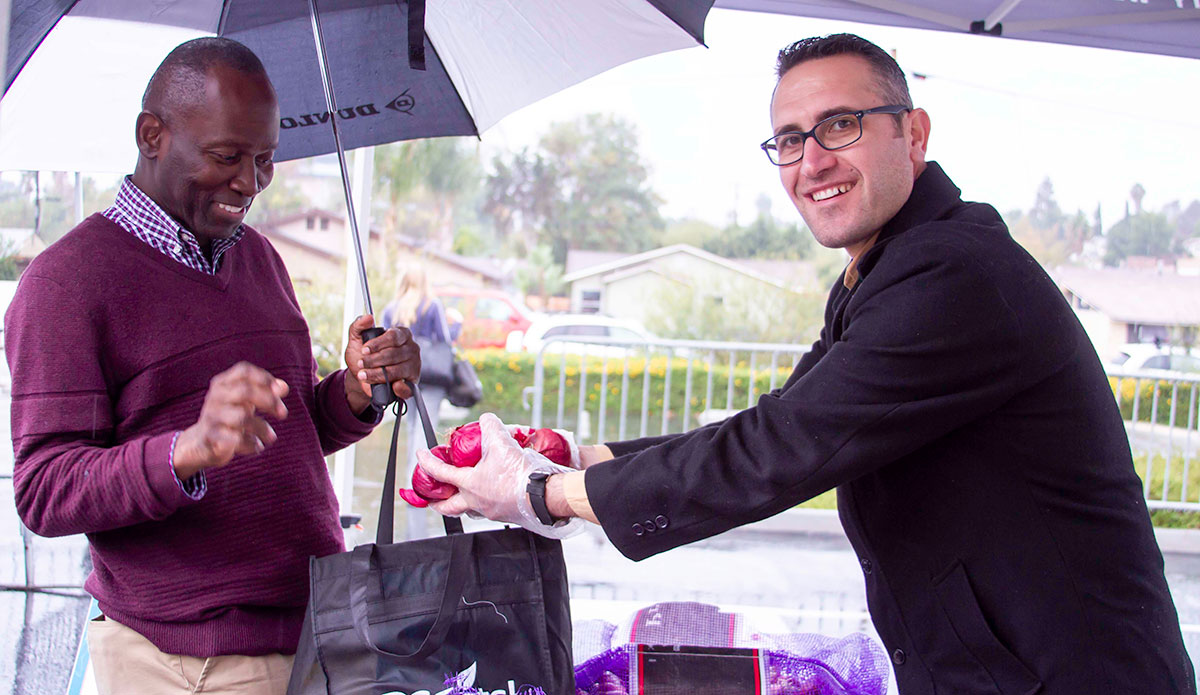 previous 30 days, with 47% of students at Mesa College, 41% of students at Miramar College, and 33% of students at Continuing Education facing food insecurity.
"Students who are in college right now are going through such enormous hardships," said Sara Goldrick-Rab, a professor of higher education policy and sociology at Temple University and the founding director of the HOPE Center for College, Community, and Justice in Philadelphia, who is perhaps best known for her research on food and housing insecurity in higher education.
Indeed, a 2018 GAO report noted the nation's nearly $600 billion investment in higher education is at risk if college students drop out because they cannot afford basic necessities such as food and housing. The catch-22 is that so many students enroll at the SDCCD because it is a path toward upward social mobility.
"More important than the pantries our colleges provide is the education these students are receiving," said Kirin Macapugay, a City College professor of human services and social work who has mentored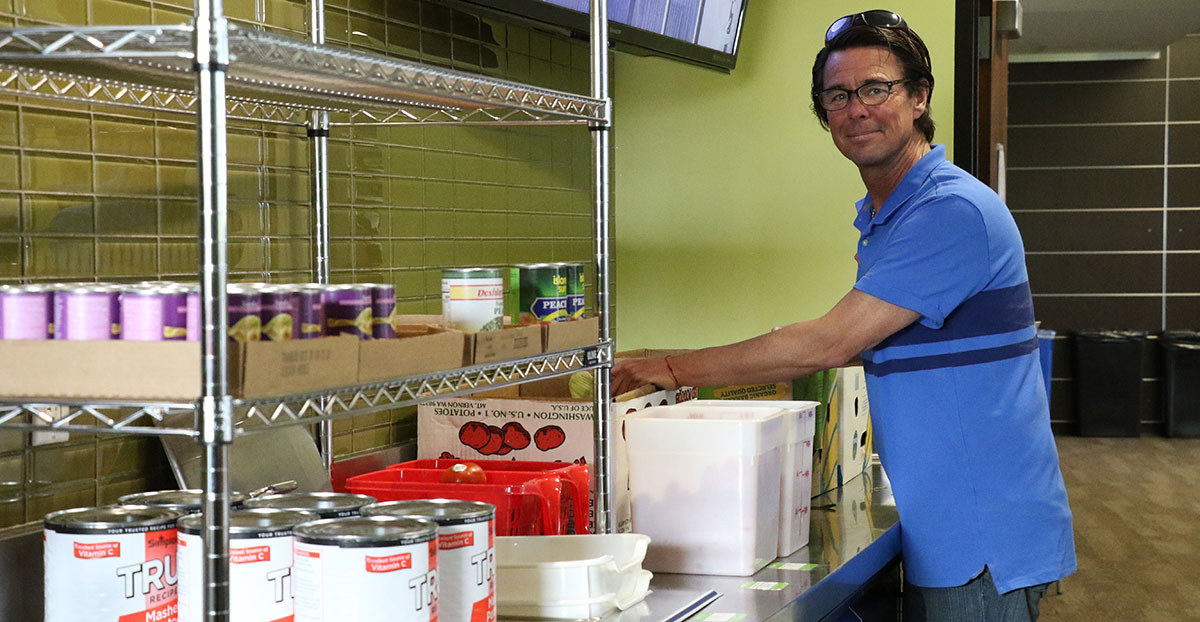 several students unsure of where their next meal will come from or where they are staying for the night. "They can get relief at a few places; we are the only ones providing these services and an affordable college education and training that will give them the skills to lift themselves out of poverty."
Contributing to the challenge, Goldrick-Rab said, is that the real cost of going to college has never been higher, even with a growing, tuition-free, state- and locally-backed Promise movement. Family incomes have for years been stagnant. The safety net is shredded. Entry-level jobs in the San Diego area don't pay enough to live in one of the nation's priciest regions.
"We have under resourced students from under resourced families in a really difficult work environment with far fewer supportive policies entering colleges that are less likely than ever to actually have enough staff to be able to step up and meet their needs," Goldrick-Rab said. "All of those things need to be addressed if we really want to eradicate food and housing insecurity from our colleges."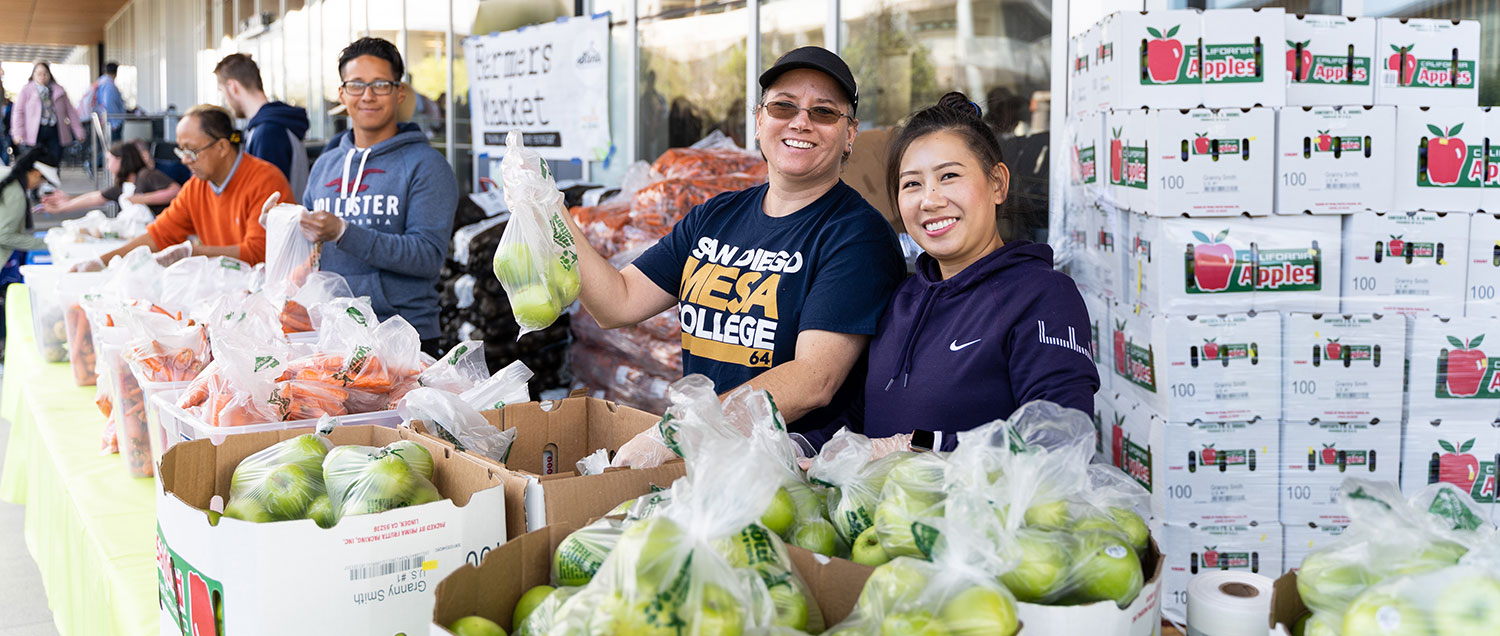 In class, she added, "They're listening to someone talk and in the back of their mind they're thinking, where am I sleeping tonight?"
Williams knows that feeling well.
A native of San Diego, Williams, 20, was adopted by a relative as a toddler and moved to remote town of Manchester, Georgia, where he was raised with three older siblings. Poverty was a constant, and Williams moved back home to San Diego when he was 17, graduated from Mark Twain High School in Linda Vista and resolved to enroll at Mesa College. Williams said his troubles there began after a relative ordered him out of the home if he wasn't going to work full time.
"The choice was easy," he said. "I was going to go to college to better myself and find a future."
Without a home, Williams found himself couch surfing the first six months he was at Mesa College. Jobs would come and go, each affording an opportunity to save up money and move into an apartment with short-lived roommates. At one time, he was paying $500 per month for a room at a City Heights apartment while going to school full time and working up to 50 hours per week at Target. That was followed by a move to a North Park apartment, a fallout with roommates, a loss of his job, and a return to couch surfing.
Hunger never seemed to go away.
On October 8, he was accepted to YMCA's Turning Point: Transitional Housing program, which provides a multitude of services, case management, and support, in addition to 18 months of subsidized housing. He pays $275 each month, lives with a roommate, and works 20 hours each week at the Disability Support Programs and Services (DSPS) office at Mesa College earning $12 per hour, or $240 per week. He gets his food from The Stand and The Stand: Farmers Market. If he has any money left over after paying the bills, he will sometimes splurge and buy something from the market.
He is on track to earn an associate degree in communication in the fall of 2021, after which he has his heart set on transferring to San Diego State University, and launching a career in geology or environmental science.
"As we work on the system level changes, we also have to focus on the student experiences happening right now," Luster said. "Students don't have the luxury of waiting for us to connect effectively and create a seamless network. We are doing both at Mesa College."
Said Williams:
"I have nothing but love for all that Mesa College has provided me, the support, the mentorship, the food, the resources, all of it. With things the way they are now, if I fail at this point, it's because of me, not because of my circumstances."