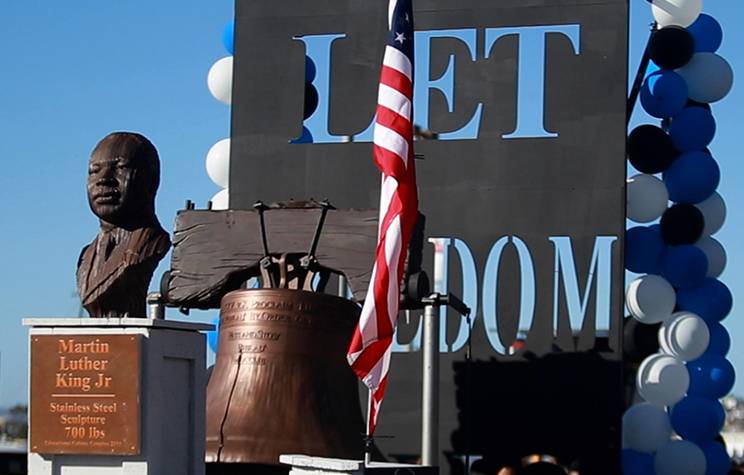 Join us at the 40th annual MLK Parade
January 14, 2020

|
The San Diego Community College District (SDCCD) will celebrate the legacy of America's greatest civil rights leader with a series of events during the weekend leading up to Dr. Martin Luther King Jr. Day on January 20.
"These events in Dr. King's honor enabled all of us to 'witness' and provide testimony to his ideals and to demonstrate our own commitment, individually and collectively, to the humane causes that were espoused by this great civil rights leader, preacher, and educator," said SDCCD Chancellor Constance M. Carroll. "Dr. Martin Luther King Jr., was not just a hero of the African-American Civil Rights Movement; he was and is the hero of the broader movement to provide opportunity, dignity, equal rights, peace, and fulfillment for all people irrespective of their heritage, background, beliefs, or economic condition."
The celebrations begin Friday, January 17, when SDCCD leaders and representatives join hundreds of others at the Jackie Robinson Family YMCA Dr. Martin Luther King Jr. Human Dignity Awards Breakfast at the Town & Country hotel and resort in Mission Valley. Registration and breakfast are from 6 to 7 a.m.; the program and awards presentation takes place from 7 to 9 a.m.
Celebrations continue Saturday, January 18, with the Dr. Martin Luther King Jr. Educators Breakfast at the Jacobs Center for Neighborhood Innovation in the Lincoln Park neighborhood of Southeast San Diego. The program is scheduled for 8 to 11 a.m.
That will be followed on Saturday, January 19, when hundreds of students, faculty, staff, and administrators from San Diego City, Mesa, and Miramar colleges, along with San Diego Continuing Education, members of the SDCCD's Board of Trustees, and Chancellor Carroll, march in the 40th Annual Dr. Martin Luther King Jr. Parade from 2 to 5 p.m. on Harbor Drive along the Embarcadero. The parade, which was launched out of San Diego Continuing Education's Educational Cultural Center, is coordinated by the Zeta Sigma Lambda Chapter of Alpha Phi Alpha fraternity, the oldest African-American fraternity in the nation.
Celebrations conclude Monday, January 20, when the SDCCD joins more than 1,000 community leaders, elected officials, clergy, and others for 32nd Annual All Peoples Celebration at the Balboa Park Activity Center. Registration is scheduled for 9 a.m., a breakfast buffet is scheduled for 9:30 p.m., and the program itself is scheduled from just after 10 a.m. until noon. Civil rights activist Valarie Kaur will be the keynote speaker for the event, which this year has a theme of "Be Heard. Be Counted. Belong."
Dr. King was born January 15, 1929, in Atlanta. The federal holiday marking his birth is observed on the third Monday in January.