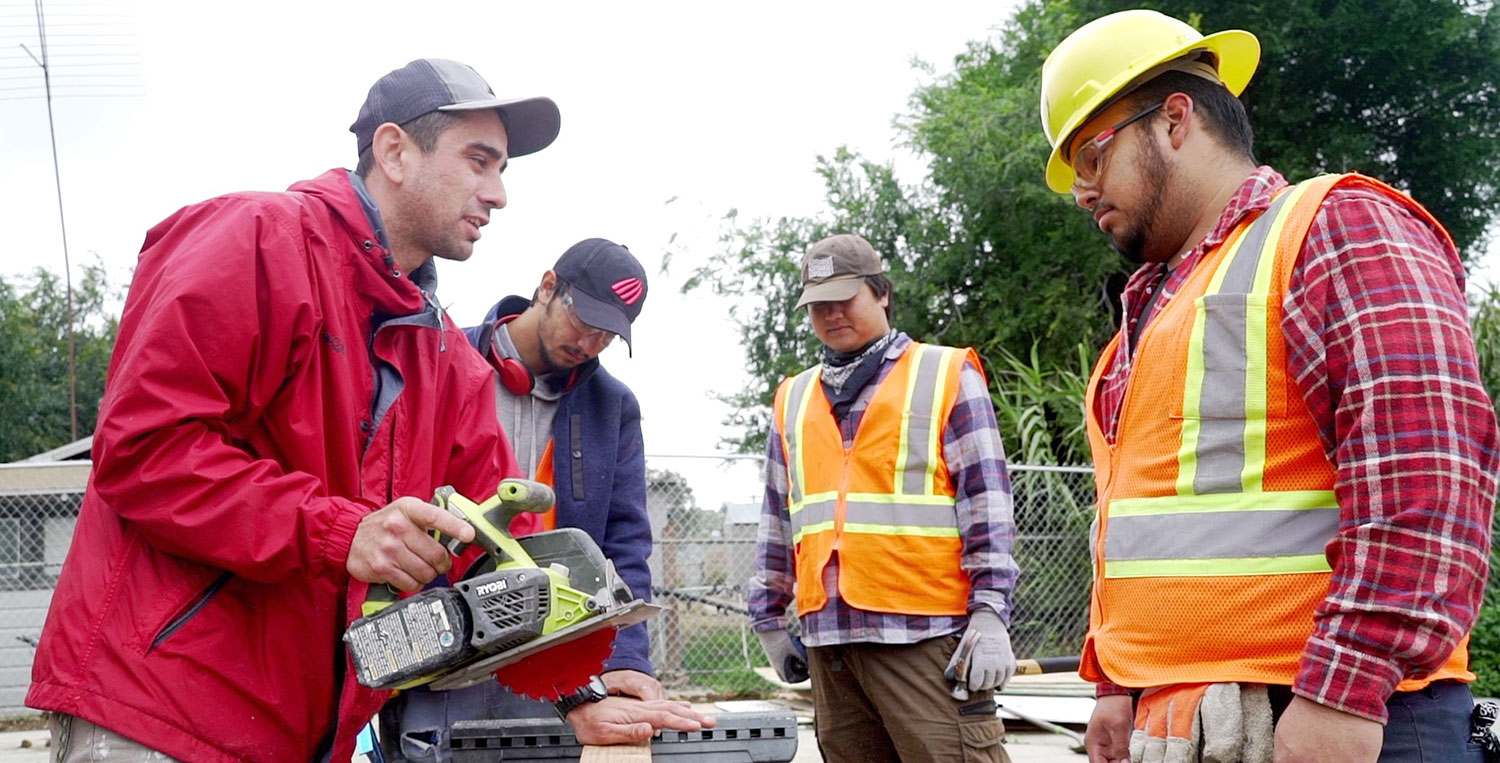 Continuing Education promotes free career training during National Apprenticeship Week
November 10, 2020

|
San Diego Continuing Education (SDCE) joins forces with the United States Department of Labor during the sixth annual National Apprenticeship Week (NAW) from November 8 through November 14, 2020 to promote affordable pathways to careers in healthcare, information technology, and skilled and technical trades.
California's largest noncredit institution, SDCE, has the only Gateway-model that includes experiential learning with paid work experience. The school's San Diego Gateway to College and Career's Construction Trades Apprenticeship Readiness program serves opportunity youth ages 18-24. Students selected for the pre-apprenticeship internship complete their high school diploma while working with contractors in electrical, carpentry, and plumbing.
Students at SDCE who are not eligible for Gateway can choose from more than 80 free priority workforce sectors such as plumbing, welding, electronics, and automotive. Upon certification completion, graduates are ready for jobs that lead to living wages or can transition to college.
SDCE ranked among the top educational organizations in the San Diego-Imperial Counties Region in Strong Workforce Program (SWP) outcomes by investing funding to create "more and better" programs to help students become skilled workers and achieve upward economic mobility.
Unemployment rates for San Diego County have hit historic highs due to the coronavirus pandemic resulting in more students working to obtain short-term vocational training provided at SDCE.
For workers reluctant to take on student loans, an apprenticeship provides an immediate paycheck while serving as the pathway to new skills and a new career. The average starting wage is $70,000 for apprenticeship graduates—higher than for new college graduates, according to the United States Department of Labor. Growing and expanding apprenticeship is a top priority, since 2017, the Department has awarded $858 million in grants and contracts to grow apprenticeships in emerging sectors.
In addition to apprenticeship readiness programs, SDCE has built the ICOM Academy (Interactive Competency-based Online Micro-credentialing Academy) to reach students who want to achieve a professional certificate in an online environment. Among the 16 career education options currently offered are Cybersecurity Analyst, Virtual Datacenter, and Programming with Python.
Due to the rapid growth and success of ICOM Academy, SDCE will be the first institution to join a statewide collaboration of virtual colleges in California in January 2021.
The collaboration will increase student access to, and success in, high-quality distance learning courses. SDCE leads the development of a new noncredit course adoption rubric, ICOM Academy courses will be the first to be included.
Between 2016/17 and 2019/20, SDCE received over $4,000,000 in Local Share funds and over $1,000,000 in Regional Share funds to implement the Strong Workforce Program (SWP) to better meet the needs of training students for high-demand industries.
Instructional programs and student services have been expanded as a result of integrating additional funding. Examples include new innovative career training programs such as Health Unit Coordinator, Data Management with Python, and Programming with Python, plus Career and College Transition Centers support students with access to full-time assistance with sustaining employment and applying to college.
These investments are supporting SDCE's strategic initiative of enrolling and retaining individuals in immediate need of higher education and workforce training. With the support of funding, SDCE can significantly expand resources under the 7 Pillars of Student Success: Employment Security, Food Security, Housing Security, Transportation Security, Financial Literacy, Textbook and Course Material Affordability, and Intellectual and Emotional Security.
"In the new year, SDCE has plans to drastically increase educational programming for veterans, homeless students and formerly incarcerated adults," said Carlos Osvaldo Turner Cortez, Ph.D., president of SDCE.
SDCE's state and regional rankings for SWP funding are reflecting growth in SDCE student outcomes from 2014-15 through 2018-19 including retention, students who attained a noncredit workforce milestone in a single year, completion, SWP students who earned a certificate or attained apprenticeship journey status, and employment in the field of study.
Spring enrollment for SDCE begins November 30, 2020. To learn more visit, sdce.edu.