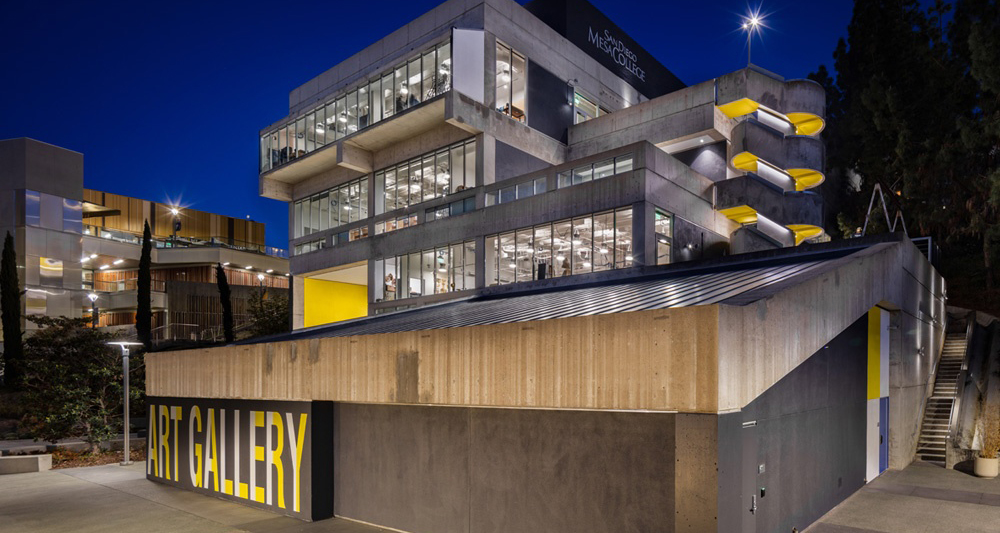 Mesa College's Fine Arts building wins architectural award
October 6, 2020

|
Taxpayer-approved projects built as part of the San Diego Community College District's (SDCCD) $1.555 billion Propositions S and N construction bond program continue to be honored for excellence in design, successfully competing for such distinctions with projects from throughout San Diego County.
The Fine Arts Building serves as a highly visible and thriving hub for Fine Arts students, providing a museum-quality space for the highly acclaimed Mesa Art Gallery. The four-story, 26,500 assignable square feet building, the final classroom project for Mesa under the District's Propositions S and N bond program, was constructed within an existing building on campus, the former I-300 Building. As part of the approximately $18 million renovation, the entire building interior was completed gutted, leaving only the building exterior 'shell'. Each floor was then reconfigured to meet the future needs of the Fine Arts programs, and provide modern, spacious facilities, outfitted with state-of-the-art equipment and technology for programs in drawing, painting, sculpture, ceramics, and digital graphics. Through the Fine Arts program, students can obtain certificates and degrees in Fine Art, Art History, Digital Art, Studio Arts, and Museum Studies.
"We are very proud that our new facilities continue to be honored for their thoughtful and high-quality design, engineering, efficiency, and reduced impact to the environment," said SDCCD Chancellor Dr. Constance Carroll. "As one of Mesa's original buildings, and one of its largest buildings, it's especially meaningful to have the renovation of this iconic building honored this way. Our thanks to San Diego voters who have made these buildings of excellence possible."
The annual Orchids and Onions design contest, now in its 44th year, takes nominations from the public for what they believe are good and bad examples of local architecture, landscape architecture, historic preservation, interior design, and community revitalization.
In their comments, the Orchids and Onions jury noted that "all the time, money, and CO2 that was expended in this concrete structure is now saved and reused for another 20 or 30 years."
It is not the first Orchid award for Mesa College. Mesa's Math+Science Complex was awarded an Orchid for Landscape Architecture in 2015, and the Student Services Center was awarded an Orchid for Interior Design in 2013. Numerous SDCCD projects have been nominated over the competition's history.
"We are thrilled to be honored once again by the San Diego Architectural Foundation," said Mesa College President Dr. Pamela Luster. "We believe one should celebrate architecture as art; and to be able to literally re-purpose an entire building is an exemplary demonstration of this art form."
Project Team:
- Design-Build Team: ARCHITECTS Hanna Gabriel Wells and C.W. Driver
- Civil Engineer: Snipes-Dye Associates
- Electrical Engineer: Michael Wall Engineering
- Mechanical/Plumbing Engineer: MA Engineers
- Structural Engineer: DCI Engineers
- Landscape Architect: Wimmer Yamada and Caughey
- LEED Consultant: Green Fields Consulting
- Energy Modeling: Brummitt Energy Associates
- Acoustical Consultant: McKay Conant Hoover
- Interior Design: ARCHITECTS Hanna Gabriel
- Furniture, Fixtures & Equipment (FF&E) Consultant: F. Atelier
The $1.555 billion Propositions S and N construction bond program is providing for new instructional and career training facilities, major renovations, campuswide infrastructure projects, public safety enhancements and parking projects at City, Mesa and Miramar Colleges, and six Continuing Education campuses.