Dr. Ricky Shabazz selected as Dean of Men of Color Student Leadership Institute
September 22, 2020

|
The Presidents' Round Table (PRT) selects San Diego City College President Ricky Shabazz as the dean of the Men of Color Student Leadership Institute (MOCSLI) — a program to develop and promote efforts to increasing the attendance, persistence, and completion of underrepresented males in community colleges.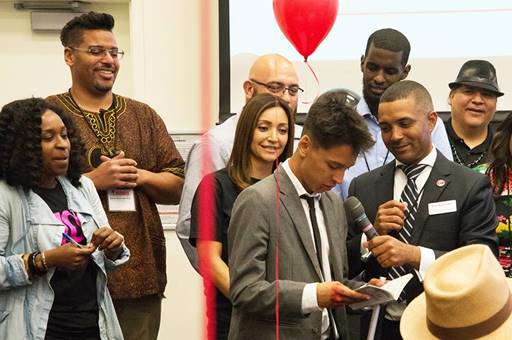 "I am excited to take on the role as dean for the Men of Color Student Leadership Institute," Shabazz said. "This provides a national platform to promote programs that are designed to help men of color succeed across the country."
The PRT was founded in January 1983 to bring together African American community college leaders for the purpose of ensuring their success as campus leaders. The group initially focused on advocacy for each other and mentorships to ensure the African American legacy in campus leadership positions.
At San Diego City College, programs like Hermanos Unidos Brothers United (HUBU) are increasing the success of Black, Chicanx, and other men of color via intrusive counseling and cohort models with linked learning. The MOCSLI and HUBU both aim to help students succeed by informing, motivating, and preparing them for success both academically and personally. The HUBU mission is to increase faculty and student interaction; promote community, cultural, and gender identity development; and encourage peer-to-peer interaction between students.
"I look forward to promoting programs such as HUBU and other male cohort programs as a national model for advisors, college presidents, and faculty who attend the MOCSLI," Shabazz said. "Serving as the dean of MOCSLI affords me the opportunity to bring attention to the success that programs such as HUBU have with students when they are collaboratively led by great people such as Dr. Nesha Savage, dean of Student Development and Matriculation; Assistant Professor/Counselor and HUBU Coordinator Rasheed Aden; Professor/Counselor Rudy Zamora; and others."
Upcoming Events
October 20-23, 2020: 9th Annual Virtual Men of Color Student Leadership Institute - More information.
October 29, 2020: 10th Annual HUBU Conference — Tu Lucha es Mi Lucha, Your Fight is My Fight - More information.