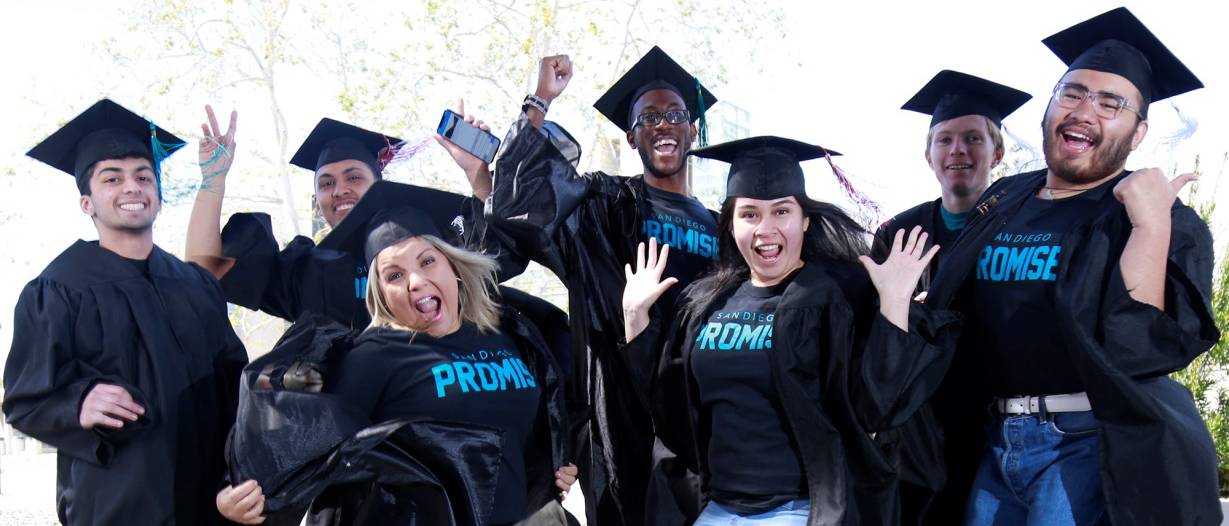 Deadline is June 11 for San Diego Promise free-tuition program
May 29, 2020

|
Applications up 25% with program on track for record enrollment in 2020-21
With uncertainty surrounding how four-year colleges and universities will hold classes this fall, a record number of graduating high school seniors are registering for the San Diego Community College District's (SDCCD) tuition-free San Diego Promise program.
The deadline for priority registration is June 11. Students can apply after June 11, but only on a space-available basis.
By mid-May, more than 1,600 students had applied to enroll at either San Diego City, Mesa, or Miramar College for the fall, 2020, San Diego Promise cohort, an increase of more than 25% from same period in 2019.
The SDCCD was among the first community college districts in California to launch a Promise program, which began as a pilot with a cohort of 186 students in the 2016-17, has served 4,360 students since its implementation, and is now one of the largest in the state.
The San Diego Promise provides not only two full years of tuition-free education, but also book grants, individualized counseling, and hands-on support to help students develop an educational plan meeting their career and academic goals. And all at no cost; the program is funded through state funding as well as the support of generous donors who have contributed more than $1.2 million to the initiative.
Studies show San Diego Promise students are more engaged on campus, enroll in more classes, and are more likely to perform better academically than their first-time, full-time non-Promise peers. The current cohort of San Diego Promise graduates have had their first two years of college paid for and are now transferring to the likes of the University of California, Berkeley, UCLA, and UC San Diego.
To apply for the San Diego Promise and learn more about this innovative program, visit the San Diego Promise page on the SDCCD website.