Internship project helps preserve Black Lives Matter movement
December 15, 2020

|
Mesa College student Sora Gallagher is part of an effort to memorialize a movement.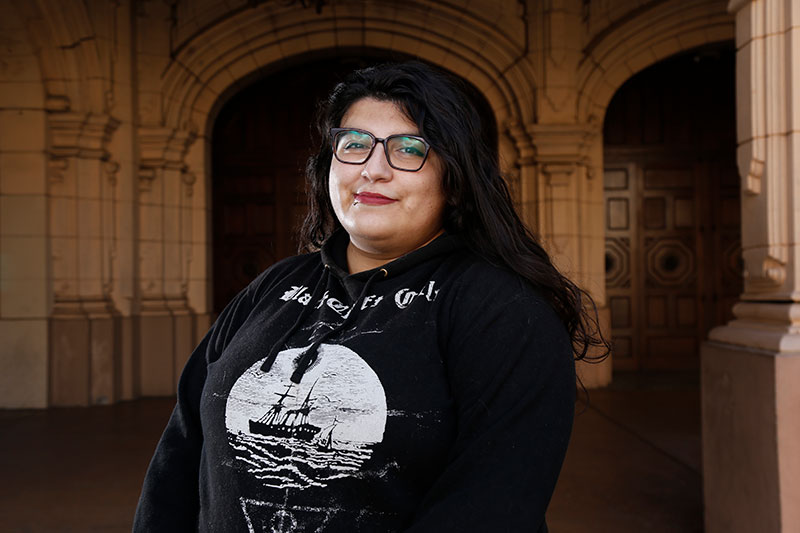 Gallagher, a 25-year-old studio arts major planning to transfer to UC San Diego next fall, has been interning with National City-based A Reason to Survive (ARTS), which is working with the Balboa Arts Conservation Center in Balboa Park to preserve protest art created during the Black Lives Matter movement immediately after the May 25 slaying of George Floyd at the hands of Minneapolis police.
"It's been impressive to me how creative people have been," Gallagher said. "I've seen a surfboard with a list of names of Black people who have been murdered. I've seen portraits that are more than just pictures on a number of different mediums that are beautiful but really sad at the same time. It's important to preserve history, and this is a way of remembering the people who have lost their lives."
The project is part of the Balboa Art Conservation Center's Preserve Community Art! initiative, which is committed to ensuring protest works we can be accessed by the community for future conversations. Art is being considered on a case-by-case basis and ranges from the more ephemeral, such as Instagram and TikTok posts, to the more enduring, such as portraits on plywood.
Gallagher's role includes contacting artists and organizations to see if they have or know of anything that can be preserved. Not all pieces are related to the Black Lives Matter movement. The Preserve Community Art! initiative also is interested in conserving items related to the Kumeyaay protests regarding border wall construction and the outrage over the manner in which children of immigrants are treated by federal agents.
Gallagher, who would like to become a museum or gallery director, says the initiative is fueling her commitment to dismantling museum management from a White perspective.