Students from around the world share how they found their path
December 14, 2020

|
From its unwavering support of Dreamers protected by the embattled Deferred Action for Childhood Arrivals (DACA) program to joining a lawsuit successfully challenging the federal government's attempts at excluding immigrants and international students from grants to help them cope with the COVID-19 crisis, the San Diego Community College District has taken swift and direct action in support of students and other residents who want nothing more than to pursue their education.
Among the innovative programs the District recently launched is a pilot initiative at San Diego City and San Diego Mesa colleges offering free legal services and confidential consultations covering immigration-related topics. These efforts complement the District's many existing programs in support of immigrants, perhaps none more important than the free citizenship classes offered through San Diego Continuing Education.
Too often, the debate about refugees and immigration status is focused on the macro level. Too often, the personal stories of those reaching the doors of the District's campuses are forgotten.
The stories of Sayeh Dehestani, Jerusalen Davila, Narae Kim, and Gabriel Souza are just four of those students overcoming the odds in order to earn an education through the SDCCD and beyond.
Sayeh Dehestani: A Refugee Finds a Home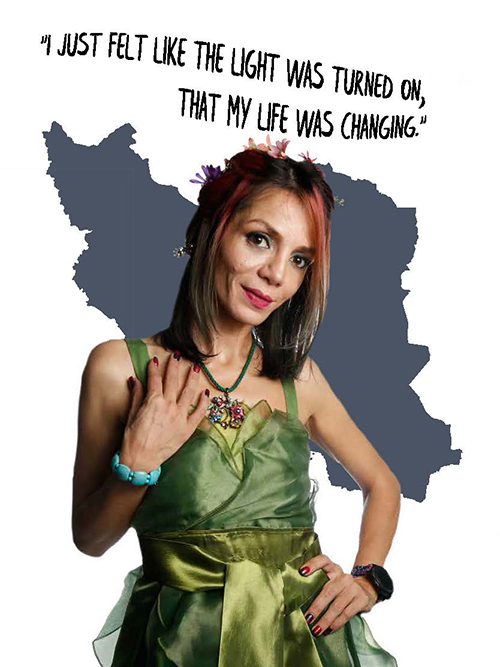 Abandoned as a toddler on a busy Tehran thoroughfare, married off as a child to an abusive husband, left with traumatic injuries after a fall from a building, Sayeh Dehestani had suffered through unimaginable tragedy and had little hope for a better life when she landed in the United States as a refugee at the age of 28.
That all changed when she found Miramar College.
"I didn't really know what I was doing, I was in a foreign country, I was a single parent living in a cheap hotel," Dehestani recalled. "I wanted to study business because of my disability. I remember it was raining, and when I came to the K Building, I saw a sign in the building that said, 'Welcome to Miramar College. Your Dreams Start Here.' I just felt like the light was turned on, that my life was changing."
Indeed, it had. Dehestani, whose first name means "Shadow" in Persian, would no longer live a life shrouded by darkness.
With the support and encouragement from people such as Student Assistance Technician Sam Shooshtary and English Professor Sheryl Gobble, Dehestani would blossom, serving a number of posts with the Miramar College Associated Student Government and becoming a Miramar College delegate for Region X of the Student Senate of the California Community Colleges. A 4.0 student and member of the Phi Theta Kappa Honor Society, Dehstani secured more than three dozen scholarships at Miramar College and was accepted to every University of California and California State University campus she applied to.
She graduated with eight certificates and two associate degrees and transferred this fall to UC San Diego to study fine arts with hopes of becoming an arts educator.
"Sayeh was in real bad shape when she came here, you could tell she was suffering from PTSD," said Shooshtary, who speaks Persian and whose fluency with the language put Dehestani at ease when she stopped into the EOPS/CalWORKS/CARE office her first day at Miramar. "She told me an absolutely heartbreaking story, but it is a story we hear so often from so many of our students who are refugees or undocumented immigrants. When students like Sayeh come to Miramar, we provide them with all the help and all the services we can, and to see her progress over the years has been wonderful and rewarding."
Said Sayeh: "I was nothing when I came to Miramar College. I was a broken woman. But here is where I found myself. I found people who cared. I found inspiration from other students. I found I didn't have to be a prisoner of my past."
Jerusalen Davila: A Dreamer with a Future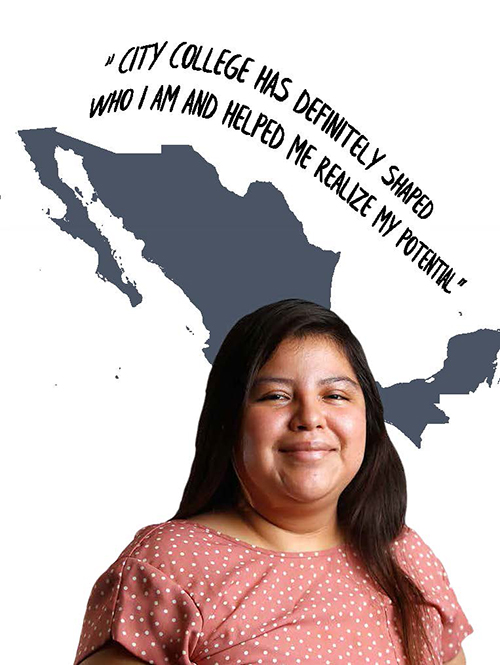 Jerusalen Davila was brought to the United States when she was just a year old after her parents determined that the pueblo they called home not far from Mexico City was not where they wanted to raise a family.
"I kind of always knew I wasn't born here, but I didn't really understand what it meant until I was a junior in high school and people were starting to talk about going to college," Davila said. "You realize that your educational path is going to be more challenging and your opportunities are going to be more limited."
Davila's opportunities were anything but limited at City College. A first-generation college student from City Heights who graduated from Hoover High School, Davila came to City College through the tuition-free San Diego Promise program and quickly involved herself with the Puente Project, Extended Opportunity Programs and Services (EOPS), First Year Services, and the Dreamer Resource Center. She took part in the Price Scholarship Program, joined the Honors Program, and was named to the Dean's List all three years she was at the downtown campus.
She couldn't have found a more supportive environment. Davila graduated with a 3.9 grade point average and transferred to UC Berkeley with an associate degree in sociology and plans for a career in counseling and social justice.
"Being part of the college community and being involved with the different clubs and organizations makes a difference and provides you with a support network. You can't be afraid to reach out. You really have to make the most of your experience. City College has definitely shaped who I am and helped me realize my potential."
Perhaps the biggest source of support came from the SUBIR Dreamer Resource Center. "It was big," Davila said. "You have counselors who understand the struggle, who understand your needs, who help you through the financial aid process, who help you with your AB540 applications, who help you find a support system."
That support system, Davila said, included District administrators and the Board of Trustees. "It felt good knowing the District was taking action and advocating for us," she said. "To be honest, the political environment can be a little intimidating and you realize that at any moment, your situation could change. It makes you feel safer knowing that the administration is looking out for you."
Narae Kim: Life as an International Student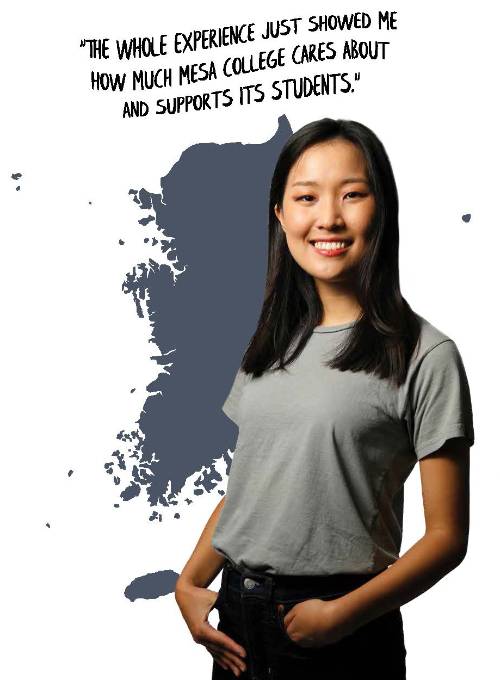 Almost as soon as South Korean international student Narae Kim enrolled at Mesa College, her status as an international student was placed in limbo. Mesa College, like every other community college in California, had moved to virtual learning with all of its classes moving online in response to the COVID-19 pandemic. At the same time, the Trump administration had just issued a policy directive requiring international students to take at least some in-person coursework in order to remain in the United States.
"It was very scary, actually," said Kim, 27. "But Mesa College reached out right away and said, 'Don't worry about it, we're going to take care of everything.' It made a big difference and it put me at ease."
Less than two weeks after issuing the edict, the Trump administration rescinded its directive. "The whole experience just showed me how much Mesa College cares about and supports its students," Kim said. "It has been a very welcoming experience."
Even without in-person classes, Kim has been motivated to become involved. The business administration student is involved with Mesa College Associated Students, takes part in virtual meetings with other international students every Wednesday, and has signed up for various employment workshops.
"This is my first semester at Mesa College, so I can't really compare the online classes with in-person classes, but so far I'm pretty satisfied," she said.
Kim hadn't even heard of Mesa College when she left her hometown of Seoul more than six years ago for a San Diego-based undergraduate program at what turned out to be an unaccredited private school. The school would later close down, prompting Kim to enroll in a small, private academy, with a goal of earning a bachelor's degree. Her boyfriend, however, encouraged Kim to enroll at Mesa College, which this year had students from 17 different countries in its graduating class.
"I knew Mesa College had a large number of students who transfer each year, and my goal was to transfer, so it appealed to me," said Kim, who began taking classes this fall.
She hasn't been disappointed. "The International Student program's orientation is very well organized and very well prepared," Kim said. "They review everything, health insurance, your visa, transfer opportunities, student life. And they give you an opportunity to meet with an advisor to help you choose your classes. There also are a lot of diversity programs, a lot of opportunities for meet-and-greets among diverse students and diverse student groups. I really like it here."
Kim is planning to transfer to San Diego State University and earn a bachelor's degree in business administration.
Gabriel Souza: An Immigrant's Story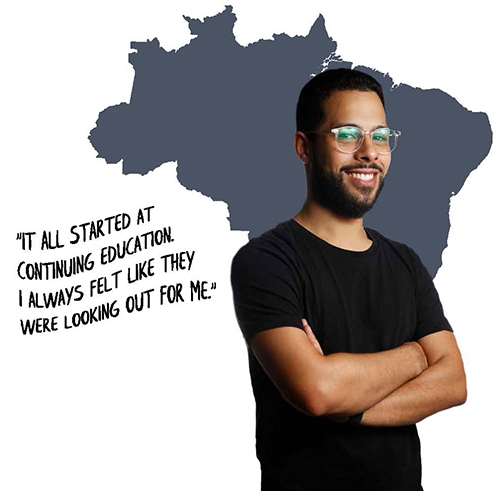 Gabriel Souza knew next to nothing about the intricacies involved with California colleges and universities when he emigrated from Brazil in 2018. With the never-ending support from Continuing Education, he is now on his way toward his dream of earning a doctorate and working as a clinical psychologist.
"When I got to San Diego, I really didn't have a lot of information about how the education system here worked," Souza said. "The one thing I did know, though, was I had to improve my English to communicate better. I learned about Continuing Education's ESL classes, and so I enrolled, but as soon as I got there, I was bombarded with information about what I needed, for example, to get my GED to go to college, what I needed to get my degree, and what I needed to reach my goals. I received so much help."
Souza says the approach permeates the ranks of Continuing Education's faculty and professional staff. He was especially impressed by the actions taken by an ESL instructor after learning about Souza's goals.
"He took me to the main office and showed me all the resources that are available. He helped me set up an appointment with a counselor, he told me about the GED program, he told me about Gateway to College, he told me about all the student resources that were available."
Indeed, Continuing Education has been supporting immigrants and refugees from around the world with services ranging from free ESL and GED courses to a free citizenship preparation program, not to mention regularly scheduled student workshops. Souza found the SDCCD shortly after arriving from Curitiba, one of the largest cities in Brazil.
Among the services that helped turn Souza's life around is Gateway to College and Career, which led to an internship at San Diego Youth Services, which led to a job at the nonprofit as a case manager. Gateway to College and Career also laid the groundwork to City College, where Souza is now enrolled thanks to the SDCCD's tuition-free San Diego Promise.
"Now that I'm in the Promise program, I have a counselor and a peer mentor and all of my professors have been accommodating and helpful," Souza said. "It all started at Continuing Education. I always felt like they were looking out for me."