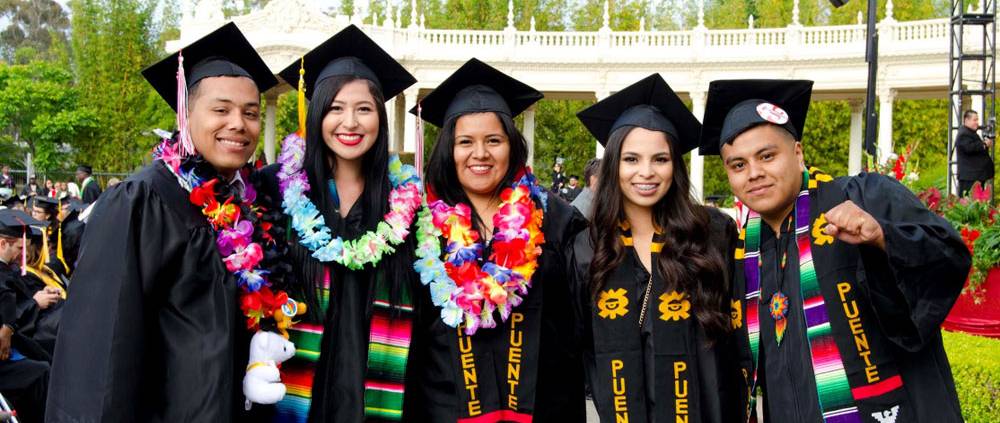 City, Mesa, and Miramar colleges ranked among Top 100 for Hispanic students
October 19, 2020

|
For the first time, all three colleges in the San Diego Community College District (SDCCD) are included in The Hispanic Outlook on Education Magazine's list of Top 100 Colleges and Universities for Hispanics.
San Diego City College ranks No. 44 and San Diego Miramar College No. 100 for Hispanic enrollment among 2-year colleges during the 2018-19 academic year. In addition, City College is ranked No. 99 for associate degrees awarded.
San Diego Mesa College is No. 48 for Hispanic enrollment among 4-year colleges and universities (Mesa offers a bachelor's degree in Health Information Management). Mesa College would have been among the top 100 for associate degrees, but it's considered a 4-year college for data purposes by the U.S. Department of Education since the college also awards bachelor's degrees.
"Given the rapid growth of the Hispanic/Latinx population in our region and in our student body, it is important for the San Diego Community College District to provide high-quality instruction and support services for this important segment of the population. We are very proud to see the colleges' national rankings in this category of service," said SDCCD Chancellor Constance M. Carroll.
The lists are featured in Hispanic Outlook's October 2020 issue, which includes lists of the nation's top colleges and universities for Hispanic enrollment and for degrees awarded. The data is for the 2018-19 academic year and is pulled directly from the U.S. Department of Education's Integrated Postsecondary Education Data Set (IPDES).
The ranking of the SDCCD's three colleges among the nation's tops for Hispanics should come as no surprise. Both City College and Mesa College are designated as Hispanic-Serving Institutions, and Miramar College has been among the fastest growing colleges in the U.S.
Given the region's growing Hispanic population, the district's colleges have made the success of Hispanic students a high priority:
- San Diego City College is in the fifth year of a five-year Title V, DHSI grant of $2,625,000 aimed at boosting the proportion of lower-income and Hispanic students reaching their academic goals by redesigning remedial and personal growth courses, offering culturally competent peer mentoring, and linking students and faculty through professional development opportunities. Title V initiatives at City College include the Students Uplifted By Institutional Reform (¡SUBIR!) Cultural Center, the DREAMer Resource Center, and a Summer Jump Start Program. HSI-funded DREAMer Resource Center at San Diego City College served 866 students in calendar year 2019.
- Mesa College is in the fifth year of a five-year, $5-million Title III, HSI STEM grant to help low-income and Hispanic students complete their STEM-related academic goals. The grant funded an initiative dubbed STEM Conexiones (STEM Connections) bolstering several instructional and student support practices aimed at strengthening the academic performance of low-income and Hispanic students. The grant-funded Mesa College STEM Center and Innovation Research Lab offer virtual services during the COVID-19 pandemic that include STEM Counseling, Tutoring, Peer Mentoring, and free Engineering Workshops. Supplemental HSI STEM grant funding was secured for the College to expand its STEM Teacher Education Program and purchase laptops and STEM software for faculty, staff, and students during the pandemic. In fall of 2020, Mesa College closed out its five-year DHSI grant for $2.62 million that funded Proyecto Exito. Proyecto Exito staff positions and initiatives that were institutionalized include LOFT Professional Development that launched equity-minded activities such as the Catalyst Teaching Conference, Amplify, and Communities of Practice. It also provided seed funding for the construction of the AVANZA Student Engagement Center and for ongoing activities such as the summer CRUISE Program that onboards new students through a three-day, on-campus experience, connects them with a Peer Navigator, and involves them in various student-success workshops.
The Hispanic Outlook on Education is a national monthly magazine that provides education news, innovations, networking, resources and the latest trends impacting students from kindergarten through graduate school all while maintaining a unique Hispanic perspective. Hispanic Outlook has provided a pipeline delivering nationwide news about multicultural accomplishments and challenges in classrooms for nearly 30 years.