Journey leads Navy veteran to City College as VP of Administrative Services
August 6, 2020

|
San Diego City College has a new Vice President of Administrative Services.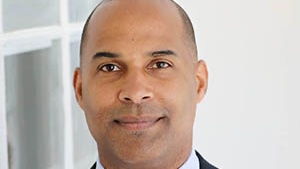 Dr. John Parker, a Navy veteran whose higher education journey began as a community college student in Los Angeles, comes to City College from Rivier University, a private Catholic liberal arts college in New Hampshire. He was the institution's chief financial officer in his role as Vice President for Finance and Administration.
"My journey has taken me to several different paths, but higher education has taken me to where my values are, and that's public service," said Parker, who has volunteered as a big brother with Big Brothers Big Sisters for the past five years and he also serves as a board member and chair of the Finance Committee at the Boys and Girls Club of Greater Nashua.
His journey began in South Central Los Angeles where he was raised, then to the Navy where he was based in Long Beach and San Diego. After leaving the Navy, Parker attended Los Angeles Trade-Technical College then transferred to USC to earn his bachelor's degree in business administration. He also earned an MBA from the University of Phoenix, a master's degree in Accountancy from Arizona State University, and a Doctor of Business Administration from Argosy University in Florida.
Parker initially eyed a career in the private sector at Warner Bros. and The Hertz Corporation. His passion for public service and education, however, changed his path when he took on a leadership role at Arizona State University. He continued building on his passion serving as chief financial officer at Argosy University in Florida and president at Brown Mackie College in Oklahoma before moving to Rivier University.
It was at Brown Mackie College in Oklahoma City, where more than 80 percent of students came from underrepresented and disadvantaged communities, that Parker's commitment to equity in education blossomed.
"I worked with an underserved population, something that spoke to me because I did not feel I received the education and support to prepare me for college when I graduated from Crenshaw High School in Los Angeles," he said. His commitment manifested itself in serving as a mentor and establishing a scholarship to support students who were food and housing insecure.
Parker will begin his tenure at City on August 24 and says he will be a sponge, soaking in everything as he acclimates to the college. As Vice President of Administrative Services, he will be responsible for managing and implementing the campus budget, and as a member of the President's Cabinet, Parker also provides leadership and direction for all administrative support systems, including strategic planning, budget development, facilities management, and safety.
"I want to be at a Minority-Serving Institution," Parker said. "And I'm privileged to have an opportunity to have an impact here at City College."