Community partnerships making a difference
December 21, 2020

|
Raised in the Central California farming community of Firebaugh, Vince Hall came full circle in his role as CEO of Feeding San Diego.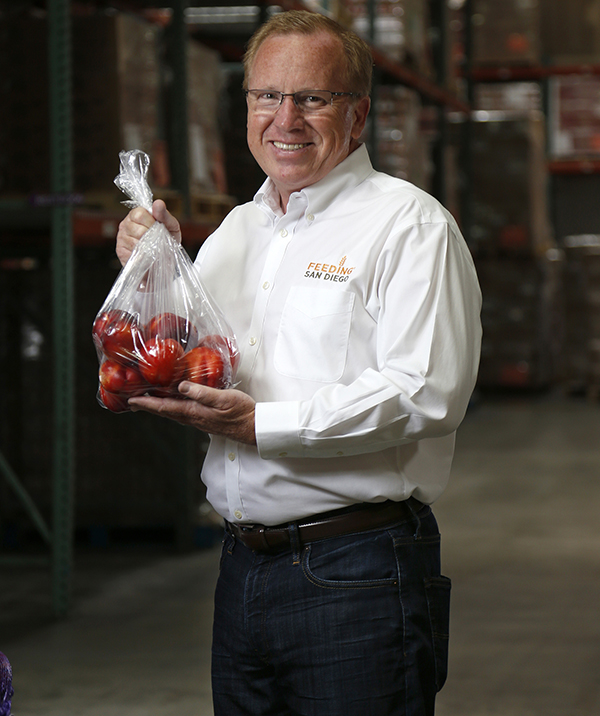 "When I was growing up as a kid I would see farmers sometimes plowing perfectly good crops back into the soil because there were no buyers for those crops," Hall said. "Packing sheds would put boxes of cantaloupe out next to the highway for the community to take because they were odd sized or odd shaped produce; I saw a lot of farm waste. With Feeding San Diego, I work for an organization that is rescuing that produce from Firebaugh and from hundreds of other farms and packing sheds up and down California and bringing it to San Diego families and San Diego Community College District students in need."
At Feeding San Diego, which he left this summer for a position at Feeding America as Vice President of External Affairs, Hall was instrumental in forging partnerships with San Diego City, Mesa, and Miramar colleges, and Continuing Education, which have provided a bounty of fresh produce that might otherwise go to waste to thousands of students struggling with food insecurity. That support became even more critical during the ongoing COVID-19 pandemic.
Hall has always been dedicated to serving the community and his partnership with the District underscores how the SDCCD's collaboration with business, industry, labor, and local nonprofits is having a profound impact.
A San Diego State graduate with a degree in speech communication, Hall has a resume that includes serving as a San Diego City Council staff member, a stint as co-Chief of Staff for Governor Gray Davis, Vice President of Public Affairs and Communications for Planned Parenthood of the Pacific Southwest, and Executive Director at the Future of California Elections. He's also a board member at Free to Thrive, which provides legal services and other support to human trafficking survivors.
"We are very proud to partner with the San Diego Community College District in supporting their efforts to solve food insecurity on campus," he said. "It is a terrible crisis. We can't expect students to learn in a classroom or compete on an athletic field if they are malnourished. Hunger is a debilitating condition. And all other responsibilities we face each day become exponentially more difficult if we haven't had adequate nutrition. The San Diego Community College District, under the inspired leadership of its Chancellor, Constance Carroll, has forged a districtwide strategy, and Feeding San Diego is proud to be a key partner in implementing that strategy."