Black Student Success Week set for April 26-30
April 5, 2021

|
A coalition of California higher education leaders are working together to host a California Community College Black Student Success Week, April 26-30, 2021. Black Student Success Week will share research insights and innovative approaches for improving student success among Black and African American students at California's community colleges.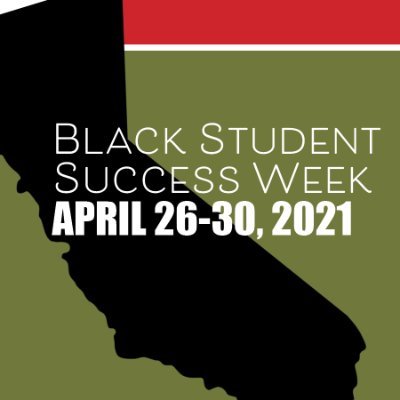 "The Board of Governors is proud to support Black Student Success Week as we continue to work to improve supports for Black students, foster Black leadership in our system, diversify our faculty and staff ranks and root out systemic racism and barriers holding back students' potential," said Pam Haynes, California Community Colleges Board of Governors President. "The activities planned for this week will raise consciousness and help make our system stronger."
Register for Black Student
Success Week webinars
Daily webinars will be held throughout the week from noon to 1 p.m. and are open to California Community College administrators, staff, faculty, practitioners and students. The webinar series will kick off with a discussion that explores this year's theme Follow the Money: Unapologetically Supporting Black Students. Speakers will include Eloy Ortiz Oakley, Chancellor of the California Community Colleges; Dr. John King, 10th U.S. Secretary of Education and President/CEO of The Education Trust; Dr. Edward Bush, President of Cosumnes River College; Dr. Darla Cooper, Executive Director of The RP Group; and Dr. Frank Harris, Professor of Postsecondary Education and Co-Director of Community College Equity Assessment Lab (CCEAL) at San Diego State University.
Webinar registration for the daily webinar series called The Black Hour is now open. The following topics will be addressed throughout the week:
Monday, April 26 – Follow the Money: Unapologetically Supporting Black Students
Tuesday, April 27 – The ADT Journey for African American Students
Wednesday, April 28 – Black Leadership in Higher Education
Thursday, April 29 – Legislative Briefing
Friday, April 30 – Faculty Diversity
The week will also include a virtual advocacy day on Thursday, April 29th. Community college leadership are encouraged to meet via video conferencing with state legislators to advocate for further funding and support for Black student success. Additional materials and talking points will be provided to support administrators and students meeting with their representatives.
Black Student Success Week is organized in collaboration with the following partners: A2MEND, Umoja Community Education Foundation, the Campaign for College Opportunity, California Competes, The Education Trust-West, the Equity Avengers, the Academic Senate for California Community Colleges, the Community College League of California, and the California Community Colleges Chancellor's Office.