The California Budget 2021-22 - Big Bucks For The Future
January 8, 2021

|
Dear Colleagues and Friends: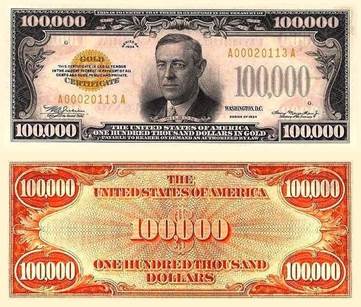 The history of money is fascinating. Following millennia of amassing physical possessions as the basis of wealth with bartering as the method for purchasing, the invention of coinage provided great flexibility and portability for such transactions. Later, with the advent of printed money, this flexibility and portability significantly increased.
In 1934, the United States Bureau of Engraving and Printing created and printed the $100,000 note, which featured the portrait of President Woodrow Wilson, as a means for conducting official business and transactions involving Federal Reserve banks. This large denomination bill was never released for public use, but examples can be found today in various museums, such as the Smithsonian Museum and the Museum of American Finance.
As the COVID-19 pandemic continues to ravage not only people but also the economies of nations around the world, the United States Congress has passed and will continue to pass enormous stimulus funding bills to alleviate the situation. This has been, as we all know, a contentious process. Perhaps it's time to use those Woodrow Wilson bills!
Governor's Budget Proposal in General
On January 8, 2021, California Governor Gavin Newsom held the annual press conference to introduce his budget proposal for FY 2021-22, which marks the official start of the State's budget development process. The Governor's Budget Proposal will be followed by legislative discussions, advocacy from the public and private sectors, and further analysis by the State Department of Finance and the Legislative Analyst's Office as more is known about revenue being generated in the current year. As was the case in the past several years, it is anticipated that the revenue estimates will continue to be positive, especially since more Federal Stimulus dollars are anticipated to augment local funding. The next official step in the process will be the Governor's second budget proposal, known as the May Revise or May Revision, which will be issued later in the spring, and will be based on updated revenue figures, as well as input from legislative discussions and public advocacy efforts.
Governor Newsom outlined a total of $227 billion in the general fund expenditure budget, including $164.5 billion in the General Fund and a one-time discretionary surplus of $15.6 billion, representing an increase over the $222 billion budget he introduced this time last year.
Governor Newsom reviewed the process and components of the budget effort that resulted in the State's expenditure plan for FY 2021-22, noting significant progress that was made in providing funding to maintain current funding patterns and to reduce the State's debt. He also noted that as FY 2020-21 unfolded, California saw its first reported case of COVID-19. "And that," said the governor, "is when everything changed." Unemployment, which had fallen to 3.9% rapidly rose to 16.4%, and the budget surplus of $5.6 billion turned into a deficit of $54 billion. After almost a year of actively combating the COVID-19 situation, both through public health protocols and through financial support, the State is now on the road to recovery.
The San Diego Community College District's (SDCCD) journey has mirrored California's. The SDCCD also experienced COVID-19 dangers and public health restrictions that led to the general abandonment of in-person activity, with the vast majority of classes being moved to an online/distance education modality, with operations converted to a remote format, with strict protocols required for the few class sections and support services that are offered on-site, with losses in enrollment and revenue, with the postponement of athletics, and with other adjustments. Although CARES Act funding was received as part of the Federal Stimulus program, it has not been sufficient to completely offset the losses and challenges experienced by the District, and City, Mesa, Miramar, and Continuing Education colleges. Herculean efforts were also made to provide professional development for faculty and technical equipment and laptops for students, which was needed for the new online modality. The Board of Trustees and I are proud of everyone who helped the SDCCD surmount these challenges, and we are also pleased that we have been able to do so without layoffs of contract faculty and employees and without other negative adjustments. Although the reduction in class sections displaced a number of adjunct faculty members, we are all committed to reducing this impact as much as possible.
Budget Impact on Community Colleges and the San Diego Community College District
Believing that California is on the road to economic recovery, Governor Newsom emphasized the need to support education. K-12 and Community Colleges will benefit from the fact that the Proposition 98 minimum guarantee is $85.8 billion, representing the highest level of this funding in California history. The budget proposal includes a number of "investments" to support K-14 education, especially in ways that "close equity gaps, promote (student) completion, fuel innovation, and support students' upward economic mobility."
Here is a summary of the Governor's proposed budget, which Executive Vice Chancellor Bonnie Dowd and several agencies have analyzed, as it affects community colleges in general and the San Diego Community College District in particular. (For those who would like more detailed information, the joint budget analysis from the California Community Colleges Chancellor's Office, working with other organizations, is attached.)
Continuous Revenue
- Cost of Living Adjustment (COLA). The Governor's Budget includes a 1.5% COLA in the amount of $131 million.
SDCCD Impact. This will yield $2.0 million, which would be distributed in accordance with the SDCCD Resource Allocation Formula (RAF).
- Apportionment Funding for Growth. The governor has proposed .5% in growth funding in the amount of $43 million.
SDCCD Impact. This District continues to be in the Student Centered Funding Formula (SCFF) minimum revenue provision (i.e., hold harmless); therefore, the SDCCD will not be receiving any growth funding.
One-Time Revenue
- Mandates Block Grant and Reimbursements. This year's state allocation will be $33.7 million.
SDCCD Impact. This will yield $1.2 million for the SDCCD budget based upon the $30.61 per FTES rate for FY 2021-22.
Total Increase: $3.2 million.
Notes: 1) COLA funding for the following categorical programs: DSPS, EOPS, Apprenticeship programs, CalWORKS, and Cooperative Agencies Resources for Education (CARE) program are also included in the Governor's budget proposal
Other areas related to the Budget Proposal affecting community colleges and the SDCCD are:

To provide community colleges some fiscal relief, employer contribution rate increases for the State retirement systems CalPERS and CalSTRS are proposed to be reduced by $2.3 billion from the 2019-20 Budget ACT related to the long-term liabilities. The CalSTRS employer rate will go from 18.41% to approximately 16.15% in FY 2020-21 and from 17.9% to 16.02% in FY 2021-22. CalPERS will go from 22.67% to 20.7% in FY2020-21 and 24.6% to 22.84% in FY 2021-22. The reduction in rates will decrease the expense amount that would have been paid in each year for the unfunded pension liability, thereby providing some relief in the SDCCD's expenditure obligations.
The FY 2020-21 Budget Act (current fiscal year) did not include any cuts to the California community colleges; however, the State intended to significantly defer apportionment revenue payments to all 73 districts. The Governor's FY 2021-22 Budget proposal would repay $1.45 billion in deferrals reducing the current fiscal year deferrals down by $1.1 billion and apply a new deferral of $326.5 million in deferrals for 2021-22. This would improve cash flow for all college districts and would not require as much short-term borrowing as had been anticipated through Tax Revenue and Anticipation Notes (TRANs).
The Congress just recently approved the Coronavirus Response and Relief Supplemental Appropriations Act, 2021: Higher Education Emergency Relief Fund is anticipated to provide $20.2 billion for higher education. Based upon a simulation provided by the American Council on Education, the District could receive $35,336,000 in federal stimulus dollars. These funds are based on precise student enrollment data at City, Mesa, and Miramar colleges, and we will need to apply a factor to ensure that students in the College of Continuing Education also benefit.
Although there is more detail yet to be determined and a host of small projects that are also included in the budget, the Governor's budget proposal provides another year of general, solid support for California's community colleges, and addresses the impact of the COVID-19 pandemic. This is by no means a perfect budget with many challenges remaining. The SDCCD must continue to effect budget economies and adjustments in order to offset some of the continuing budget challenges. Nevertheless, in my opinion, this budget proposal is still a breath of fresh air, offering a generally optimistic plan of investment in the future.
The Board of Trustees, the College Presidents, the Vice Chancellors, the Academic and Classified Senates, the student leaders, the District Budget Planning and Development Council, and I will now turn our attention to the actual, detailed budget development process for 2021-22, a process in which everyone will be involved through designated councils and committees, both districtwide and at the campuses. We also will become involved in legislative advocacy efforts that will begin later this month in Sacramento when our leadership team will participate in statewide advocacy meetings, focusing on these primary issues: 1) increasing base funding; 2) providing State line-item funding for full-time faculty positions; 3) increasing funding for deferred/scheduled maintenance and instructional equipment; and 4) continuing the mitigation of the impact of increases in the employer contributions to CalSTRS and CalPERS.
During the coming months, you will all receive information about the budget issues that will be addressed, along with other legislative matters, and your ideas and suggestions will be welcome.
Stay tuned ...
Dr. Constance M. Carroll
Chancellor, San Diego Community College District