Dr. Carlos O. Cortez named Chancellor at the San Diego Community College District
March 16, 2021

|
Dr. Carlos O. Cortez, a nationally recognized educational leader who has been President of the San Diego College of Continuing Education (SDCCE) since 2015, will be the next Chancellor of the San Diego Community College District (SDCCD).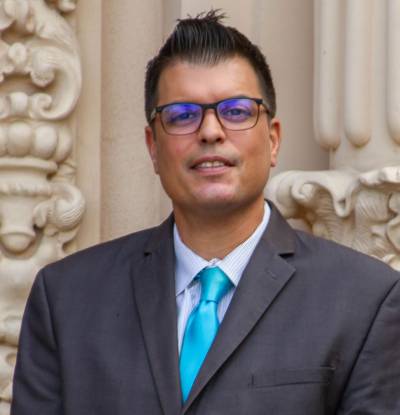 Dr. Cortez's appointment, following a comprehensive national search, was announced today by the SDCCD Board of Trustees. His first day as the SDCCD's chief executive officer will be July 1.
"Dr. Cortez is the Board of Trustees' choice to lead the SDCCD into the future," said Dr. Maria Nieto Senour, SDCCD Board President. "We are pleased with the outcome of this search process, which included robust input and participation from district stakeholders and the community."
As Chancellor, Dr. Cortez will be responsible for all operations in a district that is the largest provider of workforce training and education in the region with a $780-million annual budget. The Chancellor oversees San Diego City, Mesa, and Miramar colleges, and the San Diego College of Continuing Education; assures that the district is administered in accordance with policies adopted by the Board of Trustees and state and federal regulations; and maintains a close working relationship with the community, K-12 and local higher-education systems, as well as local, state and federal officials.
"In conducting its search, the Board of Trustees prioritized selecting an individual with the skills and experience to lead the district's strategic planning and action to meet the current and future challenges confronting its students and communities," said Dr. Senour. "These challenges include safely reopening the district's campuses and engaging students to increase enrollment as we move beyond the COVID-19 pandemic, which has deeply affected each of the district's students and employees. The Board of Trustees has confidence that Dr. Cortez will be able to assist the district in emerging from this crisis even stronger than before. He is exactly the type of leader that is needed at this moment in the district's history."
Dr. Cortez will replace Chancellor Constance M. Carroll, who is retiring after serving 17 years, making her the longest-serving Chancellor in the district's history. Among the messages received from the community during the search was the importance of continuing the significant progress and achievements made by the SDCCD during Dr. Carroll's time as Chancellor.
"The district is deeply indebted to Chancellor Carroll for her accomplishments and service," said Dr. Senour. "During her historic tenure, the district has completed an unprecedented modernization of its campuses, achieved the highest possible bond ratings that saved taxpayers millions of dollars, expanded its student equity and success programs, established the tuition-free San Diego Promise program as a national leader, and secured legislation which allowed San Diego Mesa College to create one of the first baccalaureate programs at a California community college. More recently, Chancellor Carroll has provided steady leadership through the COVID-19 pandemic, overseeing a districtwide response that has provided thousands of students with laptops and emergency grants that has allowed them to continue their education online while campuses were closed."
The SDCCD governing board worked with the Association of Community College Trustees (ACCT) to assist in the search process, which sought diverse and competitive candidates from all regions of the country and included participation by a 25-member search committee comprising faculty, classified professionals, labor groups, administrators, trustees, and businesspeople.
In selecting Dr. Cortez, the Board of Trustees is adding a CEO with considerable teaching and leadership experience. Dr. Cortez has taught consistently for the past 23 years. He has served as an administrator for 16 years and as CEO for 11 years. As the President of the San Diego College of Continuing Education, Dr. Cortez oversees one of the four colleges of the SDCCD, the seventh-largest community college system in the United States. SDCCE is the 11th largest institution in the California Community College system, serving 40,000 students annually at seven campuses and over 200 off-site locations. Dr. Cortez is also an adjunct faculty member at Johns Hopkins University, New York University, and the University of California, Berkeley. His research interests center on the role of educators and administrators of color in the historical development of American social welfare and education policy.
"I love this district and I am honored to be appointed as Chancellor," said Dr. Cortez. "Chancellor Carroll has established the SDCCD as national leader in student equity and outcomes. I am committed to working with our student leaders, faculty, classified professionals, and administrators to move the district to the next level of success."
Dr. Cortez's scholarly achievements and professional pursuits are focused on equity, diversity, and inclusion not only for students, but also for faculty, professional staff, and administrators. Throughout his career, Dr. Cortez has elected to work primarily with underserved, ethnically diverse student populations from low-income communities. He has been a staunch advocate for policy and finance reform as a member of various state and federal level legislative task forces, including his current service on the California League of Community College's Advisory Committee on Legislation and the Noncredit Coalition. His commitment to social justice drives his passion for urban education reform.
Prior to leading SDCCE, Dr. Cortez most recently worked as the acting Vice President of Instruction at Berkeley City College (BCC). Before BCC, he served as Director of Education Extension at the University of California at Los Angeles (UCLA). He began his career in education as a Teach for America Corps member. His experience spans the public, private, and charter school sectors in Washington D.C., Houston, New York City, Los Angeles, Berkeley, and San Diego. Dr. Cortez served as principal of New Village Charter School in Los Angeles, and as Assistant Principal of special education services at Grape Street Elementary School. In these positions, he was known for his dedication to teachers and students, the development of innovative programs and services, astute fundraising, and sound fiscal management.
In 2017, Dr. Cortez was awarded the Martes Award for Excellence in Research by the Association of California Community College Administrators and was recognized as San Diego Male Leader of the Year by then-California State Assemblymember Shirley Weber. In 2018, he received the Excellence in Continuing Education Award from the Association of Community and Continuing Education (ACCE); the 2018 Innovation of the Year Award by League for Innovation in Community Colleges; and the RP Group Research and Planning Project award. In 2019, he was awarded the Teach for Innovation McGrory Award for Innovative Alumni Leadership and his organization was named the 2019 NACCE Heather Van Sickle Entrepreneurial College of the Year. In 2020, Dr. Cortez was awarded the San Diego County Office of Education (SDCOE) Lighthouse Award as a Turnaround School Leader and was named a 2020 Top 100 Leaders in Education by the Global Forum for Education and Learning. Dr. Cortez's educational background includes a bachelor's degree in history and sociology from Georgetown University; a master's degree in race and gender politics from New York University; and a doctor of philosophy in education policy and administration from the University of Southern California. All three degrees focus on African American feminist political history.
Dr. Cortez's appointment is pending final approval of his employment contract to be considered at a future Board of Trustees meeting in public session.
Media Resources
B-Roll of Dr. Carlos O. Cortez
High resolution photo of Dr. Cortez
As one of the largest of California's 73 community college districts, the San Diego Community College District serves approximately 100,000 students annually through three two-year colleges and the San Diego College of Continuing Education. The three credit colleges, San Diego City College, San Diego Mesa College, and San Diego Miramar College, offer associate degrees and certificates in occupational programs that prepare students for transfer to four-year colleges and entry-level jobs. Mesa College also offers a bachelor's degree in Health Information Management. The College of Continuing Education offers noncredit adult education at seven campuses throughout San Diego.