Chancellor's Message: Building on Success
July 1, 2021

|
Colleagues: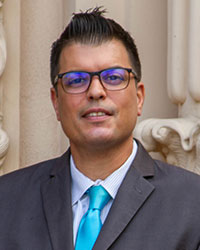 For the past six years, it has been a special privilege for me to serve as President of the San Diego College of Continuing Education. Now, I am even more honored to serve as District Chancellor. I know I follow the legendary Dr. Constance M. Carroll, Chancellor Emerita, who hired me, as well as many of you, during her historic 28-year career with the San Diego Community College District. All of us are indebted to her for her leadership and service. I would also like to express my personal appreciation to Chancellor Emerita Carroll for her assistance with the Chancellor transition. Moreover, I want to publicly acknowledge Chancellor Emerita Carroll for her mentorship, guidance, and friendship; she will always have a place in our District.
As I begin my new role, I will focus my attention on working closely with the members of the Board of Trustees, the Chancellor's Cabinet, the District Governance Council, student leaders, and other key stakeholders to prepare for the new academic year. At the same time, I also will be reaching out to many of the SDCCD's friends and partners in the community. As a District, we strongly value collegiality and collaboration, which is one of the reasons I was attracted to the Chancellor position.
Certainly, we face several challenges in the coming weeks and months, not the least of which is a safe transition back to campus for many students and employees. Despite this, there are many reasons to believe the District is poised for future growth and success, including an improved budget situation, an experienced leadership team, and strong support from the community. Further, our nation and system have reaffirmed our commitment to equity, inclusion, and social justice, which creates new opportunities to strengthen our support of our most vulnerable student populations.
Our most important asset, however, is our people: the faculty, classified professionals, administrators, and of course—our students—who make our District the best in the nation. I look forward to hearing from each of you about your ideas for how we can better serve the community and our students. One opportunity for dialogue will be at the Chancellor's Forums, a wonderful tradition from Dr. Carroll, which will be continued in the fall.
In the meantime, I will share periodic updates with you and you are always welcome to contact me through the Chancellor's Office, or directly at ccortez@sdccd.edu. Please know that I maintain an open door policy. Starting this September, I will announce standing open office hours to meet with interested constituents.
As we embark together on a new chapter for the SDCCD, I am more excited than ever about what the future holds as we work to build upon the successful foundation established by Dr. Carroll and all of those who have served SDCCD. Thank you for your continued support of our important mission. Please know your work is important and appreciated, especially during these trying times.
Sincerely,
Carlos O. Turner Cortez, Ph.D.
Chancellor
San Diego Community College District
* This was a special message emailed to all SDCCD employees on July 1, 2021.