California Community Colleges Chancellor Oakley to take temporary post with Biden Administration
July 19, 2021

|
SACRAMENTO — California Community Colleges Chancellor Eloy Ortiz Oakley will join the Biden administration in a temporary role to provide advice on higher education policy, and Deputy Chancellor Daisy Gonzales will serve as acting chancellor until his return in the late fall, Board of Governors President Pamela Haynes announced Monday.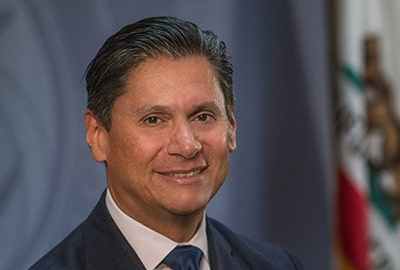 "Chancellor Oakley's temporary assignment to work as a special advisor to Education Secretary Miguel Cardona is a win for California and the nation, providing more opportunity to improve higher education policy and help millions of American families," Haynes said. "Answering this call to service is a recognition of work our system is leading."
Oakley's new assignment starts July 26 at which time Deputy Chancellor Daisy Gonzales, Ph.D., will serve as acting chancellor of the California Community Colleges, overseeing policy, fiscal and advocacy matters for the 116-college system that serves 2.1 million students.
Haynes said the Board of Governors fully supports Chancellor Oakley's temporary assignment and has full confidence in Deputy Chancellor Gonzales and the Chancellor's Office team in continuing to advance the system's Vision for Success.
California's community colleges continue to show progress toward meeting goals of the Vision for Success, which sets a path to increase certificate and degree attainment, to improve transfer and to close equity gaps. This approach -- and the hard work of everyone at our colleges -- have had far-reaching impacts throughout the state and the nation.
Oakley has overseen the California Community Colleges since 2016 and has helped lead transformational changes that place equity and student success squarely at the front of every decision affecting our colleges. Prior to becoming state chancellor Oakley served as president/superintendent of the Long Beach Community College District.
Gonzales is uniquely qualified to serve as acting chancellor, having overseen operational and strategic policy planning for the Chancellor's Office since 2017. A fearless advocate for students, Gonzales is a former Aspen Institute presidential fellow who leads the system's Diversity, Equity and Inclusion work, serves on the Accrediting Commission for Community and Junior Colleges and was selected woman of the year by the California Legislative Women's Caucus and Lt. Gov. Eleni Kounalakis in 2021. She holds a master's and doctorate degree in sociology from University of California, Santa Barbara.