Chancellor Carroll recognized by Community College Public Relations Organization
April 23, 2021

|
San Diego Community College District (SDCCD) Chancellor Constance M. Carroll has been recognized by a statewide organization for her support of the district's marketing and communications efforts.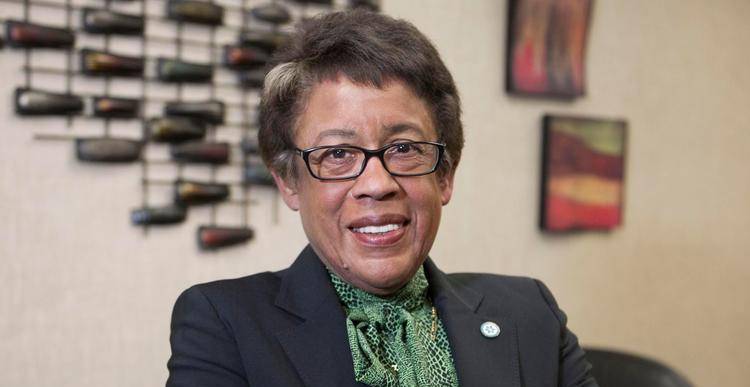 Dr. Carroll, who is retiring in June after 17 years as Chancellor, received the PROmoter Award from the California College Public Relations Organization (CCPRO) during the organization's virtual conference April 23, 2021.
The PROmoter Award is given to a community college administrator – chancellor, president, vice chancellor or vice president - who has demonstrated leadership in supporting public relations and marketing at their college and throughout California. The award is given annually at the Community College Public Relations Organization conference.
Since being appointed Chancellor in 2004, Dr. Carroll has overseen an amazing transformation of the district's campuses, established the tuition-free San Diego Promise, and helped pass historic legislation, which has allowed California Community Colleges to offer 4-year degrees on a limited basis. She's also been a beacon of hope for the community as she fought to expand access to higher education. During her tenure, more than 150,000 have earned degrees from the SDCCD.
"CCPRO is proud to recognize Dr. Constance Carroll with the PROmoter Award," said CCPRO President Kristen Huyck. "Her decades of leadership in California Community Colleges have yielded amazing opportunities not only for students in the San Diego Community College District, but also throughout the state. Communication is the foundation of successful leadership, and she has demonstrated a unique ability to draw people together, share her vision, and affect change in the nation's largest system of higher education. She sets an inspiring example and we are honored to present her with this award."
Dr. Carroll is the third recipient of the award. It was first given in 2018 to Gil Stork, then the Superintendent/President of Cuesta College. Dianne Van Hook, Chancellor of College of the Canyons, received the award in 2019. Because CCPRO's 2020 conference was canceled due to the pandemic, no award was given that year. Chancellor Van Hook made the presentation to her longtime colleague Chancellor Carroll.
The statewide Community College Public Relations Organization is a professional development and service organization that seeks to promote excellence in California's community college public relations and related professions. The organization serves as a central resource of information and provides counsel and assistance relating to the advancement of community colleges statewide and the professional growth of its members. For more information on CCPRO, visit: ccprocalifornia.org.