Chancellor's Message: COVID-19 update 2/10/2021
February 10, 2021

|
SDCCD Colleagues and Friends:
I hope my message finds everyone safe and well.
I visited my office last Friday to pick up some essential items. I looked around wistfully at the office that I have known and used for almost 17 years but which I have not worked in since March 13, 2020. It struck me, too, that I will probably never work in this office again since I will be retiring at the end of June. COVID-19 has upended so many patterns and plans, including mine. However, while wistful, I was also proud, proud of the manner in which all of us working together have adapted to the pandemic crisis and made sensible plans for the future, always putting the health and safety of our students and employees first.
As I have said before, the Board of Trustees and I are grateful for the extraordinary efforts made by the faculty, administrators, and classified professionals within our District in moving swiftly and effectively to online instruction and remote operations. We are also grateful to our community supporters who have contributed much-needed funding to support our students' needs (especially for laptops and Internet connectivity) during this difficult period of time. We offer special thanks to The San Diego Foundation, the United Way of San Diego, the College Foundations, and scores of individual donors who came forward with hundreds of thousands of dollars to help our students succeed. We are fortunate to work and live in a community that is so generous.
I join many others in being cautiously optimistic about the future. With several vaccines now being administered and others being developed, we are sailing more surely into safe harbors where a return to normalcy will be possible, albeit accomplished in incremental stages. Also, the Biden/Harris Administration has worked successfully with Congress to pass another, enormous stimulus package in the amount of $1.9 trillion, which will provide a strong boost for our economy in general, with significant benefits for small businesses, individuals, and educational institutions among others.
In the next few pages, I will provide the latest information about our current situation and future prospects in the world of Coronavirus COVID-19.
NEW FEDERAL STIMULUS PACKAGE
As noted above, the Biden/Harris Administration has worked successfully with Congress to assure the passage of the next federal stimulus funding package in the amount of $1.9 trillion. $40 billion is earmarked for postsecondary education, in the category called Higher Education Emergency Relief Fund II (HEERF II). The American Council on Education (ACE) has published a simulation of how this funding will be allocated to all universities and colleges in the nation, along with the estimated amounts of HEERF II funding they will be receiving. The funding is based upon student participation in Pell Grants, which is why it will be distributed via Financial Aid. That is also why it is addressed to credit institutions, with a designated amount required to be allocated directly to students. The SDCCD is slated to receive $35,060,102, based upon this formula. However, as was the case with the previous CARES Act funding, we will need to provide a percentage of these funds to benefit noncredit operations, as well as noncredit students. The breakdown of anticipated funding, as found in the ACE analysis, follows:
Institution Simulated Total Allocation
City College $11,923,790
Mesa College $13,992,119
Miramar College $9,144,193
Executive Vice Chancellor Bonnie Dowd, the Cabinet, and I will be working on the institutional distribution of these funds, and the colleges will follow their own internal distribution processes. The District's plan also includes a consideration for additional support for employees in the form of stipends to offset the expenses they have incurred and are still incurring as the result of converting to remote instruction and operations. This matter is being discussed right now with our labor unions and meet-and-confer groups. We hope to have an agreement soon.
SURVEY RESULTS
Recently, District Human Resources distributed a survey to all employees requesting feedback and recommendations regarding our remote operations. Many thanks to everyone who responded, since this has provided useful information and perceptions to help with improving the current situation and with planning for a return to in-person, on-site operations. The rather extensive survey results are attached, including comments. Here is a basic summary provided by HR Vice Chancellor Greg Smith:
City College: 158 responses Faculty: 421 (51.34%)
Mesa College: 221 responses Classified Professionals: 270 (32.93%)
Miramar College: 155 responses Managers/Supervisors 129 (15.73%)
College of Continuing Education: 142 responses
District: 144 responses
Total: 820 responses
The results generally suggest that people are able to be productive while working remotely, maintain their physical well-being, find ways to stay connected with colleagues, and have the resources need to work remotely:
77.6% of respondents agree or strongly agree they can work productively in their remote environment.
79.3% of respondents agree or strongly agree they have been able to maintain their physical health since working remotely.
63.9% of respondents agree or strongly agree they have found ways to stay connected with colleagues.
66.9% of respondents agree or strongly agree they have the resources they need to work remotely.
Two widely shared concerns with returning to work in-person were cited in the survey: being exposed to COVID-19 while at work (85% of respondents) and losing the flexibilities of working remotely (61% of respondents).
A number of considerations for returning to work in-person were highlighted as priorities by respondents, including the availability of vaccines, limiting public access to facilities, continued wearing of face coverings, and other protective equipment, and continued cleaning and sanitation measures.
Many respondents provided feedback on the challenges of working remotely, such as reliable internet service, additional equipment and resources, managing increases in email volume, ergonomics, and training needs.
This survey and the extensive and very candid comments are most helpful.
COVID-19 CASES TRACKED IN THE SAN DIEGO COMMUNITY COLLEGE DISTRICT
As has been reported before, classes at City, Mesa, Miramar, and Continuing Education colleges remained online for the intersession and are continuing online for the current spring semester. A few hybrid exceptions have been made, as in the fall semester, for classes that require on-campus components, such as science and clinical labs, some career technical program labs, and courses for first responders, especially in the Police and Fire Academies. Summer classes will also be primarily on line, with on-campus/hybrid components. No decision has as yet been made regarding the fall semester. Everyone is hoping that there can be a return to on-campus instruction in the fall, but only if it is safe to do so and complies with State and County requirements. There will definitely be more online with hybrid components. Fall schedules should be planned flexibly to accommodate whatever the final decision will be.
In the meantime, COVID-19 cases are being tracked on a weekly basis. The present records show the following: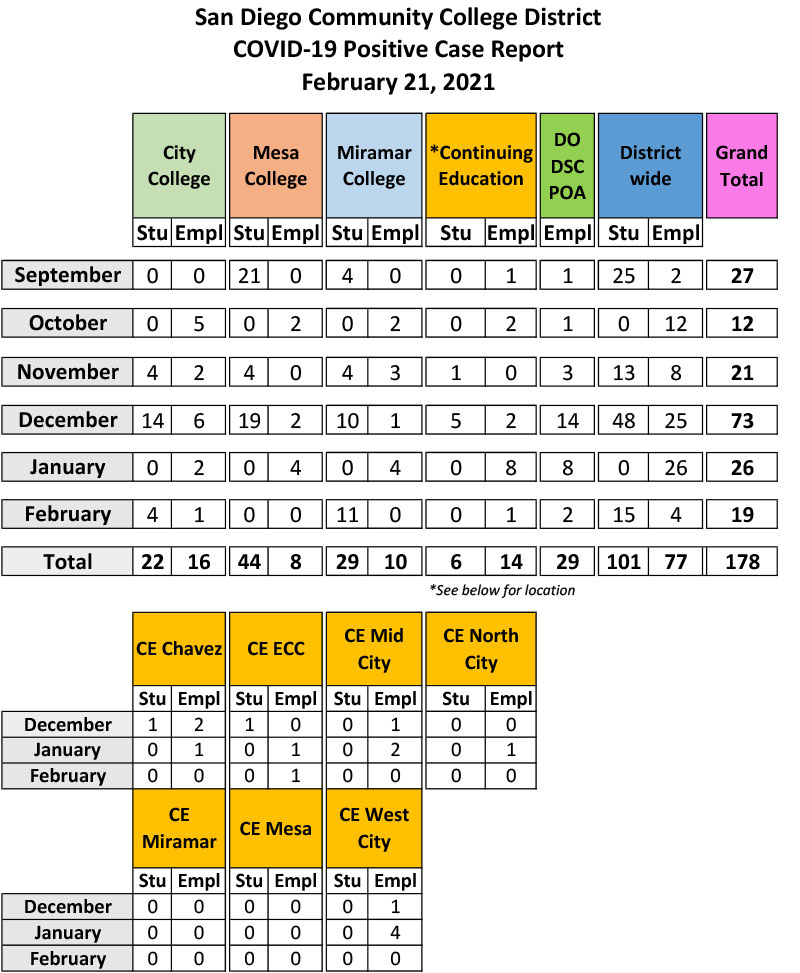 NATIONAL, STATE, COUNTY & LOCAL OVERVIEW
Let me share with you the most recent (February 8) update on the COVID-19 situation, which a hospital consortium regularly prepares for the San Diego County Regional Economic Development Corporation (EDC), which I receive as a member of the EDC Board of Directors. I find it to be succinct, informative, and useful in following the contours of this pandemic.
National/International, State, County/City HealthCare Highlights
National/International
- On Friday, the Biden administration announced that it was sending 1,110 active-duty troops to 5 federal COVID-19 vaccination centers across the country. Troops will arrive in California within 10 days to begin operating around Feb. 15.
- Johnson & Johnson submitted its emergency use authorization application to the U.S. Food & Drug Administration (FDA) Thursday for the company's single-dose vaccine. The company says if emergency use is granted, it aims to supply 100 million doses in the first half of 2021. Unlike Pfizer and Moderna, Johnson & Johnson's Janssen vaccine can be stored for at least 3 months at 36 to 46° F, compatible with standard vaccine distribution channels.
- The COVID-19 vaccine developed by AstraZeneca and the University of Oxford protects people against the new, more contagious coronavirus variant B.1.1.7 with 74.6% efficacy, according to a story in the New York Times. The preliminary findings suggest that all 5 of the leading vaccines may offer at least some protection against new variants of the virus as well as significant protection against hospitalization and death. San Diego County has California's largest cluster of known cases caused by B.1.1.7.
- At least 5,116 new COVID-19 deaths and 126,842 new cases were reported in the U.S. Feb. 4. Over the past week, there has been an average of 130,953 cases per day, a decrease of 30% from the average 2 weeks earlier. As of Friday afternoon, more than 26,768,200 people in the U.S. have been infected with the novel coronavirus, according to a New York Times database.
State
- This week, Gov. Gavin Newsom said he believes schools can begin to reopen, even if all teachers are not yet vaccinated against COVID-19, provided that proper safety measures and supports are in place.
The California Department of Public Health (CDPH) announced the following COVID-19 statistics this week:
o There were 13,176 newly recorded confirmed cases Wednesday.
o The 7-day positivity rate is 6.1% and the 14-day positivity rate is 6.9%.
o There have been 43,235,327 tests conducted in California. This represents an increase of 168,094 during the prior 24-hour reporting period.
o As case numbers continue to rise in California, the total number of individuals who will have serious outcomes will also increase. There have been 42,466 COVID-19 deaths in the state since the start of the pandemic.
o As of Feb. 4, providers have reported administering a total of 3,984,752 vaccine doses statewide. Numbers do not represent true day-to-day change as reporting may be delayed.
o As of Feb. 2, 2021, 54 counties are in the purple tier, 1 county is in the red tier (Mariposa), 3 counties are in the orange tier (Alpine, Sierra and Trinity) and no counties are in the yellow tier.
County/City
On Tuesday, the County of San Diego Health and Human Services Administration (HHSA) provided the following COVID-19 statistics:
o San Diego County's state-calculated, adjusted case rate is currently 42.5 cases per 100,000 residents and the region is in the purple tier, or tier 1.
o The testing positivity percentage is 10.5%, placing the county in tier 1, or the purple tier.
o The county's health equity metric, which looks at the testing positivity for areas with the lowest healthy conditions, is 14% and it's in the purple tier, or tier 1. This metric does not move counties to more restrictive tiers, but is required to advance to a less restrictive tier.
o In the past 7 days (Jan. 26 through Feb. 1), 57 community outbreaks were confirmed.
o 9,955 tests were reported to the county Feb. 1, and the percentage of new positive cases was 9%.
o The 14-day rolling average percentage of positive cases is 8%. The target is less than 8%.
o The 7-day, daily average of tests is 18,691.
o 926 cases were reported to the county Feb. 1. The last time a daily case total was under 1,000 was Nov. 29 when 959 cases were reported. The region's total is now 240,050.
o 10,255 or 4.3% of all cases have required hospitalization.
o 1,464 or 0.6% of all cases and 14.3% of hospitalized cases had to be admitted to an intensive care unit.
o 10 new COVID-19 deaths were reported Feb.1; 4 people who died were 80 years or older, 7 people were in their 70s and 1 person was in their 60s. All had underlying medical conditions.
- Countywide data shows the number of patients with COVID-19 in San Diego County hospitals decreased to 1,139, an improvement over the prior week's number of 1,343. The distribution of patients with confirmed COVID-19 was as follows:
o 369 at Sharp HealthCare
o 299 at Scripps Health
o 133 at Palomar Health
o 110 at Kaiser Permanente
o 81 at UC San Diego Health
o 57 at Tri-City Healthcare District
o 22 at Naval Medical Center San Diego
o 19 at Alvarado Medical Center
o 18 at Paradise Valley Hospital
o 12 at VA San Diego Healthcare System
o 1 at Select Specialty Hospital
THANK YOU
As always, let me close by thanking our faculty, administrators, and classified professionals for your hard work during this unprecedented time of crisis due to the coronavirus COVID-19 pandemic. Our online classes have maintained high quality and the remote working format has enabled City, Mesa, Miramar, and Continuing Education colleges, and the District to move forward in a successful manner. The Board of Trustees and I are grateful for your efforts and we are confident that we are meeting our two primary goals in ensuring: 1) the health and safety of our students and employees; and 2) the continuity of instruction and operations.
Stay well!
Dr. Constance M. Carroll
Chancellor, San Diego Community College District