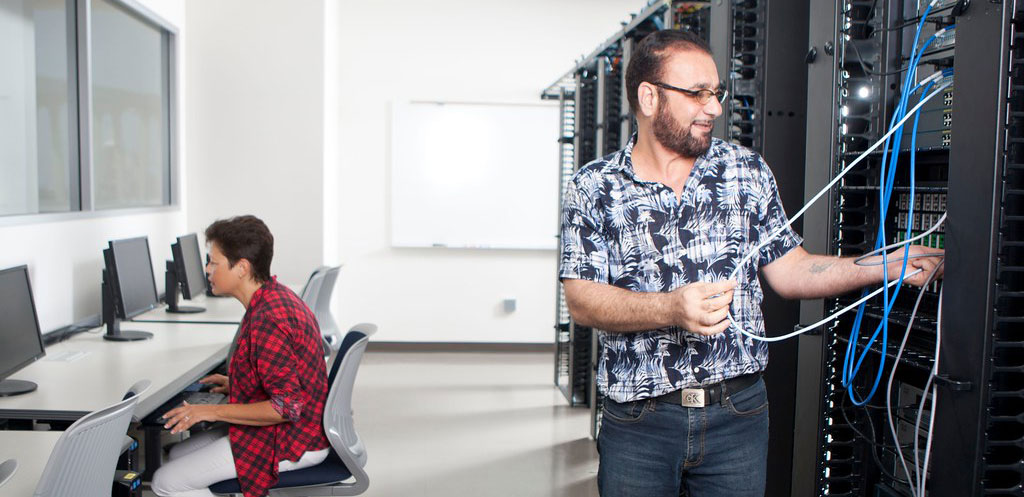 Orientations available for free career training in emerging cybersecurity industry
October 29, 2021

|
Cybersecurity is one of the nation's fastest growing industries. San Diego residents can enter this exciting career path or advance their existing IT profession through tuition-free training at the San Diego College of Continuing Education (SDCCE).
Residents interested in learning cybersecurity can prepare to take the Cybersecurity Analyst program that starts in February 2022 by signing up today for a free informational orientation, scheduled throughout November, and ongoing until the Spring 2022 semester.
"Inside SDCCE's IT classrooms, students have access to several different tools, not only in the hands-on portion but also in software simulations that allow practicing technicians to explore and try things out in a way that doesn't hurt the equipment. This gives them the added value of being able to learn by doing," said Don Aragon, SDCCE IT faculty. "Graduates are prepared for different types of jobs related to switching, routing, engineering, which allows them to do troubleshooting and actual configurations and set up of networks."
Within four to eight months, students can earn an IT certificate at no-cost, including Cybersecurity Analyst, Virtual Datacenter, and Cloud Solutions AWS-Associate. New students are encouraged to start with the Desktop Technician Certificate Program at SDCCE to become familiar with managing and securing computers and basic network infrastructures. Working IT professionals often enroll directly into the Cybersecurity Analyst certificate programs. All prospective students should start by attending an orientation.
"Both the public and private sectors have a role to play in strengthening cybersecurity," said President Joe Biden in a statement he made during Cybersecurity Awareness Month in October. He signed an Executive Order in May to modernize the nation's cybersecurity defenses, creating a rapid increase of IT jobs.
Employment of information security analysts is projected to grow 33 percent from 2020 to 2030, much faster than the average for all occupations, reports the Bureau of Labor Statistics. About 16,300 openings for information security analysts are projected each year, on average, over the decade.
SDCCE was named a Preferred Provider for IT and Cyber talent in collaboration with the San Diego Workforce Partnership alongside MiraCosta College and the National Foundation for Autism Research based on Information Technology and Cybersecurity certificate program offerings. As a result, starting on November 1st, SDCCE students will have a chance to apply for entry-level IT and Cyber positions with several IT corporations across San Diego County.
"This designation is a tremendous opportunity for our students," said Kay Faulconer Boger, Ed.D., SDCCE's Interim President. "In addition to being on a pathway for great careers after SDCCE, our students can receive additional funding for their CompTIA exams, wage supplements, and other job readiness services."
To further refine their skills around cyberattacks and network infiltration, students compete in the National Cyber League Fall competition and the Southern California Cyber Cup Challenge in the spring as part of SDCCE's IT curriculum. Following successful completion of a certificate program, students can meet with specialized job developers to find employment opportunities.
Spring classes begin Wednesday, February 2, 2022.