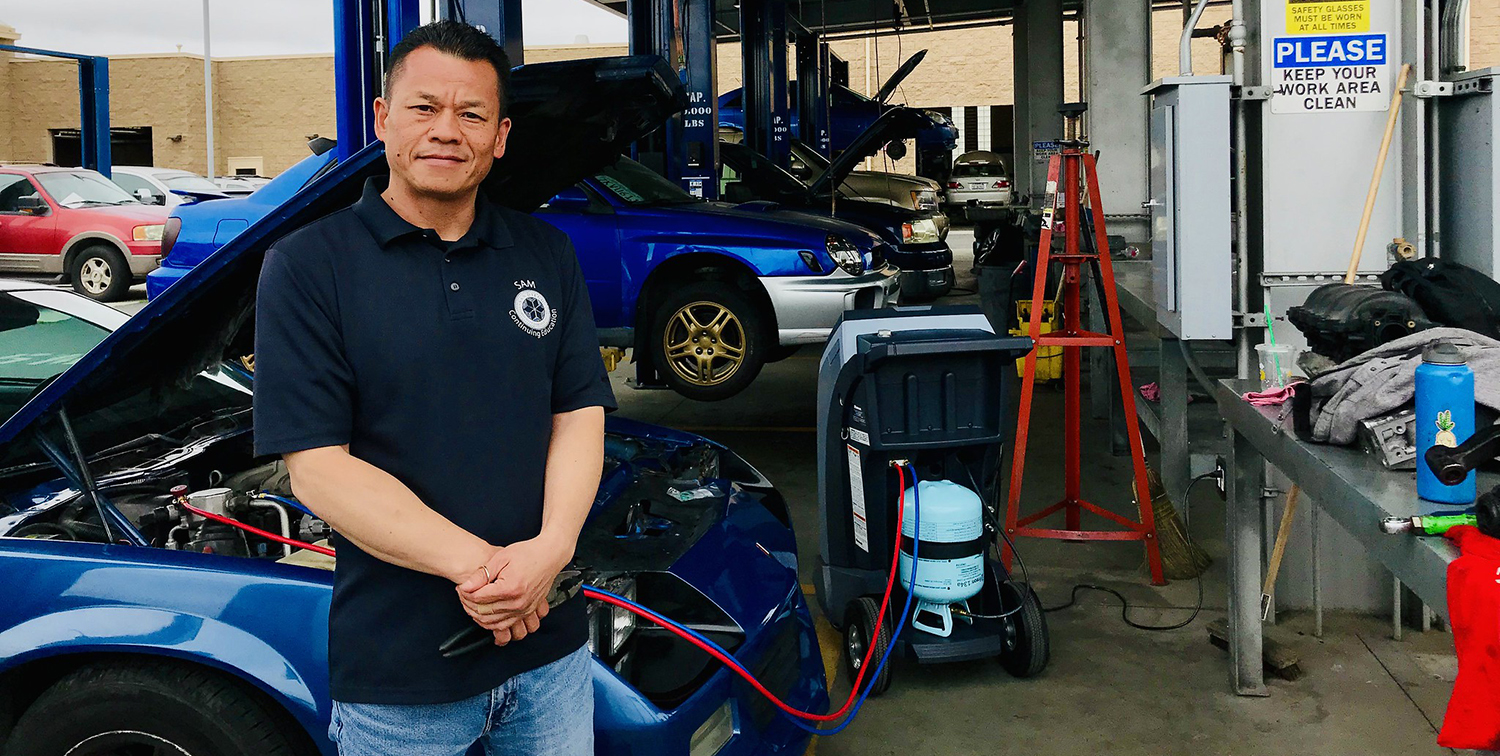 SDCCD Faculty Feature: Sam Phu
October 13, 2021

|
For Sam Phu, the automotive industry is not only one of the world's most essential businesses, but also a means of paying it forward to the community. Phu serves as the Department Chair for the Automotive and Skilled and Technical Trades certificate programs at the San Diego College of Continuing Education.
"The driving force behind a dedicated automotive career was my fascination with cars growing up and also wanting to support my mother," said Phu. His grandparents left China to migrate to Vietnam, where they own successful coffee and rubber tree plantations.
To escape the ongoing threat of another Vietnam War, Phu's mom fled to the United States in 1980.
"When I was 10 years old my mother took me to the auto repair shop to fix her car. Since she only knew how to speak Chinese it was difficult for her to communicate with English speakers," remembered Phu. "I can still picture her crying saying that she was unsure if the mechanics fixed what she requested or if they just sold her other items that didn't need repairing with the limited income she earned from the farms in Gilroy, California."
At the College of Continuing Education more than half of the population identifies as immigrant-based out of 40,000 students served annually.
Phu says his family's history helps him relate to their experiences. "Like a lot of our students, I also came from an underprivileged background. This unique opportunity at the College of Continuing Education is for everyone who comes through our doors, who lack financial security, but who have the desire to achieve a meaningful career."
The free automotive certificate program at the College of Continuing Education allows students the choice of four areas of emphasis, Quick Service Inspection Technician, Service Advisor, Auto Body and Paint Technician, and Auto Technician.
Related Video: Automotive Technician Program
Though the courses are offered at no cost, Phu created a scholarship to cover learning material fees for students. The Sam Phu Automotive Achievement Scholarship grants training technicians a mechanic's toolbox complete with an entry level toolset, valued at $2,000.
The auto labor market is rapidly evolving while skilled employment is declining. "We now have the technological abilities that exist in which vehicles are designed with self-driving and autonomous attributes," said Phu. "The average technician is between the ages of 55 to 65 years old which means they will either retire or attrition off leaving a shortage of qualified trained technicians that can perform these extreme advancements in the modern automobile. That is why it is especially important that we do our part in training future students to be able to fix the complex vehicles of today and tomorrow."
California Secretary of State Shirley N. Weber, Ph.D., recognized Phu in 2019 as a recipient of the 79th District's Annual Salute to Men Making A Difference, an honor given to community leaders who have made significant contributions to southeastern San Diego through education and activism.
Prior to working for the College of Continuing Education, Phu earned an Automotive Technology degree from San Diego Miramar College, where he was named a Distinguished Alumni in 2006. He is a member of the Automotive Service Counsel in California and holds an ASE Master Certified Mechanic, and a L-1 Advanced Engine Performance Technician certification.