Miramar College partners with Department of Forestry and Fire Protection
January 6, 2021

|
The Fire/EMT program at San Diego Miramar College has entered into a new 4-year agreement with the California Department of Forestry and Fire Protection (CAL Fire) to provide instruction, training, facilities, equipment and other services for students to the extent of prescribed curriculum in pre-employment, employment and general studies in CAL Fire. The agreement runs Jan. 1, 2021 through Dec. 31, 2024.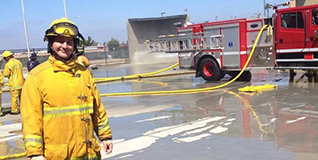 In order to be eligible for the CAL FIRE Basic Firefighter Certification, students must complete FIPT 110A, 150A, 150B, 322B, 322C, 323B and 394L. (These courses are included in the Fire Academy cohort) In addition, interested students must past the CAL FIRE BASIC Firefighter Written Exam and Ladder Exam included in 150B and 394L. Successful completion of these courses is required to apply to Cal Fire/San Diego County Fire and is highly suggested for entry level students. A full time student may complete all of these in as little as one semester.
Additional information may be obtained from the program's website.
The Fire Protection Technology program offers degrees and certificates in a number of fields associated with the technology of fire protection, rescue, and public safety. The program provides theory and training necessary for successful performance in a variety of settings and positions. Emphasis is placed on modern methods of fire prevention, fire suppression, fire service management, open water lifeguarding, and public safety.
It is highly recommended for Entry Level Firefighter students to concentrate on starting with the EMT certification courses and Fire Technology Courses (FIPT 101, 102, 103, 104, 105, 120). Students must be a Registered EMT to attend the Fire Academy. (Completed the National Registry EMT Course).
The Miramar College Fire Academy consists of twelve courses taken together in a cohort model. Below is the list of courses that meet the requirements for the State Fire Academy and Cal Fire Basic Academy. These courses are "bundled" together in a full-time option (Fall or Spring Semester) and a part-time option Fall and Spring Semesters. Interested students will apply to the Fire Academy. The Fall Full-time and Part-time Applications are available each June. The Application for the Spring Full-time Application is available the month of November. When student demand is greater that (50) applicants, a lottery system is used to determine enrollment.
The application for the Spring 2021 Fire Academy is NOW closed. The next application period for both the Full-Time Fall of 2021 and Part-Time Firefighter 1 Academies and CAL FIRE Basic Academy courses will be the month of June 2021. Please complete the Student Interest Form for future information and application announcements.
The agreement was approved by the San Diego Community College Board of Directors at its Dec. 17, 2020 meeting.