Two City College students awarded prestigious community college transfer scholarship
May 10, 2021

|
Tatiana Butte and Lucia Huerta, students at San Diego City College, are two of 72 recipients of the Jack Kent Cooke Foundation's prestigious Undergraduate Transfer Scholarship. The highly competitive national scholarship will provide each student with up to $40,000 a year to complete their bachelor's degree.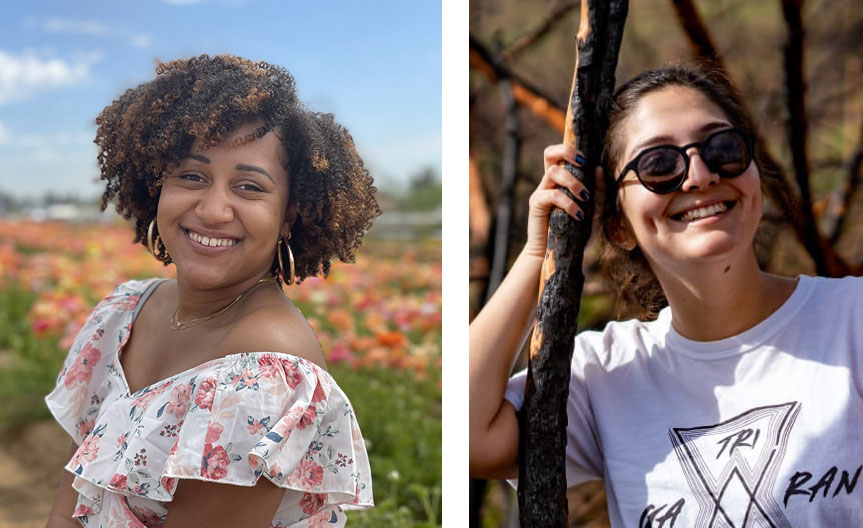 Tatiana Butte, born and raised in Southeast San Diego, has been accepted to UC Berkeley and will be attending in the fall. She plans to earn her bachelor's and master's degrees and double major in political science and communications. Butte is a member of the Phi Theta Kappa Honors Society, member of the Umoja program, and made the Dean's List with a 4.0 GPA the past five semesters.
Lucia Huerta was born in Los Angeles and grew up in Tijuana, Mexico. She's been accepted to UCLA and UC Berkeley and is still deciding which institution to attend. She plans to earn her bachelor's, master's, and doctorate and major in sociology. Huerta is a member of the Phi Theta Kappa Honors Society, Honors program, received Dean's List recognition, and is an artwork/photo contest winner with the college's World Cultures program.
"We know how much exponentially harder this past year has been on students. It's an honor to award this group of individuals as they have achieved so much both in the classroom and in their daily lives," said Seppy Basili, executive director of the Jack Kent Cooke Foundation. "We are proud to welcome this new class of Cooke Undergraduate Transfer Scholars to our community and are excited to support them as they transition to four-year institutions."
Today, nearly half of the students pursuing college choose to attend two-year institutions. Research commissioned by the Foundation found that community college students who transfer to selective institutions have equal to or higher graduation rates as students who enrolled directly from high school or transferred from four-year institutions. Yet, at the nation's top colleges, only five percent have transferred from a community college. The Undergraduate Transfer Scholarship seeks to increase the number of community college students completing their education at top four-year institutions.
In addition to financial support, new Cooke Undergraduate Transfer Scholars will receive comprehensive educational advising to guide them through the process of transitioning to a four-year college and preparing for their careers. Scholars will additionally receive opportunities for internships, study abroad, and graduate school funding, as well as connection to a thriving network of Cooke Scholars and Alumni.
To date, over 1,000 students from all over the country have received the Cooke Undergraduate Transfer Scholarship. Over 1,300 students from 398 community colleges applied for the 2021 Cooke Undergraduate Transfer Scholarship. The Foundation evaluated each submission based on students' academic ability and achievement, financial need, persistence, leadership, and service to others.