SDCCD's Margaret Lamb honored by the Association of Community College Trustees
October 5, 2021

|
The Association of Community College Trustees (ACCT), a national organization of governing boards, will recognize Margaret Lamb, Executive Assistant to the Chancellor of the San Diego Community College District (SDCCD) with an exemplary service award during the ACCT Leadership Congress. The SDCCD will host the ACCT conference from October 13-16, 2021 at the Manchester Grand Hyatt in San Diego.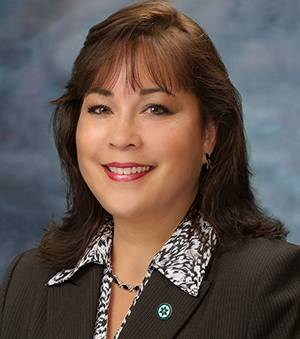 "It's an honor to be recognized by this prestigious organization," said Lamb, ACCT's 2021 Association Pacific Region Professional Board Staff Member Award recipient. "I'm very grateful to represent the Pacific Region. This is recognition of all professional board staff members and my colleagues in the SDCCD Board of Trustees and Chancellor's Office whose work often takes place behind the scenes but does not go unnoticed."
The ACCT represents more than 6,500 elected and appointed trustees who govern over 1,200 community, technical, and junior colleges in the United States. Lamb served on the ACCT Professional Board Staff Network Executive Committee as the Pacific Region Member-at-Large from 2014-2016, as Vice President from 2016-17, and as President from 2017-18.
The ACCT Leadership Congress is the premier annual conference for community college leaders and is the only national conference dedicated to community college trustees. Approximately 2,000 community and technical college trustees, CEOs and other executives, and federal higher education policy influencers gather to share information about governance best practices, community college advocacy, and advancing student success.
"Margaret has dedicated 35 years of service to the SDCCD, her commitment to access and success for all students is unwavering," said SDCCD Chancellor Carlos O. Turner Cortez, Ph.D. "This is an outstanding achievement for the entire district, the ACCT recognizes community college leaders across the nation at the highest levels of professionalism."
Lamb began her career at the SDCCD in 1986 as an office assistant, a job inspired by her father who then served as the Assistant Plant Operations Supervisor at San Diego City College. Since taking her first job apart from being a stay-at-home mom, Lamb has worked her way up in higher education administration for the district and by 2011 was named Executive Assistant to the Chancellor.
Lamb tributes winning the ACCT award to her mentor Chancellor Emerita Constance M. Carroll, Ph.D., who she worked with for 17 years at the SDCCD. "Dr. Carroll taught me the value of maintaining high standards of excellence in the workplace. I also give much credit to our Board of Trustees and their vision to growing leaders from within. They truly see the value of and support professional development opportunities to prepare us for advancement."
"During most of my 17 years as Chancellor of the San Diego Community College District, Margaret Lamb and I worked together," said Dr. Carroll. "She was an extraordinary Executive Assistant, with a career marked by excellent relationships with members of the Board of Trustees, with the Chancellor's Cabinet, with me, and with faculty and staff throughout the district. She was able to convert all of the Board's processes to an online format and was able to help our district make profound changes during the COVID-19 pandemic. She also provided excellent leadership for the ACCT Board Professional Staff Committee, which she chaired. Margaret is most deserving of this honor. I was and I am proud to call her both my colleague and my friend."