San Diego City, Mesa colleges earn designation as Military Friendly schools
February 18, 2021

|
San Diego City and San Diego Mesa colleges have been recognized as Military Friendly Schools based on a range of factors that include campus culture, support services, and graduation and career outcomes. Both were lauded for their menu of weekend, evening, and accelerated courses conducive to active-duty and military veterans, along with formal policies and an explicit commitment to serving the military and veteran community.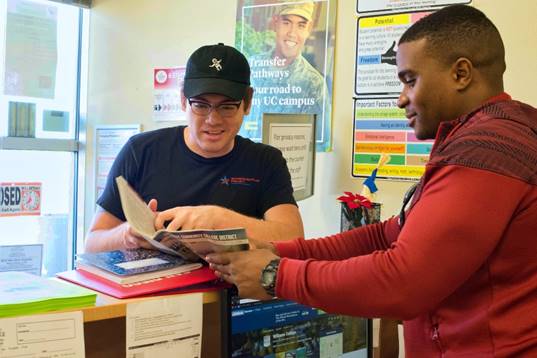 Military Friendly also took note of the additional scholarships available to the veteran community at City and Mesa colleges, along with an array of career, financial, educational, and mental health counseling. Both campuses secured the Military Friendly Silver Designation, which is awarded to schools meeting Military Friendly requirements and scoring within 20% of the 10th highest ranking school in their category. Only a select group of institutions achieve this honor.
"We thank our military veterans, active duty and families for their service by providing a welcome and inclusive learning experience at San Diego Mesa College," stated Dr. Pamela Luster, President. "We are excited to receive this designation as recognition of this effort."
The San Diego Community College District and San Diego City, Mesa, and Miramar colleges, along with the San Diego College of Continuing Education, have a well-deserved reputation for its veterans services, including veterans centers, veterans organizations, and student success workshops and resource fairs. In addition, veterans and active duty military receive priority registration to ensure they can secure the classes they need when they need them.
Some 14% of students at the San Diego Community College District are either veterans, active military, or a military spouse or dependent. Fifteen percent of students at City College and 14% of students at Mesa College are either veterans, active military, or a military spouse or dependent.
Military Friendly® is owned and operated by VIQTORY, a service-disabled, veteran-owned, small business. Ratings are based on public data sources, proprietary data from Military Friendly surveys, and personal data from veterans themselves. An annual, data-driven Military Friendly Schools survey assessment is offered at no cost to more than 8,800 institutions nationwide, and survey scores are combined an assessment of the institution's ability to meet minimum thresholds for student retention, graduation, job placement, loan repayment and loan default rates for all students and, specifically, for student veterans.