Program bolstering studies of the humanities yields ongoing success stories
June 9, 2021

|
Success. That's the most accurate way to describe the San Diego Community College District's (SDCCD) Peer Mentee Program, an integral component of the Preparing Accomplished Transfers to the Humanities (PATH) initiative that this year resulted in 18 PATH participants being accepted to UC San Diego and 95% being accepted to four-year colleges or universities to further their studies.
The PATH program began in the fall of 2016 when the Andrew W. Mellon Foundation awarded UC San Diego and the SDCCD a $2.59 million, three-year grant to support potential transfer students in the humanities with a menu of mentorships, speaker series, workshops, campus visits, and more. The grant has been updated and renewed, resulting in scores of SDCCD students transferring to UCSD and attending a five-week Summer Academy to prepare them for their university experience. Approximately 60% of students come from underrepresented communities, and the PATH Program has more than doubled the transfer rate of its students.
Here are the stories of three students who graduated this spring with the help of the Peer Mentee Program, two of whom had returned to school after taking time off, uncertain of their educational or career goals.
Alyson Ouk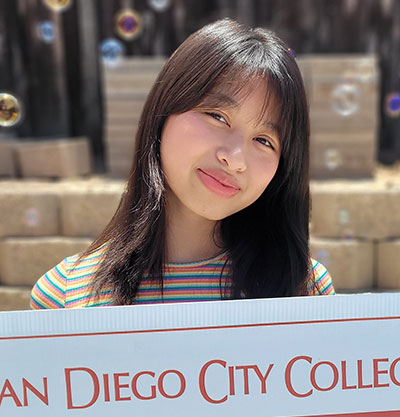 Alyson Ouk discovered the San Diego Community College District's PATH Program through serendipity. It changed her life.
"I was taking a philosophy course at City College, basically as a requirement, and my professors came up to me and said, 'Hey, you seem like someone who would really enjoy pursuing the subject. It resonates with you. You understand the concept.' They encouraged me to major in philosophy and introduced me to the PATH Peer Mentee Program. I signed up in the fall, and it was one of the better decisions I've made."
Indeed. Ouk, 24, met with mentors regularly, shined as a student, graduated with a 3.91 GPA, and was accepted to all eight universities she applied to, including UC Berkeley and UCLA. She chose UC San Diego, where she will transfer this fall.
Ouk's success marked a sharp turnaround after a struggle with mental health caused her grades to suffer in high school. A resident of Lincoln Park, Ouk took a couple years off after graduating from The Charter School of San Diego before pursuing a college degree.
She returned to school in 2018. Why City College?
"I'd like to give you a profound, meaningful answer, but it's really because I was living at home and my parents urged me to stop sitting around doing basically nothing. City College was in the neighborhood, it's affordable and it's accessible, so I started taking classes. Thankfully, City College offers fantastic mental health counseling. It was something I utilized and something that was very valuable."
Also valuable was the PATH Peer Mentee Program. She met regularly with City College Path Program Coordinator Kelly Mayhew and UC San Diego doctoral student Kevan Malone regularly, along with UC San Diego student mentor Fartoon Hagi-Mohamed.
"It was nice to bounce questions and concerns off my mentors," Ouk said. "Having that kind of support, having faculty knowing what the UCs are looking for, it's something that is very helpful. It was especially helpful in knowing what to write on my application essays."
What is her advice to anyone considering the PATH Program?
"Absolutely apply for it. If you're going to major in the humanities, you can't overemphasize how helpful the program is and how well it's structured. I became so much more aware of the resources and opportunities that are out there."
Cathy Wynn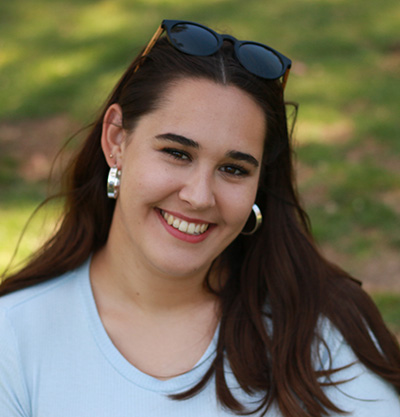 How has the PATH Mentee Program impacted Cathy Wynn? "Just thinking about when I started at Mesa College to where I'm ending at Mesa College is pretty profound," she said. "When I started, I didn't really have a clue as to what I would study. The educational journey has taken me to the humanities, to the Honors Program, to PATH, and ultimately to UCSD."
Born and raised in San Diego and living in Bay Park, Wynn took some time off after earning her high school diploma from the Academy of Our Lady of Peace. Encouraged by her mom, Wynn enrolled at Mesa College in the spring of 2017. She dabbled with the sciences and mathematics, but realized her interests lie elsewhere. Her future would change after taking a creative writing class and finding a love for literature and writing. "These light bulbs just started going off and the interrelatedness of writing, literature, economics, politics became clear," Wynn said.
She learned about the PATH Program from a flyer posted on the door of a linguistics class. She hasn't looked back since.
"I had never really thought about studying writing or studying literature, and I never really thought of it as a possible career, until I found the PATH program," said Wynn. "I'm a first-generation college student, and I never knew you could earn a Ph.D. in writing. This program has opened up the possibilities of what you can do, and what you can do is pretty inspiring."
A PATH Scholarly Activity Award aimed at fostering career preparation and skills development for peer mentees, allowed her to register for Corporeal writing workshops with published authors such as author and storyteller Kimberly Dark.
Her forte, said Wynn, is creative nonfiction, a form of narrative that allows the writer to explore their connection to the matter at hand.
She signed up for the PATH Peer Mentor Program last fall, is working closely with her faculty mentor, Jennifer Derilo, earned an associate degree for transfer in English this spring, has applied for the PATH Summer Academy, and will be transferring to UC San Diego in the fall for a bachelor's degree in writing and literature.
Longer-term plans call for a postgraduate degree and a career as a college English professor.
"Community college has had a huge influence on me and is something I would definitely be interested in."
Raynard de Guzman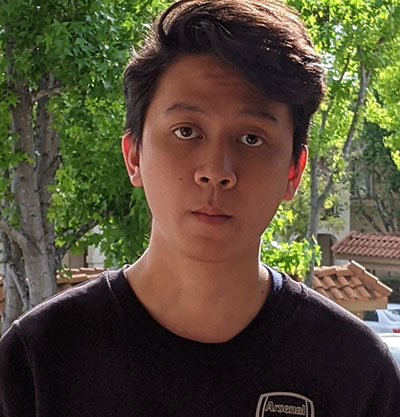 Born and raised in the Philippines, Raynard de Guzman enrolled at Miramar College shortly after moving to Mira Mesa with his family in 2018. The PATH Mentee Program at Miramar College, he said, was instrumental in helping him navigate his way through college and transferring to UC San Diego, where he will major in visual arts and the media this fall.
"I wouldn't have gotten into UCSD had it not been for this program," de Guzman said. "The higher education system here is not the same as what it was like at home, so it was a bit confusing for me at first. The mentors I had made a big difference."
De Guzman said he initially set his sights on a career in computer science and initially loaded up on math and computer programming courses at Miramar College. "At some point, I realized that wasn't my thing, that I should focus on something I was passionate about, so I changed my major to media and film. He learned about PATH from a flyer while working at a local movie theater but didn't have the time to invest in the program.
"When COVID hit, the theater shut down and I suddenly had a lot more time on my hands," he said. "So I decided to look into it and try to create a better pathway to UCSD or another school."
He enrolled in the fall of 2020. Before long, he was immersing himself in workshops, seminars, and ongoing sessions with mentors, including Miramar College PATH Program Coordinator Carmen Carrasquillo.
"I met with Dr. Carrasquillo weekly. She was super supportive and super helpful, and the advice was invaluable."
De Guzman applied to both UC San Diego and UC Santa Barbara, but opted for the former, in large part because of its partnership in the PATH Program.
"It should be called a getting-ready-to-transfer' program because that's exactly the point," de Guzman said. "Everything is aimed at providing you the tools and knowledge to successfully transfer to UC San Diego or another UC campus. Just the advice and guidance on the applications alone made a huge difference."
Graduating with nearly straight-A's, de Guzman said he's planning to attend graduate school after earning his bachelor's degree and embarking on a career as a screenwriter.